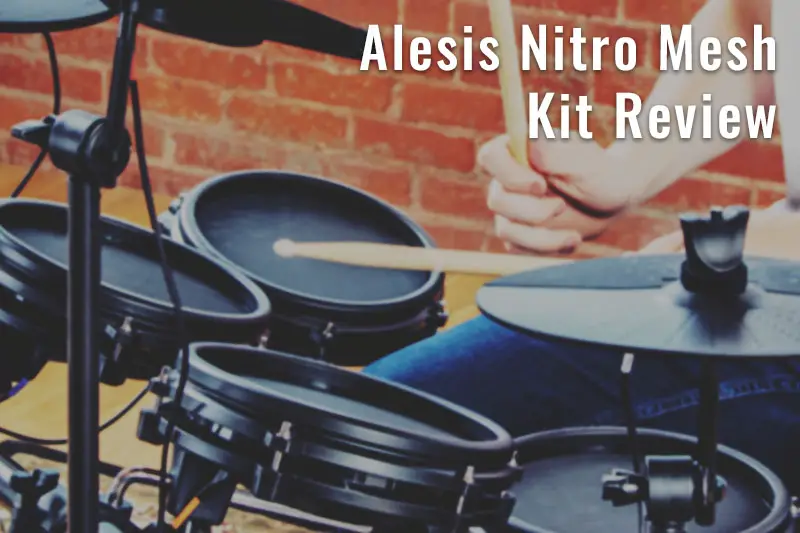 03 Sep

Alesis Nitro Mesh Kit Review: Should You Buy It?
The Alesis Nitro Mesh Kit is a highly popular electronic drum kit that has much to offer for a drummer who needs a kit with easily manageable volume and a high level of sound customization. It also is very reasonably priced at $379.00 on Amazon, as well as other sites like Guitar Center and Sweetwater.
The Alesis Nitro is an Amazon's Choice product and has a customer rating of 4.6 out of 5 stars with almost two thousand ratings. This highly rated product is a drum kit that would be a wonderful addition to a home studio, apartment, dorm room, or anywhere else an acoustic drum kit might not be the most viable option. This review will cover aspects of the kit such as it's programmed drum sounds, build quality, mesh drum heads and more!
Key Specs
| | |
| --- | --- |
| Frame Material: | Aluminum |
| Pieces: | 8 |
| MIDI Capable: | Yes |
| Drum Head Material: | 4 Mesh and 1 Rubber Kick Drum |
| Warranty: | Manufacturer's Limited |
| Sound Bank: | 385 |
| Accessories: | Connection Cables, Drum Sticks, Drum Key |
| Package Dimensions: | 43 in. L x 38 in. W x 24 in. H (1092.2 mm L x 965.2 mm W x 609.6 mm H) |
| Package Weight: | 29.5lb. (13.38kg) |
Built-In Sounds
The sound bank in the Nitro Mesh kit is something that Alesis took extremely seriously in constructing their drum set. There are a total of 385 sounds at your disposal for creating your ideal-sounding drum kit.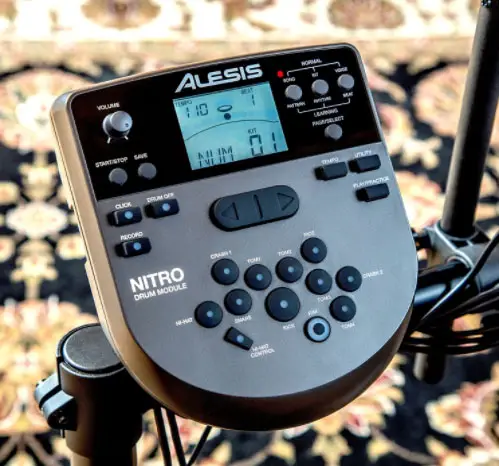 The LCD screen allows for quick and easy navigation through its library, and there is a button for each piece of the drum kit, arranged the same way the physical kit is set up, that makes assigning different sounds to a specific drum or cymbal extremely straightforward.
As far as ready to play kits in the bank, there are 40 modern-sounding drum kits that are ready to be used at the press of a button. From there, you can use the three hundred plus sounds at your disposal to replace any cymbal or drum sound you wish.
In addition to the sound bank, the module also has a learning mode for beginners or players wishing to hone their drumming skills. There are sixty tracks and a metronome to play along with that is an invaluable feature to have regardless of skill level.
In an Amazon review, Ivan gave the drum kit a five-star rating and wrote, "I have been playing drums since I was a teen. Grew up playing in church and bands, etc. I would say I have always had an innate talent for playing and I know what sounds good and doesn't. Straight up, I got to say I was impressed. Great sound, quality good build. Useful sound database and practice functions."
The only downside in the Alesis Nitro soundbank appears to be a slight lack in auxiliary percussion sounds, such as tambourines. Overall, the electronic sounds were reviewed positively and listed as pros in many of the user reviews on Amazon.
See It In Action:
Drum-Kit Frame and Design
The frame for the Alesis Nitro kit is made of aluminum and the bars are exceptionally sturdy. The bars will not warp from hard playing or room conditions and will hold up for a very long time. The adjustable bars and arms allow you to make the kit as compact as you want, making it perfect for playing in an area with limited space.
As you would expect from an electronic kit, the Alesis Nitro Mesh Kit was praised especially for its compact design, which some Amazon reviewers compared to the "Rock Band drum kit." The design is sturdy and small, exactly what a player in a small practice space would ask for.
While the aluminum frame is sturdy and highly durable, there are some slight design flaws in other aspects of the kit, notably the hi-hat cymbal. Users complained that it was slightly flimsy and could feel loose and unstable when hit hard by a drumstick. A handful of users also reported that compared to the drums and ride cymbals, the hi-hat didn't have the best electrical response when played, an Amazon reviewer said the hi-hat specifically "lacked nuance."
If you are looking for an electric drum kit with a near-perfect authentic hi-hat sound, you may need to look at the more higher end Roland or Yamaha models.
Mesh Drum Heads
One of the main positive aspects of the Alesis Nitro Mesh Kit are its mesh drum heads, which provide a more realistic feel, as well as acoustically quieter sound compared to typical rubber drum heads on electric kits.
Since one of the main reasons for buying an electric kit is for the manageable volume, some players have an issue with how loud the tapping of rubber drum heads can be. Luckily, the mesh heads are nearly silent if the user is playing with headphones. The kit also comes with a drum key that can tighten or loosen the heads, giving the player complete control over the tension of the mesh.
Amazon customer Jaz commented in his review, "The mesh Toms and Snare feel similar to an acoustic kit, so it's great to practice at home between lessons. It's fantastic value for money, there are enough kits and customization options to find the right sound."
Connectivity
One of the many positives of the Alesis Nitro Mesh Kit is the connection ports on the back of the hub. The range of connections gives the player an impressive amount of options in regards to what they're trying to do.
In terms of audio output and input, there are both. There is an aux in port that allows players to plug in and play along to whatever track they want, whether it's a song they're trying to learn to play along with or their own music for recording purposes, everything is possible. There are also right and left audio out ports, in case you need to play the drums through an amplifier or speaker system.
The recording options are impressive as well. There is a MIDI out USB port for virtual MIDI recording devices like a laptop or desktop, perfect for any home studio recording setup. There is also old school MIDI in and out ports for stand-alone MIDI equipment. If you're a songwriter and want to record yourself actually playing the drums rather than using drum machines on keyboards or computers, then this is a perfect product for you.
 Other Features
The Alesis Nitro Mesh Kit comes with three cymbals: hi-hat, ride and crash. The hi-hat comes with a foot pedal that allows you to open and close the virtual hi-hat, and the ride behaves just like any other electric ride cymbal. However, the crash cymbal has a choke feature, which allows you to dampen the crash sound with your hand while playing it, giving the player an element of playing usually only available on acoustic kits.
In addition to the nifty cymbal choke feature, the Alesis kit also comes with several accessories out of the box, including all the cabling, a drum key, and even a pair of sticks.
Pros & Cons
Pros:

The strongest aspect of the kit is in the product's name, and that is the use of mesh drum heads.
The adjustable heads provide a realistic playing feel that is a stark contrast to the typical rubber drum heads found on many electric drum heads.
Acoustically, they are also significantly quieter as well, allowing for intense playing in sound-sensitive space like an apartment without upsetting neighbors or housemates.
Getting an electric kit with the sound and build quality of this drum set for under $400 is a feat of its own.
Combined with its solid sound bank, MIDI connectivity and included accessories, it is a great value for a beginning/intermediate drummer or a home recording songwriter on a budget.

Cons:

Hi-hat build quality is poor compared to the rest of the kit, may wobble.
Confusing and badly written instruction manual that may lead to a longer time spent building the kit.
Flaky and unreliable customer service, Amazon protection plan recommended to be safe.
Should You Buy the Alesis Nitro Mesh Kit?
Despite there being some negative aspects, this kit is still a tremendous value at $379.00. The positives of the Alesis Nitro Mesh Kit far outweigh the negatives. Music students, songwriters and players in need of a quiet practice kit alike will love having this drum set at their disposal. Simply buying the Amazon protection plan, which you should be doing anyways for any expensive electronics, will cover all the negatives anyway.
This drum kit is a perfect option for beginning to intermediate players as well as a MIDI capable drum kit for a home studio. The Alesis Nitro may lack the high-end qualities of expensive Yamaha or Roland electric kits, but with musical instruments you typically get what you pay for. This kit is extremely solid and will not disappoint most buyers.