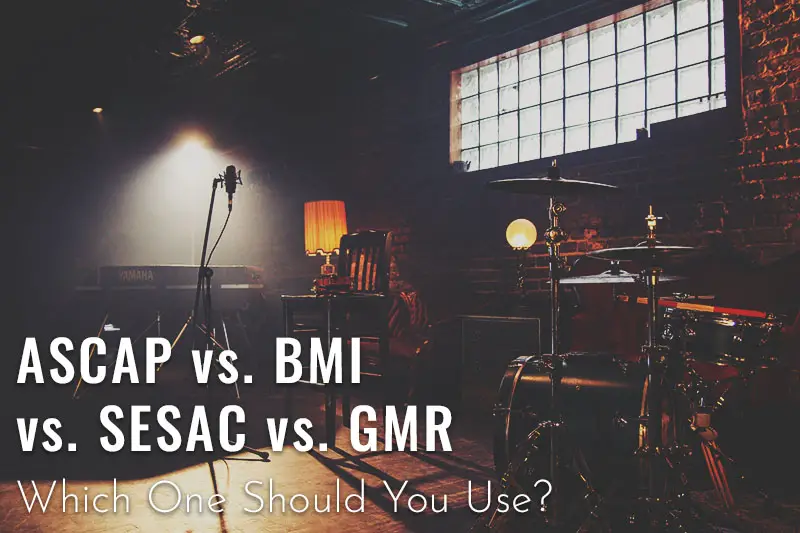 24 Jun

ASCAP vs. BMI vs. SESAC vs. GMR: Which One Should You Use?

Most everyone knows about the royalties recording artists receive when their music is purchased in a store, downloaded, or streamed, but there are other ways artists can receive money from their music being played.

Royalties when your song is played in a television show, commercial, movie, video game, or even at live music venues, either performed by live musicians or played as recordings, are all additional ways musicians can earn money from their music.

To collect on this money, though, you will need to use a Performing Rights Organization (PRO). A PRO is a company that pays artists royalties for when their intellectual property (music) is played.

In this article, we'll take a deeper look at what PROs do, when you should use one, and cover the pros and cons of using one of the major Performing Rights Organizations, including ASCAP, BMI, SESAC, GMR to collect your royalties. Let's get to it!
When Should You Use a Performing Rights Organization (PRO)?
Whether the music is played on a radio station or at a college football game, a PRO will collect licensing fees to pay out to the song's publisher. Where it gets tricky is when it comes to where exactly the money is going. The royalties are not guaranteed to go to the artist, but rather whoever published the music and the songwriter.
The royalties are typically split 50/50 between the songwriter and the publisher. If you are a self-publishing songwriter then you are entitled to all royalties (minus the 11-13% PRO administrative fee), but that generally means your music won't be as far-reaching as music released through a record label, which means significantly less money via royalties.
Most big artists are signed to record labels and will receive a portion of royalties at a rate specified in their contracts, which vary greatly from artist to artist. Songwriters and publishers typically receive quarterly royalty payments, with some exceptions depending on the company.
Even if you are not signed to a record label or don't have a massive indie following, it
would still benefit you to work with a PRO anyway, to totally guarantee that you will be paid for your music whenever it is played.
The four major PROs that operate in the US are BMI, ASCAP, SESAC, and GMR. These companies are all similar and work to accomplish the same thing, but they also have several differences between them, some of which are very significant.
ASCAP: The American Society of Composers, Authors and Publishers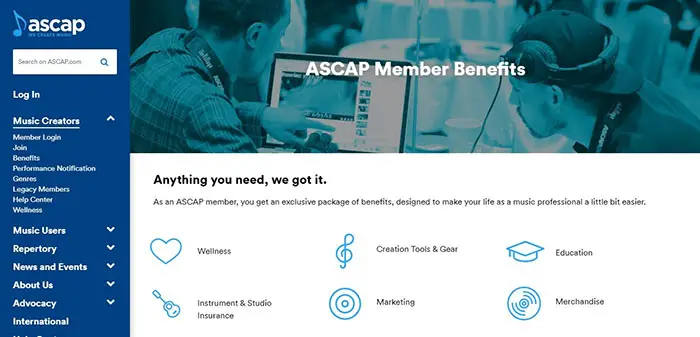 ASCAP is the oldest PRO in America, founded in 1914 in New York City and is the second largest in terms of artists enrolled.
It is a nonprofit company, meaning that any surplus income the company earns goes to increasing the quality of the company's services, rather than being paid to shareholders. Some notable modern-day artists affiliated with ASCAP are Ariana Grande, Katy Perry, Kelly Clarkson and Justin Timberlake.
Famous artists from the past that used ASCAP were Jimi Hendrix, Marvin Gaye, Stevie Wonder, The Beatles, and The Rolling Stones. Currently, ASCAP manages the licensing fees of 660,000 members that total about 10 million musical works.
Like every other PRO, ASCAP charges licensing fees to individuals or companies that play music belonging to their artists. Before distributing the royalties to the song's publishers, ASCAP deducts an 11.3% fee from those royalties. Unlike other PROs, any publisher or independent songwriter is able to sign up with the company without an invitation, for a one-time fee of $50.
Benefits:
As a registered member of ASCAP, you are entitled to several benefits and discounts on goods and services. This includes:
Discounts on Songwriters Hall of Fame Membership
Membership in the USA Alliance Federal Credit Union
Hotel and vehicle rental discounts with certain companies
Access to the ASCAP I Create Music Expo, a major yearly music industry conference
Discounted access to MusicPro insurance (Dental, health, life, instrument protection)
Various helpful marketing tools on the ASCAP site
Pros & Cons:
Pros:

Anyone can sign up, no invitation needed
An established, reliable company with a long history of success.

Cons:

Not free, comes with a one-time $50 applciation fee.
No discounts for music festivals and events like other PROs.
BMI: Broadcast Music, Inc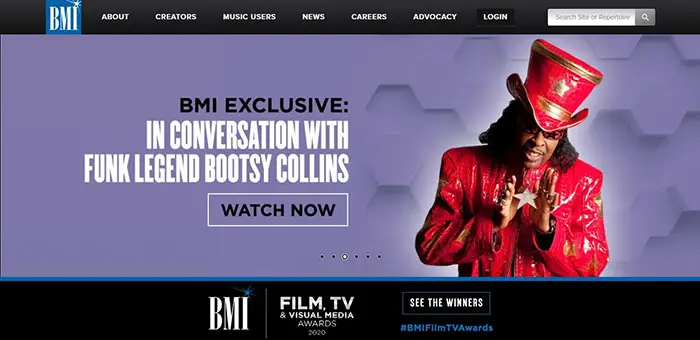 Like ASCAP, BMI is a nonprofit business entity that was founded in New York City in 1939. It is the third oldest and largest PRO operating in the United States with over a million publishers and songwriters enrolled, the combined total of musical works covered by the PRO is 15 million.
Several popular contemporary artists that are with BMI include Lady Gaga, Kendrick Lamar, Taylor Swift, The Red Hot Chili Peppers, and Ed Sheeran. Some older songwriters that are/were with the company are Dolly Parton, Sam Cooke, Willie Nelson, Fats Domino, and John Williams.
Enrollment with BMI is open to everyone, no invitation is needed. Membership is also free for songwriters, but a $150 fee is required for individual publishers and a $250 fee for publishing companies. The royalty administrative fee isn't listed anywhere by BMI, but it should be roughty 12-13%. Some BMI specific benefits upon enrollment are:
Access to Muzlink and Musician's Atlas
Exclusive discounts to the North By Northeast festival
Registration discount for the Billboard Live Music Awards
Discounts on FedEx, Berklee Online and Disc Makers
MusicPro insurance discounts
Reduced membership fees for the Latin Grammys and Songwriters Hall of Fame
Pros & Cons:
Pros:

Free membership for songwriters, no invitation needed.
Wide array of corporate and music festival discount benefits.

Cons:

Payment takes a long time to receive.
Delayed response time due to the sheer size of BMI's clientele.
SESAC: Formerly the Society of European Stage Actors and Composers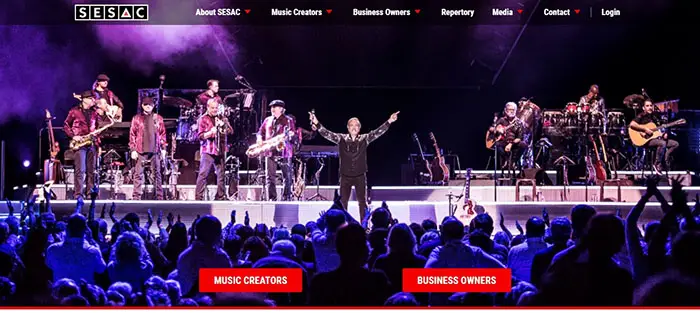 SESAC is the third-largest PRO in operation in America, originally founded in 1930 as the Society of European Stage Actors and Composers, it now solely goes by SESAC as of 1940.
It is currently headquartered in Nashville, Tennessee with offices in New York, Los Angeles, Munich, and London. Unlike BMI and ASCAP, SESAC is a private business that operates on profit. Another significant difference between SESAC and the "Big Two" is that SESAC does not offer open membership, rather it requires an invitation or approval from a prospective member's application.
There are roughly 30,000 writers that have around 400,000 pieces of work covered by SESAC, much less than BMI or ASCAP. Modern-day songwriters that are members include Mariah Carey, Adele, and Mumford and Sons. Old school artists include Bob Dylan, Neil Diamond, Duke Ellington, Count Basie, and Woody Herman. SESAC makes a point to differentiate itself from the relatively similar PROs, ASCAP and BMI.
In addition to operating as a private business and not allowing just anyone to join, SESAC uses its significantly smaller size to its advantage. The organization prides itself on its exclusivity and the fact that it is able to have strong individual relationships with their songwriters and publishers compared to other PROs. Some of the benefits of joining are:
The option to receive monthly radio royalty payments rather than quarterly
10% discount at Sprint
Discounts for airport parking
3-month free Musician Atlas account
Discount on Nero Multimedia Suite 10
10% off at Bertleemusic.com
20% discount on Legacy Learning Systems
Pros & Cons:
Pros:

Very strong individual customer support.
Option to receive monthly royalty checks instead of quarterly

Cons:

Highly selective and exclusive membership.
Administrative fees on royalty payments are at an undisclosed percentage.
GMR: Global Music Rights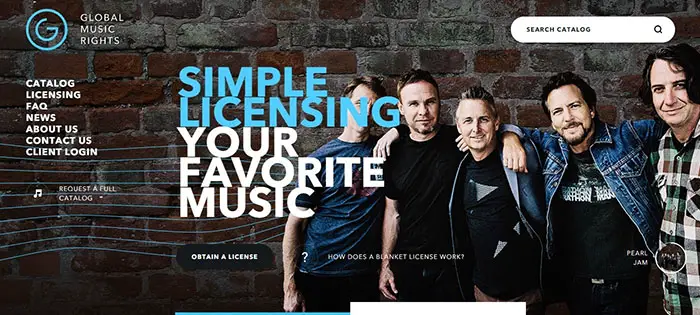 GMR is a relatively new PRO, founded by Irving Azoff in 2013. The organization has a small client list, compared to the other American PROs with only several hundred songwriters and publishers enrolled as members with around 48,000 licensed works.
That said, their client list is very high-profile, with artists like Drake, Childish Gambino, Harry Styles, John Mayer, and Travis Scott. They also possess the licensing rights to notable deceased songwriters' work such as John Lennon, George Harrison, and Prince.
Like SESAC, GMR operates on an invite-only basis and is even more exclusive, maintaining a very small catalog of writers and publishers so that every member is treated with extreme attention.
Also like SESAC, the organization is private and their exact administrative fees, member benefits and other financial information remain secretive. This is an organization built on intimate service and discretion for their clients' royalties. If you are a big enough artist to be invited to be a GMR member, that is a very good sign for your music career.
Pros & Cons:
Pros:

Tailored, exclusive individual service.
Very strong, high-profile client list.

Cons:

You have to be rather successful in the music industry to become a member.
Not a historically established PRO, it is less than 10 years old.
Deciding on the right PRO is a choice that is different for every songwriter. Since you can only be a member of one PRO at a time, trial by error is difficult when making this decision.
The factors that you need to keep in mind to aid this choice are questions such as: What stage in your music career are you in? Which member benefits would be most useful for me? How often do I need to be paid royalties a year? How much money am I willing to invest in becoming a member?
Asking yourself questions like these will help make your decision easier and encourage you to critically think about which organization you will be doing business with.