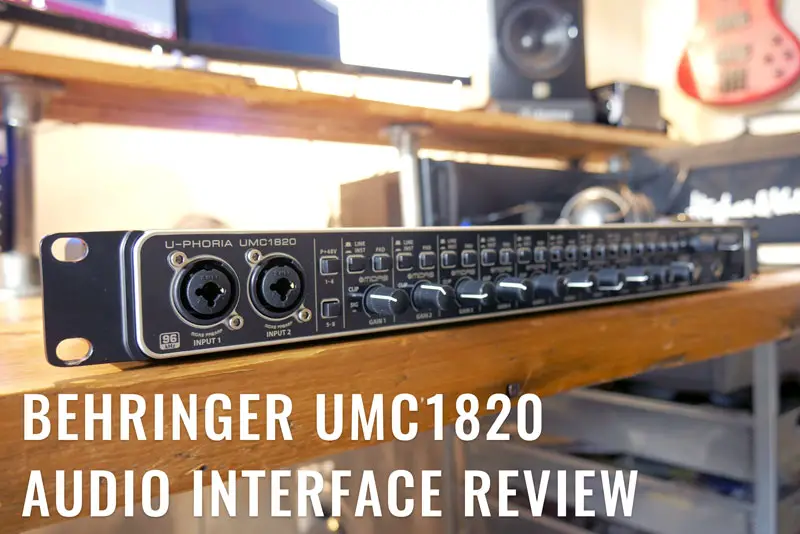 13 Sep

Behringer UMC1820 Audio Interface Review (with Audio Samples)

Need an 8-input audio interface that's built well and affordable?

Then, the Behringer UMC1820 is right up your alley.

After doing some searching for an affordable interface that I could use for recording and monitoring my band at live rehearsals, I can across the Behringer UMC1820. This interface has 8 inputs, 10 outputs (as 5 stereo pairs), MIDI in and out, multiple headphone outputs, it's rack mountable, and it retails for $300 new (making it one of the cheapest interfaces in this range).

So to give it a try, Behringer was kind enough to send it along for me to demo, and after having the unit for about a month, I've finally had enough time with it to write up a thorough review.

If you're thinking about purchasing this unit, or you just have a general interest in home recording and want to learn how to use a unit like this to monitor your band at practice, I'd recommend continuing on with the full review.

In this review, I'll cover the build quality and features of the Behringer UMC1820 as well as compare the audio quality from it to another high-quality audio interface.
So with all that said, let's get to it:
Behringer UMC1820 Build Quality & Features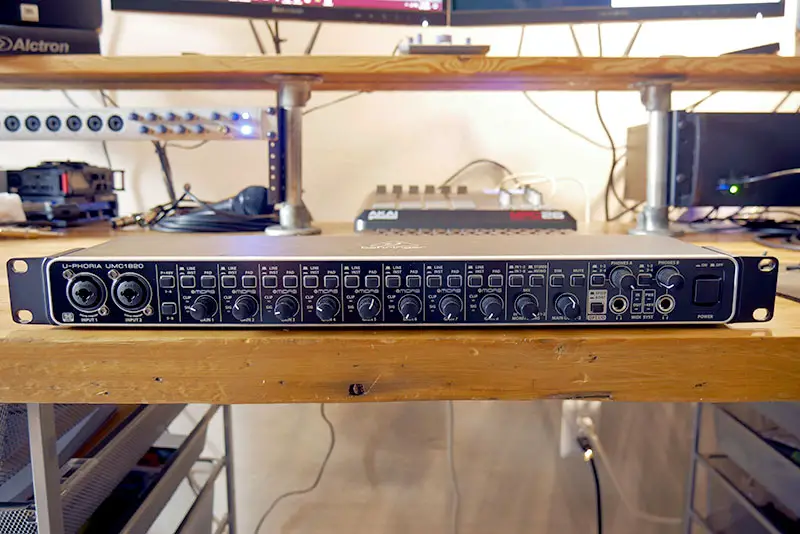 Now with audio interfaces of this size, you generally see two layouts. One with all the inputs on the front of the unit and the other layout with two inputs on the front with the rest on the back. The UMC1820 takes the second approach: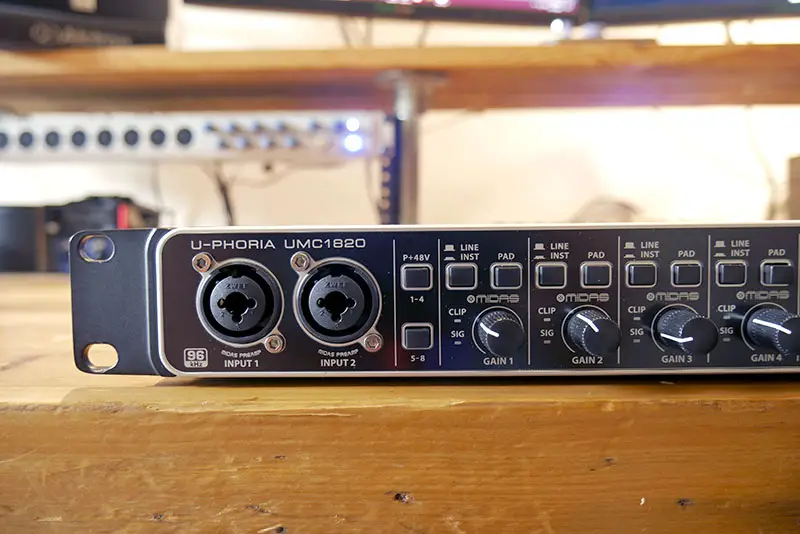 I think this is entirely a preference thing as to what you like and it depends on your workflow. Personally, I like when all of the inputs are on the front when I'm using an interface like this in my home studio. But, when using it live or at practice, as I have with 1820, it doesn't really matter.
In any case, if it bothers you that the inputs are on the back, you can always buy a patch cable or cable snake to route them to the front.
Each input on the 1820 is an XLR 1/4″ combo input (including the two on the front). In addition, each input can be used as an instrument input. Meaning, you can plug a guitar or bass directly into the any of the inputs for recording. Most interfaces only have two instrument inputs.
Learn how to create the perfect home studio with this FREE PDF, "10 Things to Consider When Creating Your Home Studio (That You Probably Haven't Thought About Yet)".
To engage the input for instrument level recording, you'd just "press in" the button labeled, "Line Inst". Each input also has a -15 dB pad that you can use when your recording signal is too hot (which can happen when using sensitive condenser microphones).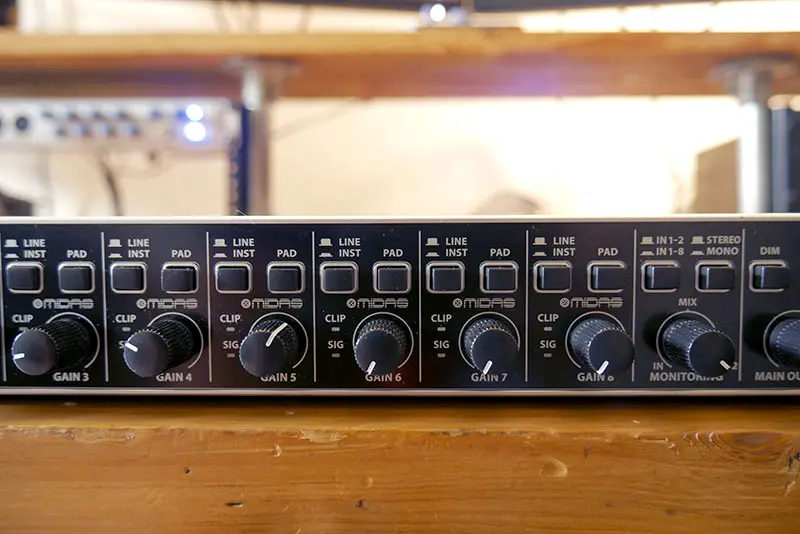 I like the fact that each input has its own pad. A lot of interfaces don't have a pad function at all, let alone a specific pad for each input. So that gives you great flexibility when recording.
Rounding out the features on the front, there are also two headphone inputs: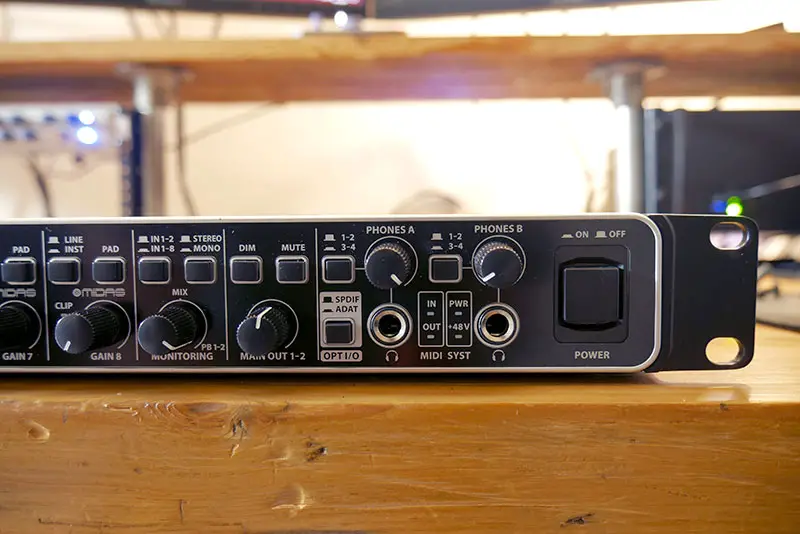 This is another added bonus since many interfaces, even at this size, typically only have one headphone output. For example, my older Presonus Firestudio and even newer interfaces similar to the UMC1820 like the Tascam 16×08 and Presonus 1818VSL.
This feature is nice when you have multiple people recording at once or if you're an engineer recording someone else. You both can listen via headphones if needed.
Each of these headphone outputs also have a button to switch between outputs "1 + 2" and "3 + 4". This way you can toggle between two mixes. For example, a main mix going to outputs "1 + 2" and a sub mix going to outputs "3 + 4".
Since I use this at band practice for live monitoring, this features comes in handy. I can have the main mix going to outputs "1 + 2″ but I can use outputs " 3 + 4″ to have a click track playing. I then toggle the button for outputs "3 + 4" on the headphone output and send this to our drummer so he can have a click track.
Now, let's take a look at the back…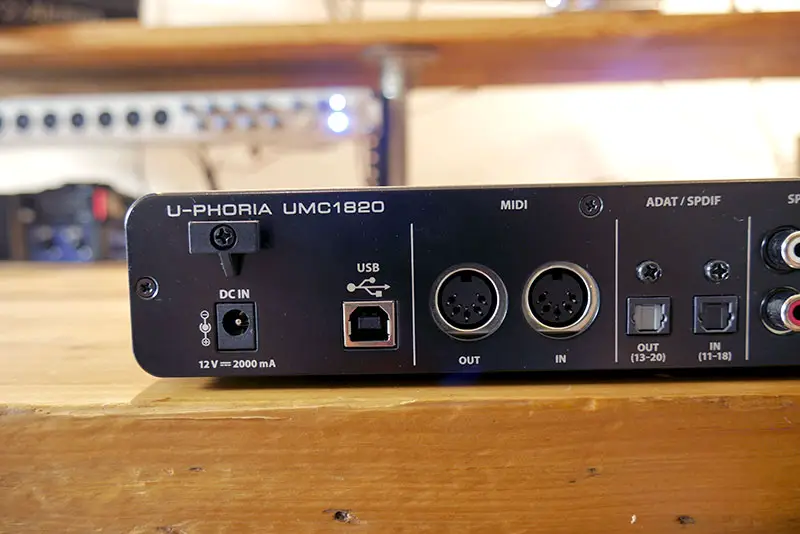 On the back is the power input with a loop to wrap the power cord around so that it doesn't accidentally get pulled out, the USB connection, MIDI in and out, ADAT, and SPDIF connections.
If you're unfamiliar, ADAT can be used to connect an added preamp so you can have access to additional inputs. So if you need to record more than 8 inputs at a time, that's how you would do it. Something like the Presonus Digimax D8 would work well for this purpose.
There are also 10 outputs (that act as 5 stereo pairs):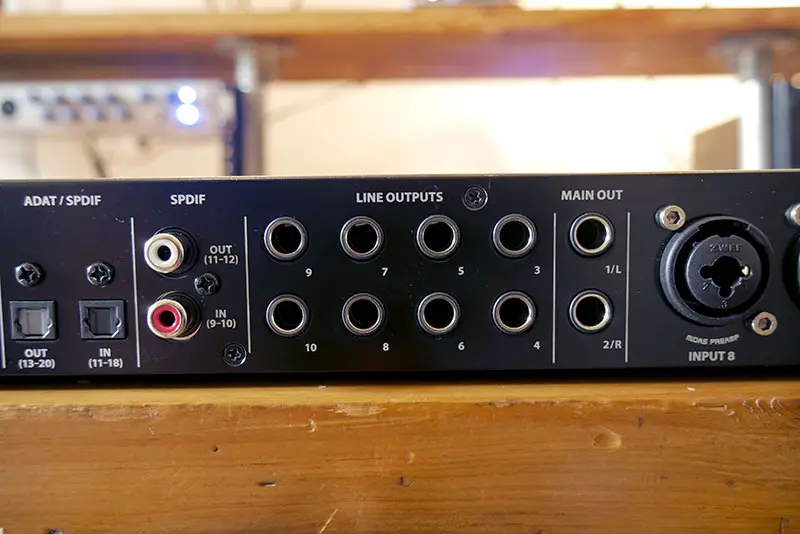 And like I mentioned earlier, there's also the 6 additional XLR 1/4″ combo inputs: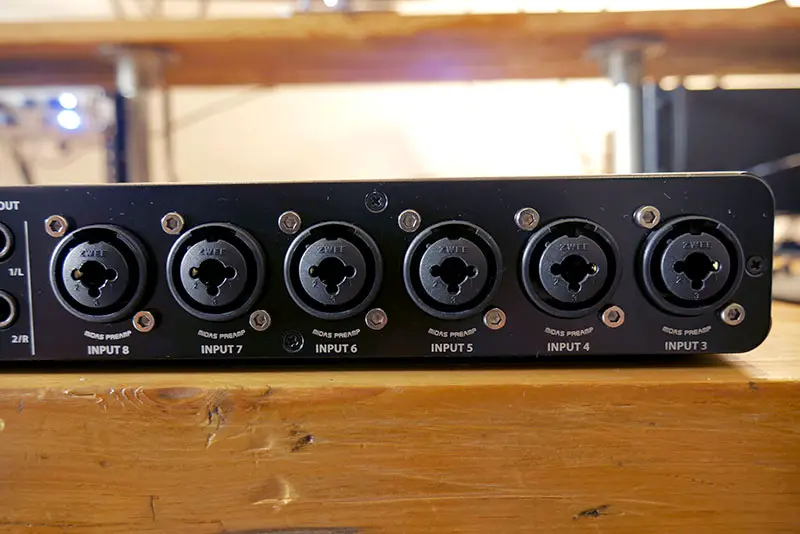 Lastly, the UMC1820 is rack mountable but if you don't want to put it in a rack, the rack ears can acutally be removed: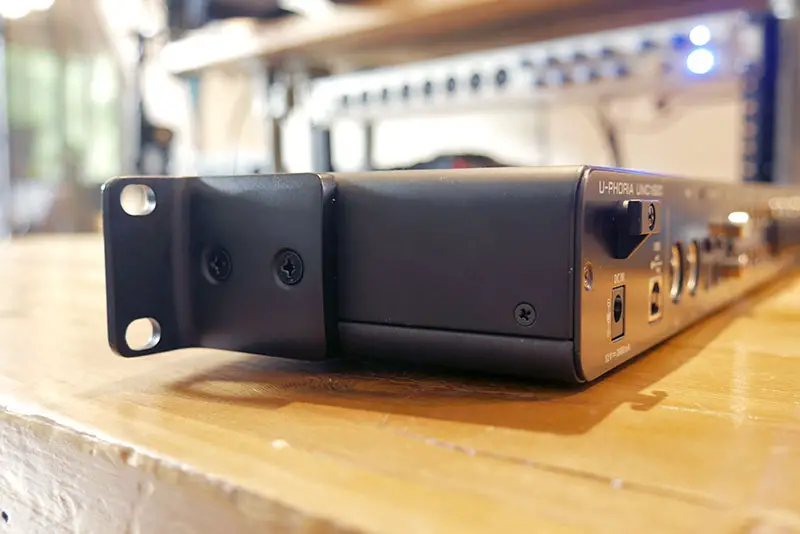 Two screws hold each rack ear on. Removing these will make the interface a bit shorter so you can store in on your desk or fit it into your backpack for travel.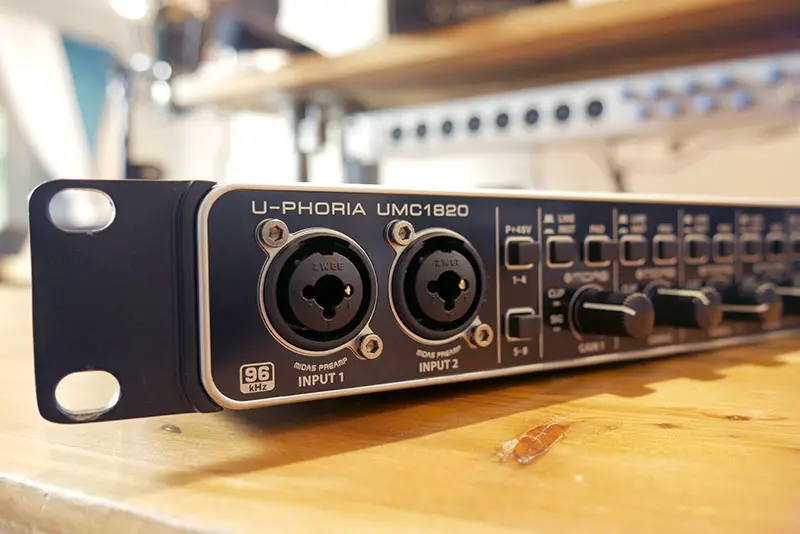 Audio Samples: Behringer UMC1820 vs. Presonus Firestudio
In the video below, I cover a few points I've covered so far in this review, but I also have two guitar tracks for you to listen to. One track was recorded directly into the Behringer UMC1820 and the other directly into my Presonus Firestudio. This way, you can judge audio quality for yourself.
In my opinion, there wasn't much of a difference between the two units, so you're not sacrificing audio quality by going with the Behringer. Take a listen (skip to about 3/4 the way through the video for the audio samples):
Conclusion: Should You Buy the Behringer UMC1820?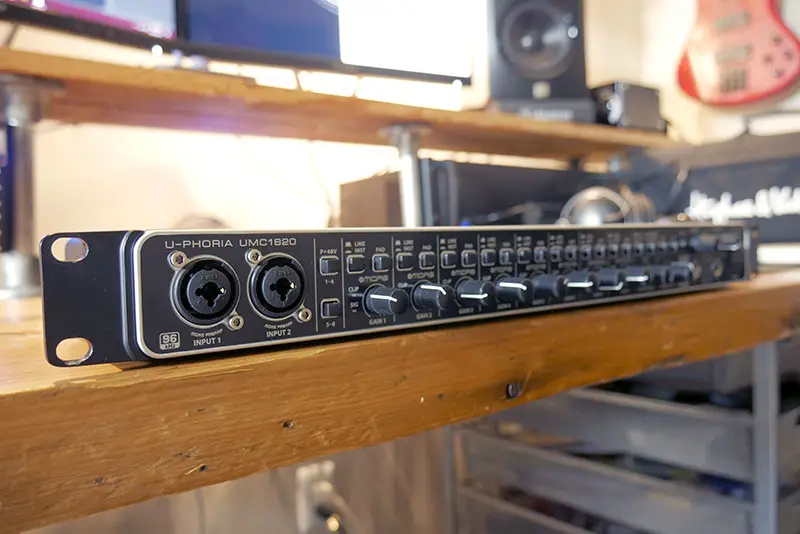 In all honesty, I really love the Behringer UMC1820. It's one of the cheapest 8-input interfaces you can buy at $300 but it's loaded with features. Only the Tascam 16×08 comes close in price but it lacks many of the features that the UMC1820 has.
For $300, you get 8 XLR 1/4″ inputs with instrument level recording ability and -15 dB pads, 5 stereo outputs (10 1/4″ outputs in total), MIDI in and out, ADAT, and two headphone outputs with selectable monitoring.
At this price point, there really isn't anything else out there like it, and overall, I've been very happy with the unit.
Having used the unit for about a month, kept in a rack case, and transported to practice every week, it's worked out great for me. It does exactly what I need it to do, it's been reliable, and it sounds just as good as any other popular interface out there.
No matter what you're preconceived notions are with Behringer, I think the UMC1820 is well worth the money and if you need an 8-input interface, I'd highly recommend it.
That's all I have for you in this review. If you have any questions, be sure to leave them in the comments below and I'll do my best to answer them for you and help you make an informed decision on purchasing the right audio interface for you.
As alway, thanks for reading!