The Boss GT-100 is one of the most versatile and widely-used multi-fx guitar pedals today. Boss is a huge name in the guitar effects world, and with their GT-100, you can enhance your live sound.
It is a multi-effects pedal, meaning the GT-100 can model many different guitar amplifiers, modern and vintage, as well as a wide array of effects to use, all on one pedal! It is shockingly convenient and helpful to guitarists, and it even has a loop effect as well, meaning you can layer sounds and create a jam all by yourself!
This article will be a comprehensive review of the Boss GT-100 and will cover just why this multi-effects pedal will be an excellent purchase for your guitar setup.
Boss GT-100 Overview: Key Specs
| | |
| --- | --- |
| Pedal Type: | Multi-fx |
| Preset Sounds: | 200 |
| Analog/Digital: | Digital |
| Inputs: | 1 x ¼", 1 x ⅛" aux, MIDI In/Out/USB |
| Outputs: | 2 x ¼" (instrument), 1 x ¼" (headphones) |
| LCD Screen: | Yes (2 screens) |
| Power Source: | 9V DC Power Supply (Included) |
| Dimensions: | 21.36 in. x 10.69 in. 4.06 in. (542.54 mm x 271.53 mm x 103.12 mm) |
| Weight: | 10.6 lb. (4.81 kg) |
Features

Given that the GT-100 is a multi-fx pedal, it should come as no surprise that there are many different sounds it can create. You are able to navigate and control these sounds with two LCD screens, knobs, and several different buttons you can press with your feet.
Its two main features are amp modeling and stomp box effects. Amp modeling means that when the pedal is connected to an amplifier, you can choose one of the many different digital amplifier models on the GT-100 to play through, giving you complete control of your guitar sound directly on the pedal.
Here's a list of some of the popular amp models in this unit:
JC-120 (based on Roland JC-20)
CLEAN TWIN (based on Fender Twin Reverb)
PRO CRUNCH (based on Fender Pro Reverb)
TWEED (based on Fender Bassman 4×10)
BG LEAD (based on Mesa Boogie IIB)
T-AMP LEAD (based on Hughes & Kettner Triamp)
SLDN (based on Soldano SLO-100)
5150 DRIVE (based on Peavey 5150)
Find the full list of amp models here.
While the amplifier presets sound great, you are also able to adjust and fine-tune the amp settings via the LCD screens. The names of some of the amplifier models are Hi Gain Stack, Tweed Clean, Modern Metal, Jazz Field, Bright Rhythm, Safari USA, 80's Jazz Fusion, and more.

Whether it's a vintage amplifier model or something more modern, the Boss GT-100 encourages you to modify and even warp the sound by using built-in effects and/or changing the settings on the amplifier preset using the LCD screen and knobs.
It also boasts a wide array of effects, giving you the option of using this multi-fx as a standalone pedalboard. You are able to assign stompbox pedal effects to each of the buttons numbered 1-4. Whether you need chorus, overdrive, flange, or wah, all of your options are covered and easy to find.
Here are some of the popular effects models in the GT100:
BOSS COMP (based on Boss CS-3)
CLEAN BOOST (based on Boss FB-2)
BLUES OD (based on Boss BD-2)
PHASER (based on Boss PH-3)
FLANGER (based on Boss BF-3)
ANALOG (based on Boss DM-3)
MONO (based on Boss CE-2)
Find the full list of effects here.
There's also a separate looper pedal, allowing you to press the pedal button with your foot and create a loop to jam with or layer more loops on top of.

There is even a harmonizer effect as well that can keep up with extremely fast playing.
Sound Quality
Given the name of Boss, which is owned by Roland, it goes without saying that the sound quality is immaculate. Despite being released in early 2012, the clarity and nuance of its tone still holds up very well against its competitors.
The foot pedals allow you to quickly switch between distorted or clean versions of your amplifier model, as well as adding or removing effects, and does so without any lag, clipping or dips in the sound's integrity.
There are 200 preset sounds, all of which can be modified by the user, and each has a great unique tone. The video below demonstrates the different quality sounds you can choose from, as well as how easy it is to flip between them and control different effects.
Comparison With Line 6 Helix, Kemper Stage, GX-100 And GT-1000
These five multi-fx pedals look and function largely the same, allowing you to flip between amp models and effects via foot pedals and an LCD screen. However, there are several key differences between them.
Presets:
For one, both the Kemper Stage and Line 6 Helix have over a thousand sound presets to choose from, whereas the GT-100, GX-100, and GT-1000 only have a few hundred each. The GX-100 and the GT-1000 do allow for user downloaded presets as well.
This variety allows you to experiment with a larger number of sounds and find something that suits your needs quicker, versus starting from an empty canvas. The Kemper Stage, in particular, is great at capturing the sound of other real-world amps.
The Kemper Stage allows you to download any of the thousands of amp models and effects on its cloud, the Kemper Rig Exchange. Line 6 also has an application called Helix Native. The three Boss pedals use Boss Tone Studio.
Kemper Stage Amp/Effects Models
Line 6 Helix Amp/Effects Models 
Pedal Buttons:
All of these pedals, except for the GT-100, use cylindrical metallic buttons. The GT-100 uses longer, black buttons.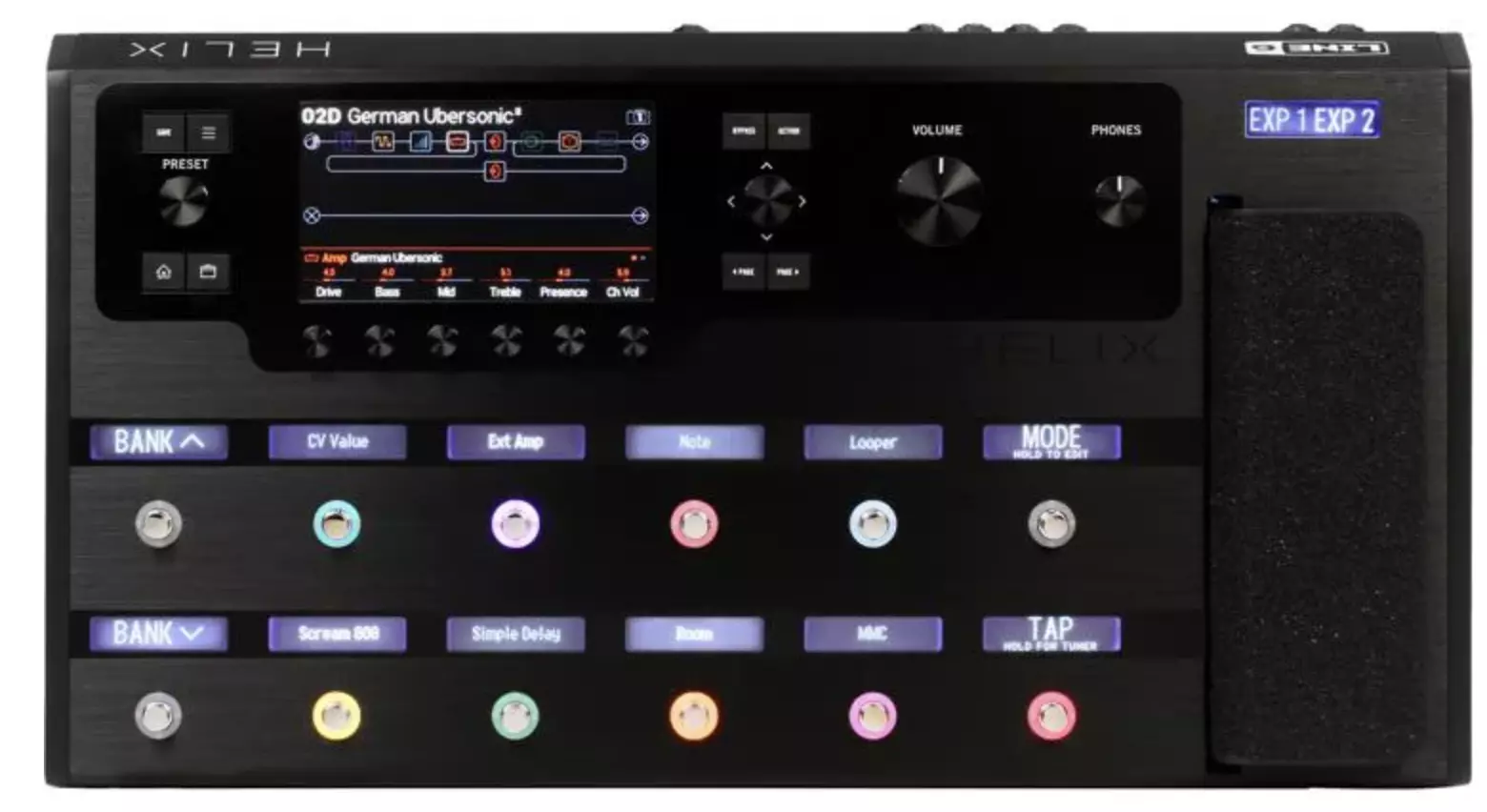 The Helix features buttons that light up in different colors and have small LCD screens above each, labeling the effects clearly, which is perfect for live playing. The GT-1000 and the GX-100 just have lights on their buttons and the Kemper has neither.
The easier to read and press the buttons, the better, so you need to evaluate which layout and style would be most practical and beneficial to your playing style.
Connectivity:
While the features on each type of software will vary slightly, all five of these pedals can be connected to a computer via USB. Through this, you are able to edit your presets, as well as downloading new presets or impulse response software to your pedal.
All of these multi-fx pedals have plenty to offer and are excellent products, but as far as pure sound quality goes, the Boss GT-100 still hangs in there with them despite being a thousand dollars cheaper than the most expensive option.
If you are an advanced guitarist who needs more cutting-edge technology, then splurging on the Kemper, Line 6 or GT-1000 makes sense. However, for the best value compared to price, the GT-100 is a fabulous option.
Should You Purchase The GT-100?
If you are a rather advanced guitarist looking to buy the highest-end gear, then the Kemper or Line 6 pedals will likely be better for you.
However, since the majority of guitarists out there are in the beginning to intermediate stages of playing, the GT-100 is the perfect multi-fx pedal for you because it is easy to use, affordable, and has phenomenal sound quality.
FAQs
Is the Boss GT-100 worth it?
Yes, the pedal has many great features, starting with the ability to choose from a base of 18 different amplifiers, giving you exponentially more control over your guitar tone than you would have otherwise using a traditional amplifier.
What effects does the GT-100 have?
The effects on the GT-100 include: compression, overdrive, EQ, preamp models, delay, chorus, reverb, noise reduction and wah. Here is a full list of specific effects.
Does the GT-100 have a looper?
Yes, the GT-100 does have a looper. You are able to record up to 38 seconds in mono and 19 seconds in stereo.