Pedalboards are an integral piece of gear for most electric guitarists. They hold and organize effects pedals, audio mixing pedals, tuners, and more. While you can purchase a readymade pedalboard, it is also quite common for guitarists to build their own.
The trend of building one's own pedalboard is spurned by a mixture of financial and aesthetic reasons. It is certainly cheaper to build your own pedalboard out of an old suitcase or plank of wood, but the creativity and flair of designing your own pedalboard to fit your exact specifications also appeal to many guitarists.
This guide will explore pedalboard options that are either pre-built or can be assembled yourself!
Top Pre-Built Pedalboards For Purchase
1. Pedaltrain Novo 18 SC 18" x 14.5" Pedalboard With Soft Case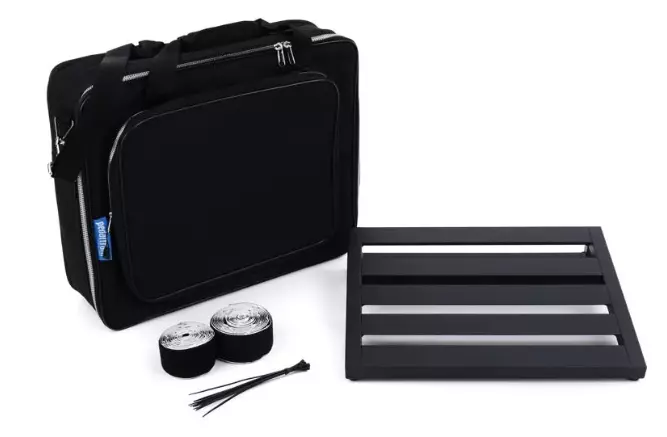 | | |
| --- | --- |
| Rails: | Five |
| Accessories: | Soft case, zip ties, fasteners |
| Dimensions: | 18 in. x 14.5 in. x 3.5 in. (457.2 mm x 368.3 mm x 88.9 mm) |
| Weight: | 7.81 lb. (3.54 kg) |
The Pedaltrain Novo 18 is a sturdy and straightforward pedalboard that is cost-effective and has a lot to offer. The board is metal, and has five rails for a good, not great amount of pedals. It also comes with a soft case and mounting equipment.
2. Temple Audio Duo 17 Templeboard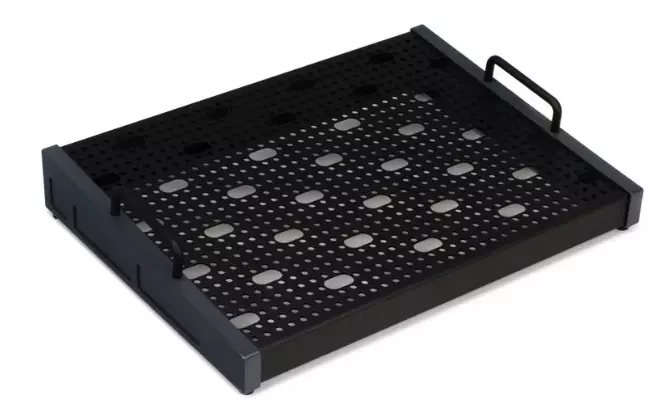 | | |
| --- | --- |
| Rails: | None (Templeboard proprietary design) |
| Accessories: | None |
| Dimensions: | 17 in. x 12.5 in. x 2.5 in. (431.8 mm x 317.5 mm x 63.5 mm) |
| Weight: | 3 lb. (1.36 kg) |
This pedalboard by Temple Audio is a fascinating and unique option. The Templeboard Duo 17 doesn't have rails to attach pedals to, but rather a pattern of holes to completely secure your gear to. The downside to this lightweight and efficient design is that you will need to purchase Pedal Plates separately, but they are low cost and secure your pedals so properly that it is worth it.
3. Voodoo Lab Dingbat Pedalboard Power Package
| | |
| --- | --- |
| Rails: | None (Uses ovular holes instead) |
| Accessories: | Mounting equipment, soft case, power supply, cables |
| Dimensions: | 22 in. x 13.5 in. x 2.75 in. (558.8 mm x 342.9 mm x 69.85 mm) |
| Weight: | 6.4 lb. (2.9 kg) |
This Voodoo Lab Dingbat kit is a pricey, but awesome purchase to consider. It is several hundred dollars more expensive than the previous options, but that is to be expected when it comes with its own power supply, as well as a travel case, mounting brackets, and cables.
4. BOSS BCB-1000 Deluxe Pedalboard And Case
| | |
| --- | --- |
| Rails: | None (Uses lined holes instead) |
| Accessories: | Hard suitcase |
| Dimensions: | 19.6 in. x 11.6 in. x 3.75 in. (497.84 mm x 294.64 mm x 95.25 mm) |
| Weight: | 14.7 lb. (6.67 kg) |
The BOSS BCB-1000 is a durable, professional quality pedalboard that is perfect for travel. It comes with a hard shell suitcase that comes fitted with wheels and a handle that can be easily rolled. The board's design is simple and efficient and is an excellent package for a price comparable to the Voodoo Lab board.
5. SKB 1SKB-PB1712 Molded Pedalboard
| | |
| --- | --- |
| Rails: | None (Uses lined holes instead) |
| Accessories: | None |
| Dimensions: | 17.67 in. x 12.37 in. x 3.25 in. (448.82 mm x 314.2 mm x 82.55 mm) |
| Weight: | 3.25 lb. (1.47 kg) |
This SKB Molded Pedalboard is a straightforward and sturdy pedalboard that is shockingly low in price. Unfortunately, it doesn't come with any accessories. However, if you already have pieces of gear like a power supply or fasteners and just need a board, then this is the perfect option for you.
Simple DIY Pedalboard Ideas
6. IKEA Crate Pedalboard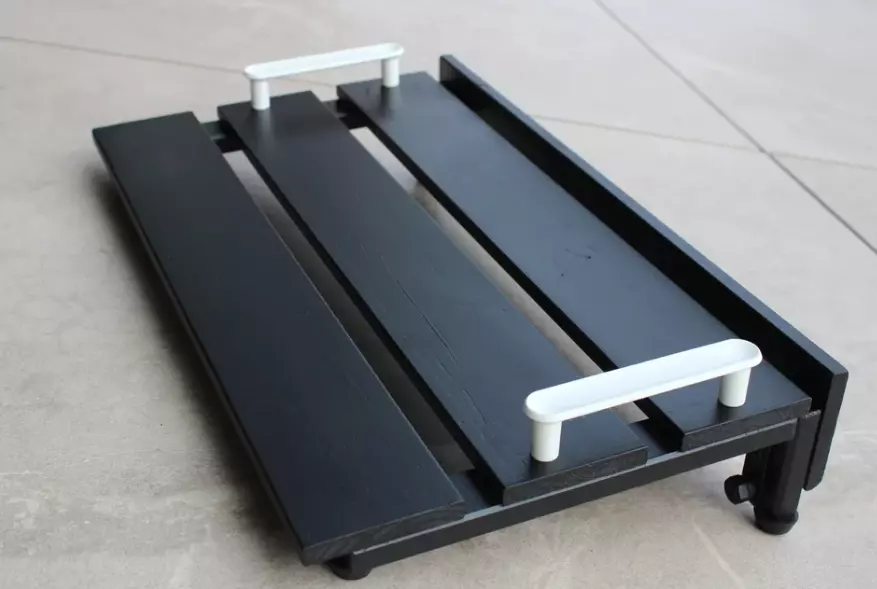 As if IKEA could be any more versatile of a store, it is a great place to find materials to make a pedalboard! With parts from an IKEA crate, some handles and a few pieces of rubber as stoppers and you have an awesome board. Check it out here.
7. Wire Shelving Pedalboard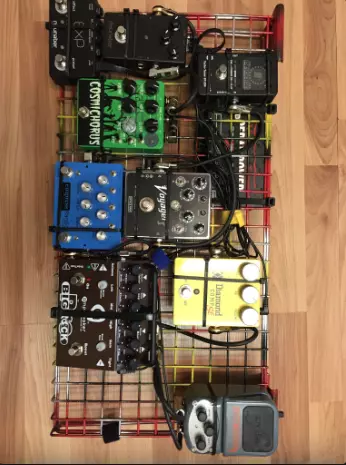 With only two wire shelves and a pack of zipties, you can create a surprisingly durable and incredibly cheap pedalboard in little to no time at all! It may not look great, but it certainly is effective. Check it out here.
8. Tea Tray Pedalboard

The use of tea trays for homemade pedalboards is both quite common and effective. The trays are typically wood and look good, adding aesthetic value to something that is already practical. Most people have a tray close to this, all you would need to purchase are strips of Velcro! Check it out here.
9. Briefcase Pedalboard

Arguably the most popular and iconic homemade pedalboard, the briefcase is a staple piece of board building material. Not only are they about the ideal size for a pedalboard, they also have built-in portability and protection for your pedals. Check it out here.
10. Wood Pedaltrain 32 Pedalboard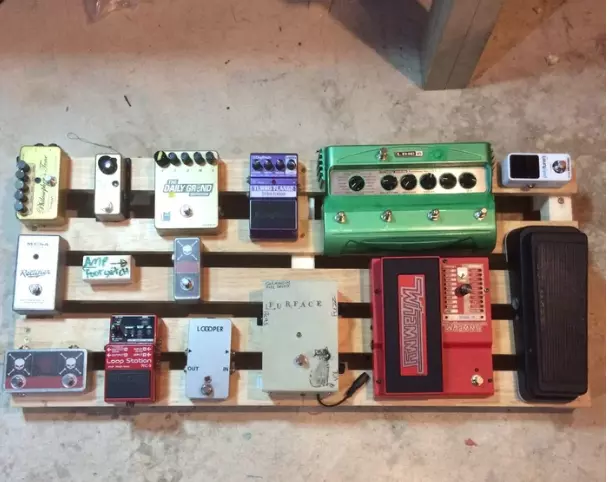 Here we have a far cheaper, wooden version of a Pedaltrain pedalboard. It has rails just like the Pedaltrain board in the section above, and is extremely easy and cost-effective to make. It also has a distinctly minimal look that works very well! Check it out here.
11. Skateboard Pedalboard

The skateboard pedalboard is an awesome and stylish option to consider. It isn't worth it to go out and buy a new skateboard, unless you really want that style, but rather this is perfect to use an old skateboard for. Simply affix velcro strips and then you have a sturdy, wooden board. Check it out here.
12. IKEA Gorm Pedalboard

In addition to their crates being useful DIY pedalboard materials, the Gorm boards from IKEA shelves are also a very popular item to use in making pedalboards. You can leave it as simple as it is in the picture above, without any angling or other features. Check it out here.
13. Tiered Wood Pallet Pedalboard

Returning to the minimal wood look, you can create a wonderful tiered pedalboard out of very cheap wood and not much in the way of equipment. If you don't love the aesthetic, you can always paint and finish it in any color you choose. Check it out here.
14. Metal Shelf Pedalboard

In a cheap and highly unique fashion, you can indeed construct a pedalboard out of common metal shelving. It is light and durable and looks completely different than most other pedalboards that are out there. Check it out here.
15. Cigar Box Pedalboard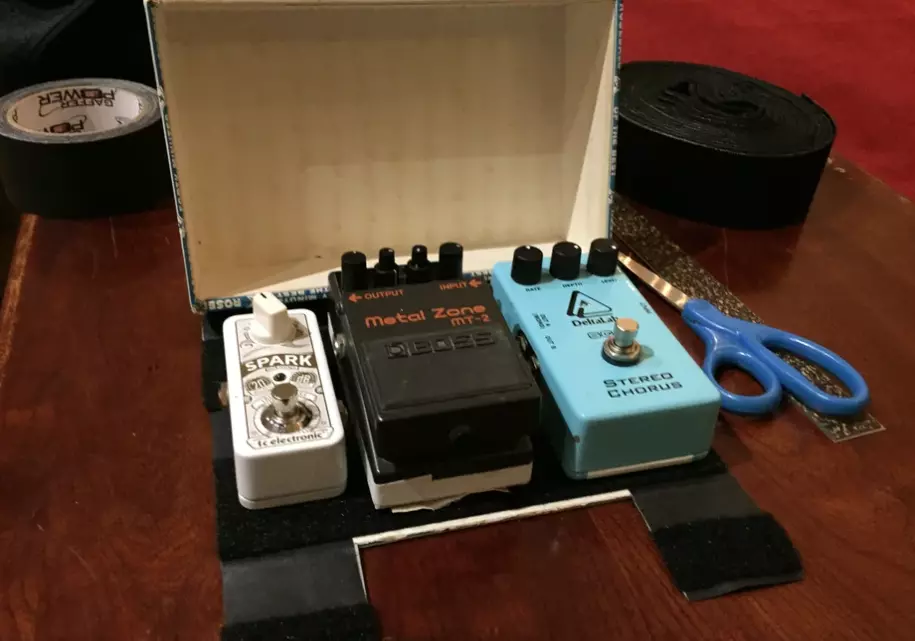 Something that is both practical and stylish, a cigar box pedalboard can be a perfect kind of board for certain players. Obviously, you are limited in the amount of pedals you can use, but if you're more of a minimalist player and have a nice cigar box laying around, it is worth configuring a pedalboard out of it. Check it out here.
10 Detailed DIY Pedalboard Designs (With Videos)
16. Walnut Pedalboard – Made by Mitch

In this video tutorial from Made by Mitch, we see a lovely walnut pedalboard that he built and assembled himself. The video covers all the parts you will need, and this is a rather labor-intensive build, but the quality of the finished product is undeniable.
17. DIY Wedge Pedalboard – MerwinMusic

This is a pedalboard similar in design and difficulty to the previous build on this list. It is a beautiful wedge-shaped wooden board outfitted with the necessary electronics. The video is organized very well and will walk you through the process perfectly!
18. DIY Mahogany/Ash Pedalboard – The Offcut

This pedalboard is a divergence from the similar designs of the first two, opting instead for a rail-based design like a Pedaltrain board. The video is demonstrative, without words spoken or typed, but he has the plans linked in the description along with every other piece of equipment and information you'll need to build it yourself.
19. Custom DIY Pedalboard – Adventures From The Shed of Dreams

Here we have another wedge-shaped pedalboard design. The top opens via hinges, allowing you to fit all your electronics inside the board without issue. The presenter also has a calm demeanor and a good voice, making this a fun project to work on with the video.
20. Walnut and Maple Pedalboard – Are Baloni

Are Baloni's Youtube channel delivers a beautiful video of a beautiful pedalboard. It is constructed of maple and walnut, two very common woods for this kind of project, and features a similar rail design to the third pedalboard on this list. It's a sturdy, visually pleasing board that will suit any guitarist!
21. DIY Custom $12 Pedalboard – Scott Breault

With $12 in the title of the video, Scott Breault's tutorial is going to get plenty of attention and the pedalboard certainly delivers! It actually can be made for around $12 (he had velcro on hand and didn't need to purchase any) and is a relatively straightforward build that looks and performs great.
22. DIY Modern Compact Pedalboard – DIY Modern

In eye-catching fashion, DIY Modern has made a compact pedalboard that looks absolutely gorgeous. It is small, only holding about five pedals, but it is shockingly portable, especially with the handle on top. The video is easy to follow and well-made, giving you all you need to build your own compact pedalboard!
23. DIY Simple Maple Pedalboard – Eric Lindberg

Even though all of these pedalboards can be made by following the instructions, this is a simple pedalboard by Eric Lindberg that may suit you better if you aren't experienced with woodworking. This board is made from maple and is rather straightforward and cost-effective to build. Give it a try!
24. DIY Pedalboard With No Power Tools – Doug Hanson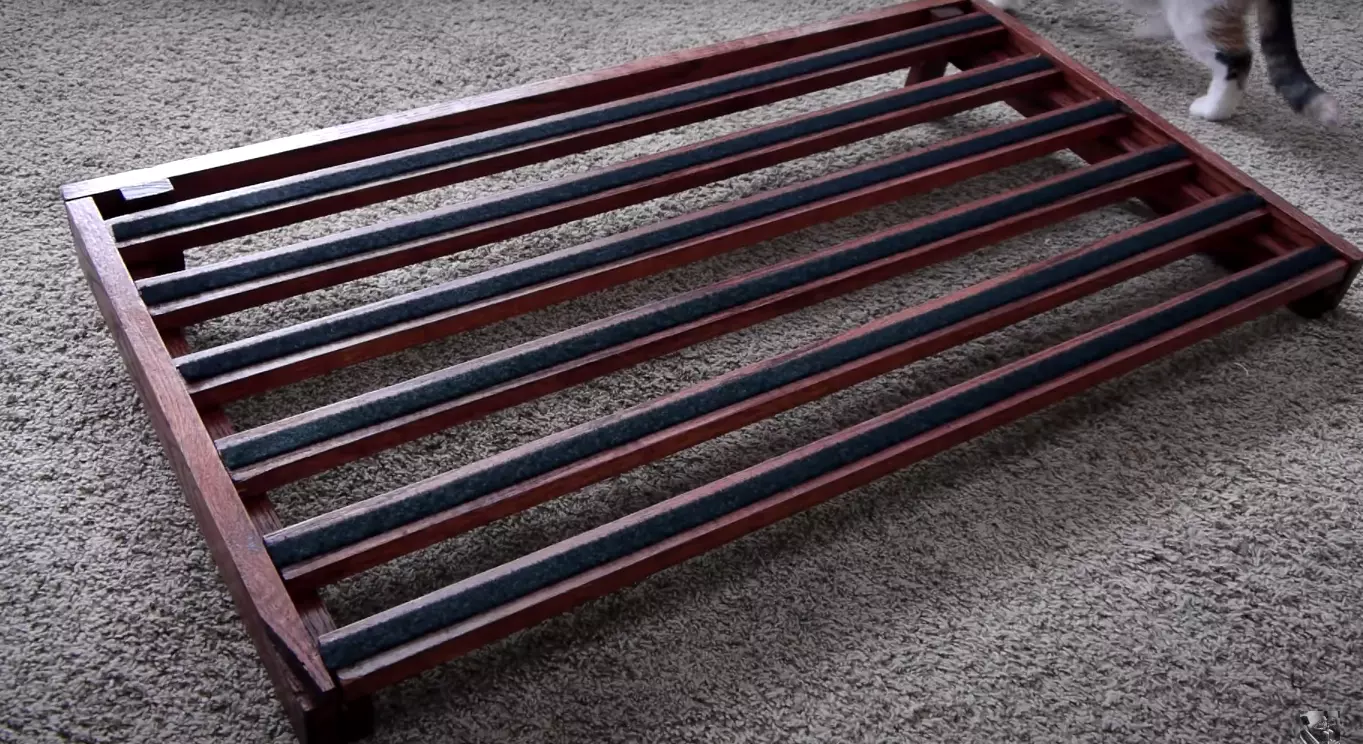 Continuing the trend of pedalboards that require less expertise and equipment, this beautiful wooden design by Doug Hanson is an excellent tutorial to follow. It is a concise video, only three minutes, that clearly lists all the (few) parts you need and walks you through the process without difficulty.
25. DIY Power Drill Case Pedalboard – EverydayCreative

We'll end this list with something that is both fun and budget-friendly: the power drill case pedalboard. Most homes will have a drill case lying around somewhere, and with only a few other pieces of material needed, you can very quickly have a portable and durable pedalboard with little money spent!