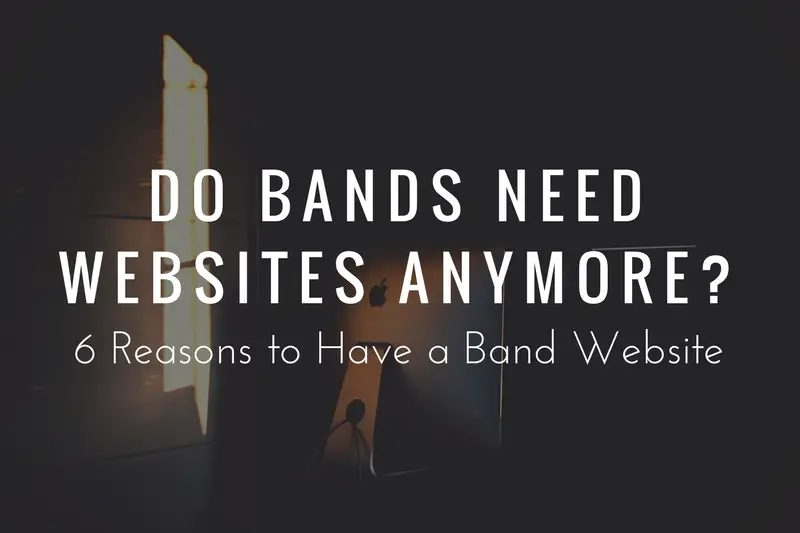 18 Oct

Do Bands Need Websites Anymore? 6 Reasons to Have a Band Website

With Facebook, Twitter, Instagram, and networks built specifically for bands such as Bandcamp and ReverbNation, do bands (or solo musicians) even need a standalone website anymore?

Deciding to invest in a website for your band can be a serious decision since web development can be costly and a large investment for musicians who are often strapped for cash.

With that said, you might think that you can just get away by having one of those social profiles. But if you're serious about your music and turning it into a career, I'm here to tell you that, yes you still NEED a website for your band.

While I run, write, and develop all the content for Infamous Musician (which includes designing the site), I also work as freelance web designer and writer. I have developed many websites using the popular platform, WordPress (my number one choice for band website builders), and have even built quite a few websites for musicians.

On top of that, I am in a band myself and have experienced the power of having a website for my band versus just having a Facebook or Reverbnation page. So I figured it would be a good idea to layout a few of the top benefits of having a standalone website for your band.

Let's dive right in…
1. You Have All The Control
This is probably the top reason for hosting your own website. You have complete control over it. You control how the website looks, feels, works, etc.
If you want to change the layout, you can do that. If you want to change the color theme, you can do that. If you want to feature your latest album on your homepage and sell it directly on your website, you can do that.
You control exactly how your site works. You control what people see and how they see it.
That is not the case with Facebook, Reverbnation, Bandcamp, etc. You have to abide by their rules and structure. Your flexibility and creativity are limited on those sites.
Additionally, all of those sites can change whatever they want at any given time. If Facebook decides it doesn't want to allow you to post songs or videos to your Facebook page, they can do that. Or, they can completely get rid of Facebook pages altogether.
While that's very unlikely, it is still a possibility. The point is that they can change anything on their site at any given site because it is their site, not yours.
However, with your own site, there are no limitations to what you can do and you control what happens to it.
2. It's Easier to Direct People to Your Website
As a musician or band trying to get your name out there, you want to make it as easy as you can for people to find you.
If you have to tell people to search for you on Facebook or Reverbnation, it just adds more work for them.  Making it more likely they won't do it.
Additionally, you can tell people your Facebook page is Facebook.com/yourbandname, but it's still more work and more for people to remember. And often times, your page URL might just be a number when you first create your page (ie. Facebook.com/89832430934).
Having a website at www.yourbandname.com is much easier to tell people to visit and for them to remember. You can also include it on posters, album jackets, etc. Making it easier for people to find you.
3. You Can Sell Your Music & Merch and Keep More of the Profits
On top of easier exposure, you'll have the opportunity to make more money from sales on your own website. By selling merch on your own site, versus listing it through a service, you'll often be charged a fee on every sale. The same can be said when selling music through say iTunes where they take a certain percentage of each
When listing your music or merch through a service, you'll often be charged a fee on each sale. An example of this is iTunes where they take a certain percentage of each sale. On top of that, with iTunes, you're limited to how you can price your music.
Of course, iTunes and sites like it have a large audience and receive much more traffic than your site will. However, the likelihood of anyone really discovering you on there is still slim. Most of your sales in the beginning of building your band will come from friends, family, and hardcore fans.
So why not try to maximize your profits on every sale you make?
On your own website, you can set up an e-commerce shop where you can sell whatever you like, price it however you like, and keep more of your earnings. While you will still be charged a payment processing on each sale, you won't be charged an added fee as you are with iTunes. Thus, you will keep more of your profits.
4. It Shows You Are Serious
Having your own website shows that you are serious as a band. It shows professionalism and a certain level of credibility.
While having a website as a band has become more of a norm these days, there are still many bands that don't have one. By having a website, you stand out as a band that is willing to invest in themselves and likely wants to make music a longterm career versus a band that is just together to jam and have fun.
Simply, it shows that you take your music career seriously.
5. You Can Build Your Fanbase
In addition to just having a website for people to visit and find out more about you, you also can leverage your site to build up your fanbase.
Since you control everything that happens on your website and how it works, you can set up an email signup form for fans to signup for your latest news, upcoming shows, and album releases. Thus, building your email list which is super important in building a successful music career.
This is just simply hard to do on Facebook, Reverbnation, Bandcamp. With a website built on WordPress, you can easily add a signup form from popular email marketing platforms such as MailChimp (which is free for up to 2,000 subscribers on your list).
Another idea would be to offer free downloads for your music in exchange for a fan's email address. This, too, is a good way to build your list. It's also not very hard set up on WordPress, whereas many other social sites don't offer this feature.
6. You're Expected to Have a Website
Lastly, with the cost of developing a website much more affordable these days, with many tutorials out there on how to build your own website, and with so many professional bands that already have their own website, fans simply expect you to have a website.
If you're a serious act, they assume and expect you to have a website that they can visit.
If you don't, you're missing out and you lose that opportunity to connect further with fans that want to visit your website.
Conclusion: Have a Website for Your Band or Solo Act
These are just a few reasons to have your own website as a band or solo act, there are many others. But just these few reasons are significant enough to not be ignored and if you're serious about your music career, they should be carefully considered.
In my opinion, as a band that wants to continue furthering their music career, you need to have a professional website. While it's important to have a Facebook page, and you can continue to have a Reverbnation page if you like, these sites simply don't cut it when it comes to the levels of flexibility, creativity, and control that you have with your own website.
Developing a website these days is not as costly as you might think, especially when the cost is split among multiple band members. If you would like to have your own website developing, as a web designer, I do offer a few affordable packages for musicians that you can check out here. I also even created a huge guide to building your own website if you want to go the DIY route.
My main goal with this post it to help you progress as a musician and build a successful music career. If you have any questions, feel free to leave them in the comments below and I will do my best to answer them fully.