Just as they do on a guitar or a violin, the strings for your ukulele are important and choosing the right option takes a bit more than grabbing the first set off the shelf. This guide will cover different kinds of strings, their materials, and which ones will be best for your electric ukulele!
Standard Tuning For Ukulele
A ukulele's standard tuning will be one of the first things you learn once you buy your ukulele. Starting from the top string, the standard tuning is G-C-E-A. This tuning is the same for acoustic and electric ukuleles both.
Of course, there are alternate tunings as well, depending on the situation or player preference. As on guitar, alternate tunings include drop tunings as well as tunings that go down a whole step or more.
Acoustic Vs. Electric Ukuleles
There are two types of ukuleles, ones with pickups and ones that are only acoustic. Acoustic ukuleles are more common, especially among casual players, and just like an acoustic guitar, it is hollow and contains a hole beneath the strings for sound resonation and amplification.
An electric ukulele uses pickups to connect the instrument to an amplifier, PA system, or computer. These can either be acoustic-electric models, like the one in the image above, or a solid body ukulele. This does not have a hole, and just like an electric guitar is very quiet when played without an amplifier.
String Materials For Acoustic and Electric Ukuleles
Despite these differences in the two types of ukuleles, however, they use the same strings as each other.
The most common types of materials used for strings are nylon or fluorocarbon. Nylon strings are softer and gentler on fingers while fluorocarbon is brighter and suited for players looking for a higher quality sound. In rarer cases, we see steel strings used for ukuleles as well.
Traditionally, a material made from pig entrails called gut was used for ukulele strings, but string makers have since adopted a synthetic version using nylon, which is often called nylgut on ukulele string packages.
Comparing String Materials
Nylon (Or Nylgut)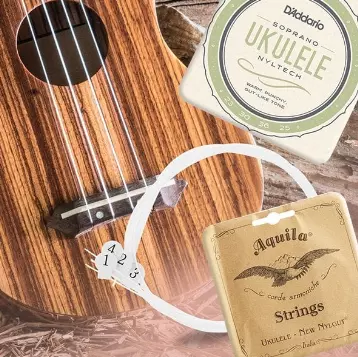 Credit: Ukutabs
As mentioned earlier, nylon or nylgut strings replicate the sound of traditional Hawaiian gut strings, which were made from pig intestines. Nylon strings have a warm and mellow sound that are perfect for music with a gentle Hawaiian feel. They are durable and easy to strum, but don't hold their tune as well as the other options on this list. They should be changed no later than every six months.
Fluorocarbon
Fluorocarbon strings sound similar to their nylon counterparts, but have a slightly brighter tone. They also last longer on average than nylon strings, about six to twelve months, and tend to hold their tune better as well, especially in standard tuning.
Steel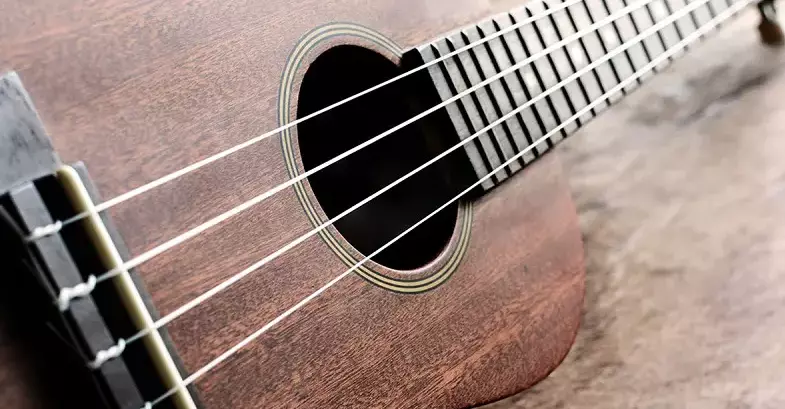 Credit: String Kings
Steel strings are even brighter and more durable than fluorocarbon strings, with that classic steel twang to it that makes its tone sound much less Hawaiian than nylon strings.
Steel strings are also great for holding its tune in standard tuning as well as alternative tunings. They last the longest, and without heavy use you could get away with keeping them on for over a year.
These strings are all priced the same and typically cost between $5-10 in single packs.
The Top 5 Best Electric Ukulele Strings
1. Aquila USA 10U Nylgut Tenor Ukulele Strings – High G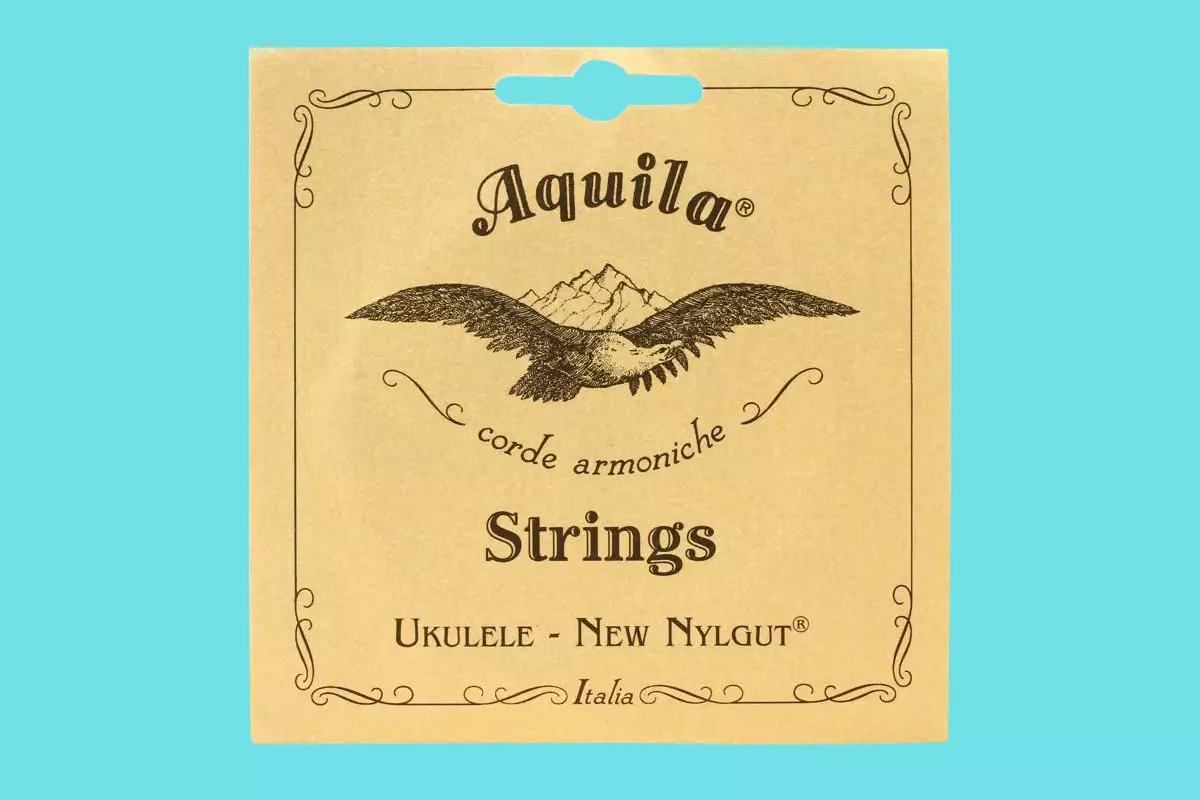 Aquila strings is one of the most widely used string brands for ukulele. This model, like the others in the list, will be for the most common ukulele size of tenor, but there are options in all sizes. They are Nylgut strings, made from nylon, and have that classic soft, Hawaiian tone. It also features the traditional high G string as well.
Reviewers have praised the lightness and playability of these Aquila strings. One said, "Strings are thinner than what came with my Ukulele (my first string change). Doesn't require as much pressure from left hand fingering to play chords."
Key Specs
| | |
| --- | --- |
| Material: | Nylgut (Nylon) |
| Ukulele Size: | Tenor |
| High or Low G: | High |
| Pack Size: | Single |
2. Martin 41Y18M620 Fluorocarbon Tenor Ukulele Strings
Martin is a name that commands respect, regardless of the stringed instrument, and their ukulele products are no exception.
These lovely fluorocarbon strings offer a bite and brightness that nylon strings don't have in their repertoire. The M620s come in a single pack and cost well under ten dollars, as do most ukulele string options on the market.
Users commonly praise the durability of these fluorocarbon strings. Here is one such review, "I bought this for my daughter's ukulele. She plays her ukelele quite often and two or more years later, this string is still intact and producing great sounds!"
Key Specs
| | |
| --- | --- |
| Material: | Fluorocarbon |
| Ukulele Size: | Tenor |
| High or Low G: | High |
| Pack Size: | Single |
3. Fender California Coast Tenor Ukulele Strings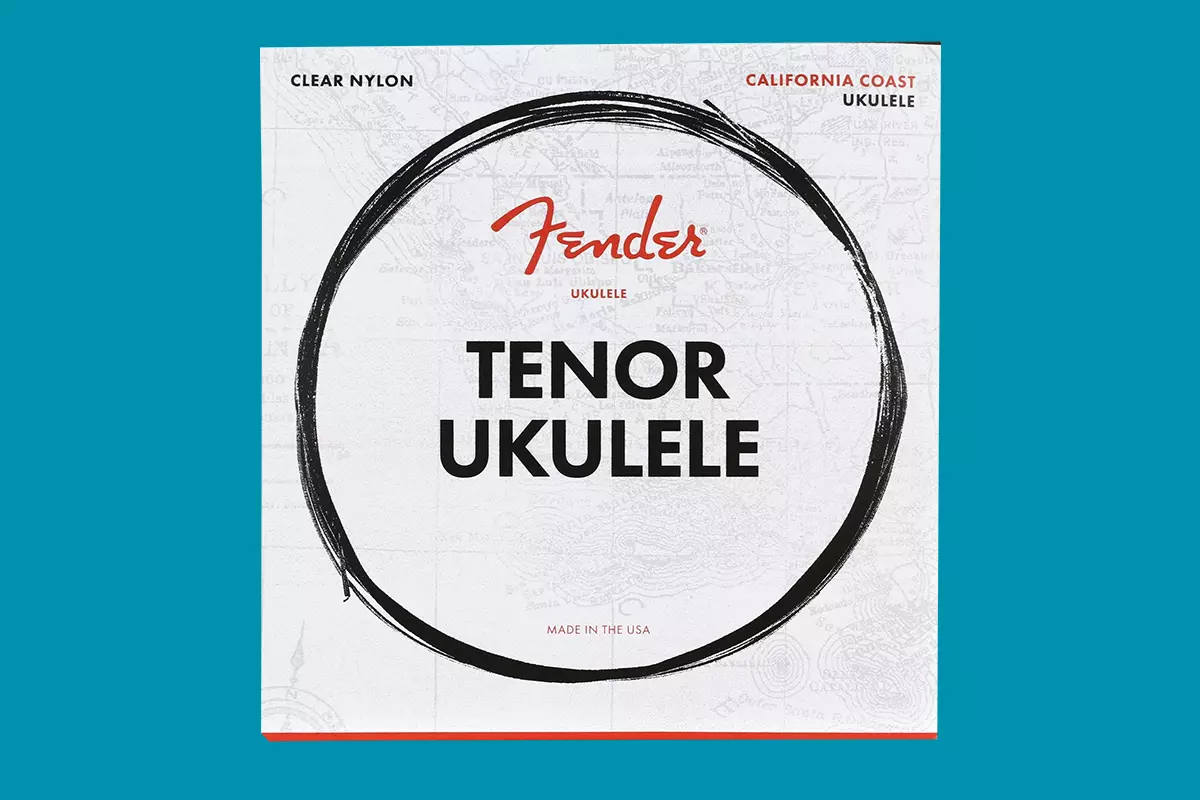 Like Martin, Fender is of course another massive brand that is associated with guitars, but they have their own ukulele department as well, with these amazing California Coast strings.
They are nylon, returning back to the gentler tone compared to fluorocarbon, and are optimized for the standard tuning of GCEA. That said, these strings will still perform great for alternate tunings as well.
Reviewers compliment their feel and intonation. Here's one, "They feel good on the fingers and make beautiful notes. It doesn't take long for them to stay in tune. They are my go-to ukulele strings."
Key Specs
| | |
| --- | --- |
| Material: | Nylon |
| Ukulele Size: | Tenor |
| High or Low G: | High |
| Pack Size: | Single |
4. Ernie Ball 2327 Low G Ukulele Strings For Concert Or Tenor
This set of ukulele strings from Ernie Ball is as unique as it is cost-effective. They come in a single pack and are made from nylon.
The 2327s can be used on either a concert or a tenor ukulele, and feature a low G rather than the typically high G. The low G puts the strings in ascending order of frequency, just like a guitar.
Reviewers tend to praise how easy the strings are to work with. Here's an example, "So easy to put on, they're soft and dont hurt my fingers after a while like the strings that came on it, and they sound so much better!"
Key Specs
| | |
| --- | --- |
| Material: | Nylon |
| Ukulele Size: | Tenor or Concert |
| High or Low G: | Low |
| Pack Size: | Single |
5. Martin 41Y18M625 Premium Polygut Tenor Ukulele Strings
Returning to Martin, we have a premium set of strings that is a step up in quality (and a few dollars extra). They are made using Polygut, which is Martin's synthetic version of the traditional Hawaiian gut strings.
This is a single pack of strings and they come with a high G string, rather than the low G Ernie Ball strings.
Reviewers note the slightly higher price, but praise the all-around excellence of these strings. Here is one, "I was the founder and publisher of Ukulele Player Magazine. These are the best ukulele strings available anywhere, period."
Key Specs
| | |
| --- | --- |
| Material: | Polygut |
| Ukulele Size: | Tenor |
| High or Low G: | High |
| Pack Size: | Single |