24 Feb

Ever Wonder What Gear Your Favorite Musician Uses?

Do you ever wonder what gear, pedals, amps, and guitars your favorite guitarist, bassist, or band uses? Well if you're like me and you like to check out what gear pro musicians use then you should check out UberProAudio. This is a great resource for seeing what amps, effects pedals, and cabs your favorite guitarist or bassist uses. I like to go on it every once and awhile just to see what some of my favorite guitarist's are using. It's just interesting to see what gear they use and how they get their sound. It's also useful to help decide on what gear you may want to get. Below is a screenshot of a small section of some of the artist's that they have listed on the website.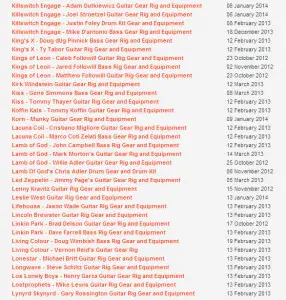 Another great place is Premier Guitar's Rig Rundown. You can go to their website at Premier Guitar or go to YouTube and search for Rig Rundown and you will get plenty of results. Rig Rundown is a segment that Premier Guitar does where they interview famous band's guitarists and bassists and ask them questions about their equipment. It's pretty interesting to watch and listen to these guys talk about their gear and how they use it live so definitely check it out. Below is Premier Guitar's Rig Rundown video for Soundgarden.