Your recording studio is the home to which you develop your new creations and craft your music. It's the place that you will spend countless hours perfecting your skills and making sure every song you produce is perfect. That's why it is so important that this space allows you to work effectively without the other distractions of life. I believe that your home studio subconsciously affects the way you write and to some degree, it is a reflection of yourself and your personality. So having a home studio that fits you and your music is vital to recording.
With that in mind, I have created this blog post to showcase a bunch of unique home recording studios to help with building your own. As with any creative process, finding inspiration is the first step. In this post, you will find 151 home recording studios which can be narrowed down by the number of computer monitors in the studio, room color, desk color, and instruments featured in the space. I hope it helps you with your own studio, or at the very least, is interesting to see other people's setups.
When you've found the right inspiration, I'd recommend checking out this post on the essentials every home recording studio should have.
Now, without any further delay, let's take a look at some home studios:
Learn how to create the perfect home studio with this FREE PDF, "10 Things to Consider When Creating Your Home Studio (That You Probably Haven't Thought About Yet)".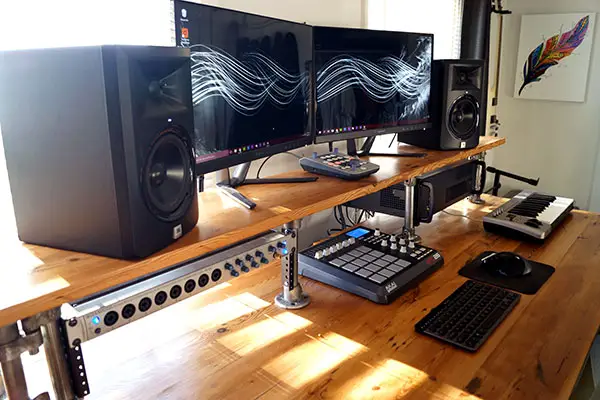 Need help recording vocals at home? my video course will show you exactly how to get great sounding results at home with step-by-step videos.