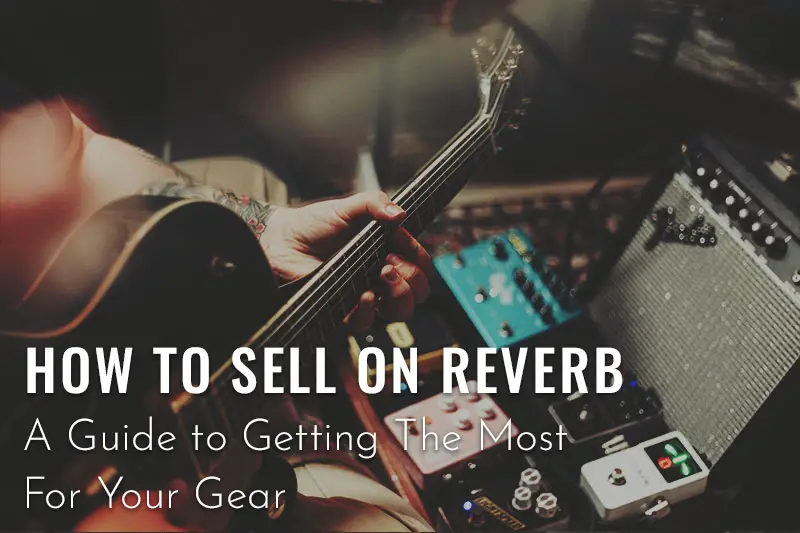 24 Mar

How to Sell on Reverb: A Guide to Getting the Most For Your Gear

Websites like eBay and Amazon aren't the most user friendly when attempting to sell your used gear. Let's admit, it's not their niche. So where do you go to sell your used musical equipment?

You could try and hit up your local pawn shop. Of course, they will only give you pennies on the dollar, nowhere near what your gear is worth. And then you have the option of dealing with flaky people trying to lowball you on Craigslist or Offer Up.

What about Reverb.com? Reverb is an online marketplace for new, used, and vintage music gear.

With an average of 13 million hits (over a 6-month time span) there is no shortage of potential buyers. Buyers and sellers, worldwide, can access the website on a desktop, laptop, android (Google play app) and iPhone (Apple app store). Reverb provides simple instructions, assistance should you get stuck, some convenient features as well as some perks to sweeten the deal.

We'll get into the "perks" later, but for now, let's get started creating a listing to sell an item.
Getting Started: How to Create a Listing on Reverb
How do you get started selling on Reverb.com? It's pretty straightforward and not as time-consuming as other websites.
Step 1: Type in the name of the item you want to sell
Let's say that you want to sell a Shure Beta 58a microphone. You would go to Reverb.com and select "Sell".
When you begin to type, you may notice that items will begin to appear below.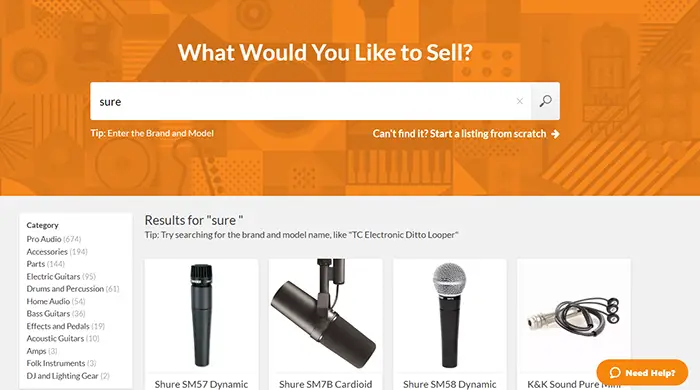 Kind of a cool feature, much like Google, if you misspell the item name, it's not a big deal. Despite grammatical errors, the website will produce results relevant to the closest spelling.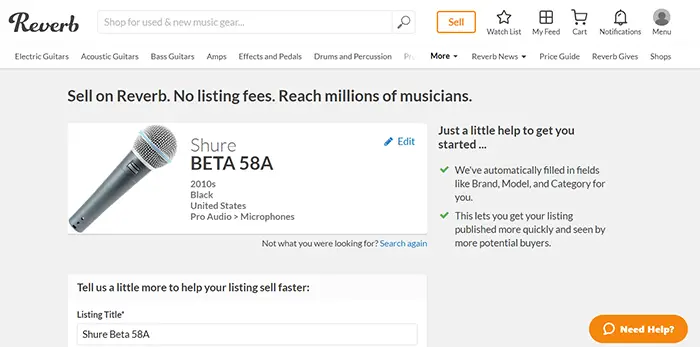 Also, there is no need to worry if the item you are attempting to sell does not appear, similar to listing with Amazon, if the item isn't in their database, Reverb will allow you to enter specific details to create the listing.
Step 2: Set your price
You can go with Reverb's recommendation for pricing, which is based on past and present sales of the same item or you add your own price.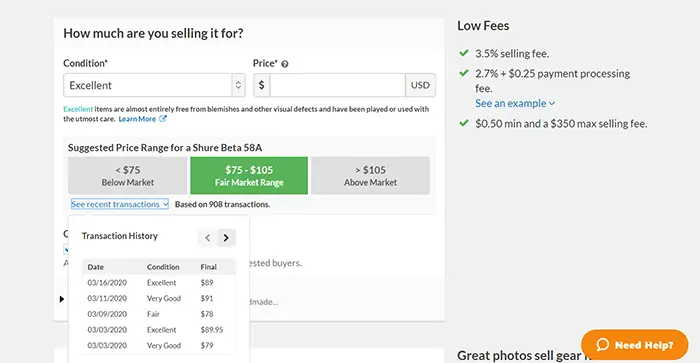 You also have the option to enable offers, which allow interested buyers to make an offer on your item and you can either accept their offer or negotiate from there.
Step 3: Add images for your listing
Next, you can add images for your listing. Just make sure they ar at least 620×620 pixels (Reverb's minimum size requirements for images).
In situations with multiple sellers of the same item, you want to do your best to make yours stand out from the rest. There is nothing wrong with staging a photo with proper lighting, a good backdrop and a creative angle.
Seller Pro Tip: A good high-resolution picture that has been resized will grab more attention than a blurry, unclear image or using a stock image from the manufacturer.
Step 4: Describe your item
Specs that read like a manual, don't often sell gear. It's boring.
Instead, be honest and be direct. You don't need to be a flashy car salesman. Just provide a detailed description that accurately describes the item you're selling and the condition that it's in.
For certain instruments, the environment matters. If you don't smoke, including that the item is coming from a smoke-free home can be a plus.
Include any maintenance you may have done. Maybe it's a studio instrument that has never been taken out. Buyers like to feel as if they stumbled upon something special. If you have a pair of Neumann condenser microphones that have only been out of the case twice, have never been left mounted or exposed, you'll sell them faster if you include those kinds of details.
For that item that "you just have to hear it to appreciate it", Reverb also has the option to add a YouTube and/or SoundCloud link to your listing in order to share some audio/video of your gear in action.

Seller Pro Tip: It's better to have no audio than bad audio. You want the most pristine sounding audio or clean and clear video to attract potential buyers.
Step 5: Add shipping costs
Another awesome tool you will find is related to shipping. For those of us unsure what to charge for shipping, there is a diagram that will help you determine the dimensions and weight of your item and what to possibly set as the shipping cost.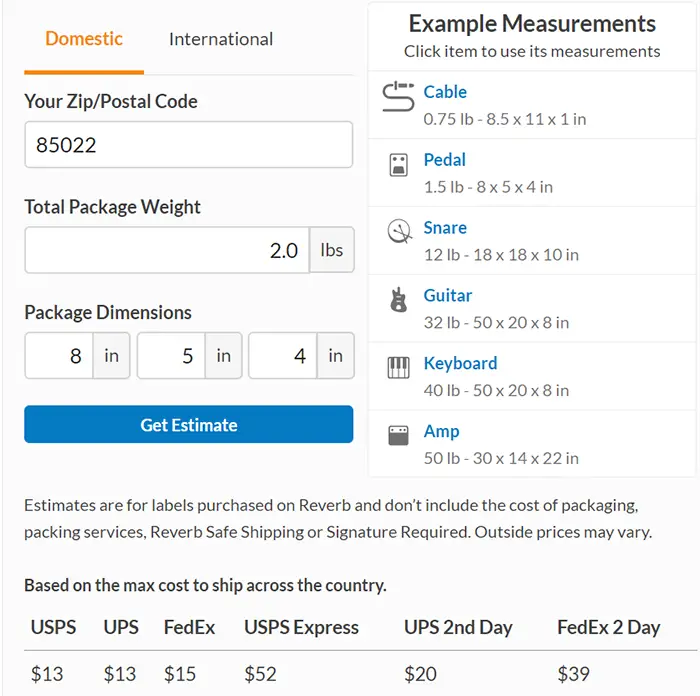 For a Shure Beta 58a, we can easily go ahead and say it is similar in size to an effect pedal. A little longer and not as wide. But it would fit in an 8-inch long box and we can figure it is about 2lbs with the mic clip, manual and pouch included.
Plug-in your zip code, dimensions and weight, and you will have an estimate on shipping costs. You also are not limited to just using the USPS. FedEx and UPS rates are provided as well.
Seller Pro Tip: Reverb does offer a savings of up to 20% from carriers including USPS, UPS, and DHL if you purchase the label from them. By utilizing this 20% discount, you can pass the savings on to a potential buyer. This will help your item stand out and increase your chances of selling quickly.
Also, if you don't know how to package your gear for safe shipping, Reverb offers easy to follow tutorials that will walk you through the process and you will notice recommendations for budget-friendly materials.
Step 6: Preview your listing & publish
Here is where Reverb goes above and beyond.
To increase the odds of selling your item Reverb, provides you the ability to "preview" your listing to double-check everything looks right before going live.
Once you're satisfied with how your listing looks, you can publish it live.
Some final benefits of Reverb worth mentioning include:
International shipping and local pickup.
Custom return policy.
Online shop for multiple listings.
Auto-fill item data.
Item reviews appear on listing.
A seller portal that tracks views and transaction history.
Payment & Fees: How Will You Be Paid & What Does Reverb Charge?
Payment
As a buyer, Reverb offers the typical options such as credit/debit cards, PayPal, Apple, and Google Pay. As a seller, you can be paid either by a direct deposit to your (verified) bank account, Reverb Payments or through an internal system called "Reverb Bucks". Upon sale, a Reverb Bucks buyer account promises available funds sooner and a 1% discount on purchases you make on their site.
For your first sale, Reverb initiates your payout following the delivery confirmation of the item. Depending on your specific bank, payouts may take 1-3 business days to appear in your bank account after initiated by Reverb.
Fees

There is a 3.5% selling fee for every item sold on Reverb. There are no fees for creating a new listing or removing a listing if it has not sold. This fee is assessed off of the total sale amount (including shipping). Reverb also charges 2.5% plus $0.25 for payment processing on Reverb Payments.
Increasing Your Chances of Selling on Reverb
Reverb offers several features that can help your item stand out and sell faster:
Bump Your Listing
Before your listing goes live, you will have the option to "bump" your listing. This "bump" gives your listing priority placement and promises more views and faster sales.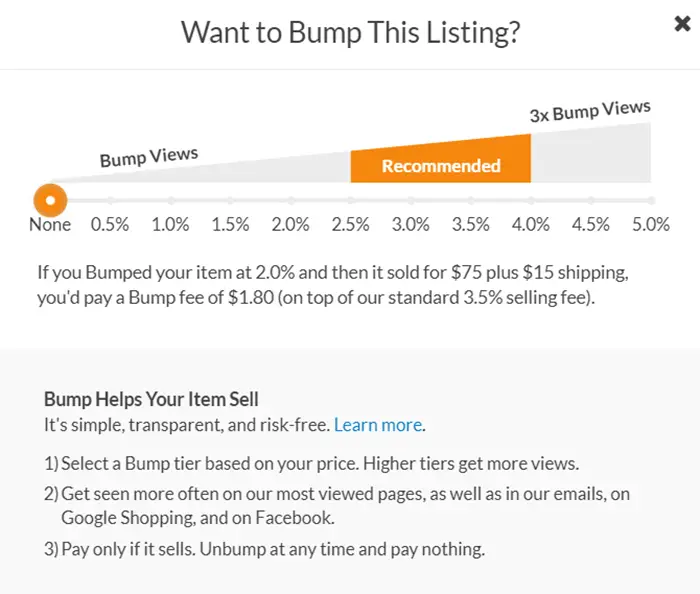 You set your own rate and only pay when your item sells. If you "bumped" your item at 2.0% and then it sold for $80 plus $15 shipping, you'd pay a Bump fee of $1.90 (on top of our standard 3.5% selling fee).
Reverb Preferred Seller
As a preferred seller, you will receive even more benefits. Things like lower listing fees, faster payouts, earn badges and take part in site-wide sales that give your listing even more exposure.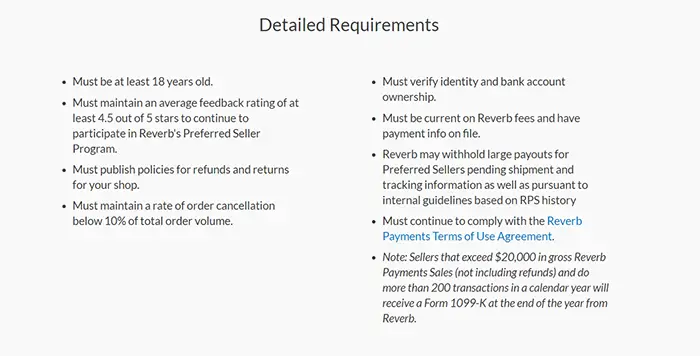 Seller Pro Tip: Buyers are more likely to make purchases from those with a preferred seller badge.
Wrapping Up
Having sold on Reverb, the experience is incredibly simple. You don't have to hunt down serial numbers and specs or try to make an attempt at shipping costs thanks to the autofill feature.
The tutorials on packaging gear can be extremely helpful, especially for those who don't have a hardshell case.
Reverb offers a foolproof way to sell your gear and an international audience of ready purchasers.
If you want to get the most for your gear with the least amount of hassle, Reverb offers a platform above the rest and is definitely worth your time to check out. Sell your gear on Reverb today!