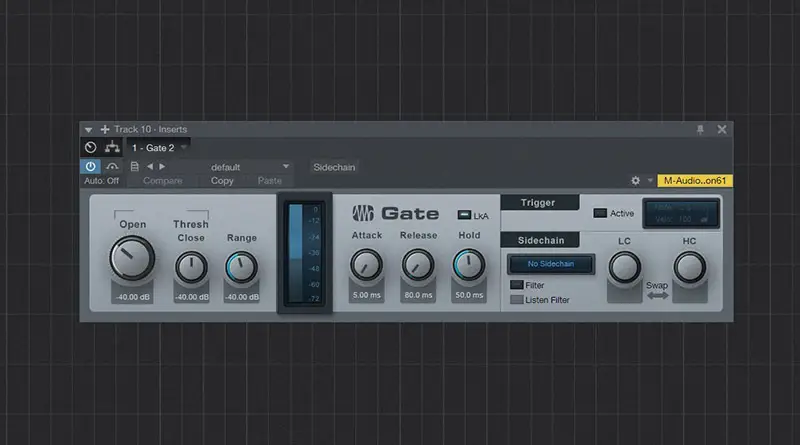 17 Nov

The Definitive Noise Gate Guide (+The Best Noise Gates Available)

When doing any kind of audio recording, unwanted noise can often be heard on the track. These noises could be humming, buzzing, unwanted distortion, and more.

A noise gate is an audio processor, either software or hardware, that suppresses unwanted noises in your recordings. Even if the background noise is miniscule, a noise gate will help give your recording added polish and quality. Noise gates are extremely common for both studio recording as well as live performance.

In this article we'll cover the ins and outs of noise gates, both software and hardware (ex. Noise gate guitar pedals), when to use a noise gate, and how to properly set it up.

Table Of Contents
How Do Noise Gates Work?
How a noise gate works is relatively simple. The track you're recording, whether it be vocals, guitar or something else, will be significantly louder than any excess background noise. The most important part of the noise gate is the threshold setting. The threshold is the audio level that the noise gate will open for.
When setting your threshold, you select a decibel level that is high enough to keep the gate closed for the relatively quiet background noise, but low enough to not cut off your instrument or vocal recording. Due to the level gap between noise and input, it is very straightforward to set your threshold.
While the threshold is the main component to a noise gate there are a few other settings as well. Attack decides how fast the gate closes, while the release dictates how fast it opens. Hold decides how long the gate is closed before it opens again.
What Noises Do They Remove? When Would You Want To Use One?
Noise gates can remove any noise that is at a lower level than your audio input that you're recording. This includes room reverb, traffic noise, electric and fret buzz, amp humming, click tracks and other noise from headphones, squeaky metal from drums or brass instruments and even simply the sound of musicians moving about the room.
Not every track needs a noise gate, particularly if they're quiet or delicate takes that don't leave much room for a threshold. If there are low-level sounds that you want in the mix, then a noise gate can be detrimental.
The most common instruments to use a noise gate for are drums, vocals, and electric guitar. That said, if you are recording another instrument and notice a noise issue, then by all means use a noise gate.
Should A Noise Gate Be Used On Vocals?
While it is common to use a noise gate on vocal recordings, it should only be used if there is a need for it. For instance, if you are in a situation where you aren't recording a vocalist in a dead room, like a vocal booth, then you may encounter reverb and room noise that you would want to gate.
However, if you are recording in a sound booth, you may not need one. Additionally, if the vocal take has a wide dynamic range with the singer hitting soft, low-level notes, then it would be highly difficult and frustrating to get the threshold right.
How To Properly Set Up A Noise Gate
To set up your noise gate, you first want to patch your gate inline. This means putting a noise gate on your track. If you are using a DAW, you want to add your noise gate directly onto the track you want to gate. Do not create a separate track.
After this, raise your threshold to the highest option and put all other settings to minimum. Once you do this, you will hear nothing as the gate will be closed for any level. Then simply lower your threshold until you hear your track perfectly and don't hear any excess noise.
Once you find your threshold, the rest is straightforward. Raise your attack until the attack, or initial sound of a phrase, is smooth and to your liking. Then, raise the hold until the gate is open for enough time to capture the phrase. It will sound a bit odd and isolated at this point.
Lastly, you want to raise your release until you have a nice and clean fade out to the end of the phrase that you're gating. This whole process takes some time and practice, but it will make your ears and your recordings that much better.
The Best Noise Gate Plugins (Free And Paid)
1. Kilohearts Gate Effect Plugin
This Kilohearts noise gate plugin is an excellent, low-cost option for anyone in need of a noise gate on their DAW. It works for both Mac and PC and does exactly what it is supposed to. This is a simple, straightforward product with no frills. It has a size-adjustable user interface as well as a clean and easy-to-read layout.
It also features a side chain to help deal with the bass in the kick drum as well as a useful flip switch. This switch flips the roles of noise and input, letting you isolate and listen to all the noise that you are gating.
Purchase this plugin here for $7.50.
2. Slate Digital Gates Plugin Bundle
While there are great plugin options for low prices or even for free, this noise gate bundle is more than worth its cost. It has the standard noise gate settings such as threshold, attack, and release.
The special thing about this noise gate bundle is that it contains two different modules. One module is solely designed for drum gating, and does so expertly. The other gate has an option for general gating and one designed purely for vocals. These different options are extremely useful for a variety of needs.
Purchase this versatile plugin bundle here for $149.00.
3. DD Gate By Dead Duck Software
As far as free noise gate plugins go, there are few stronger options than the DD gate by Dead Duck software. It is a straightforward gate without any special effects or options, aside from the always useful sidechain feature.
The user interface isn't pretty, but it is practical and will certainly cover your noise gate needs. The one big negative with this software is that it is only available for Windows, not Mac. Download it here.
4. Renegate by Auburn Sounds

Renegate by Auburn Sounds is a stellar, aesthetically pleasing noise gate with many features and tools built in. It contains the typical knobs like attack and release, but it also has a sequencer to help gate heavily rhythmic sequences.
Auburn Sounds offer both the free version and another for $29, which contains even more elaborate features. This awesome product can be downloaded here.
The Best Noise Gate Guitar Pedals
1. Boss NS-2 Noise Gate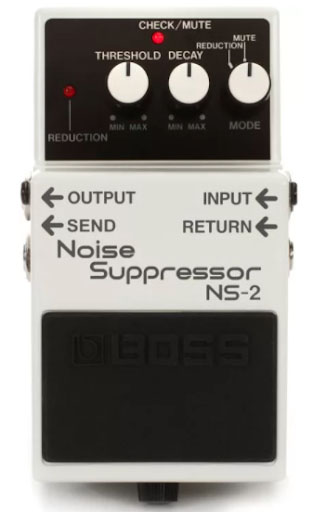 Key Specs
| | |
| --- | --- |
| Inputs: | 2 x ¼" inputs |
| Outputs: | 2 x ¼" outputs |
| Power Cable Included: | No |
| Battery Type: | 1 x 9V |
| Instrument(s): | Guitar and Bass |
| Warranty: | No |
| Special Features: | Noise detection circuit |
| Dimensions: | 5.75 in. W x 3.5 in. D x 2.5 in. H (146.05mm W x 88.9mm D x 63.5mm H) |
| Weight: | 1.15 lb. (0.52 kg) |
Description:
Boss is one of the strongest names in the guitar pedal world and the NS-2 is no exception. It is sturdy, reliable, and does an excellent job in suppressing noise for both electric guitar and bass setups.
The NS-2 has a unique noise detection system built into it that works to suppress noise while preserving the natural attack sound from your instrument. The threshold and decay knobs will give you total control over the noise level in your rig.
Purchase this pedal here for $105.99.
2. Electro-Harmonix Silencer Noise Gate Pedal
Key Specs
| | |
| --- | --- |
| Inputs: | 2 x ¼" inputs (Instrument and return) |
| Outputs: | 2 x ¼" (out and send) |
| Power Cable Included: | No |
| Battery Type: | 1 x 9V |
| Instrument(s): | Guitar and Bass |
| Warranty: | No |
| Special Features: | Effects loop gate |
| Dimensions: | 4.5 in. W x 2.75 in. D x 2 in. H (114.3mm W x 69.85mm D x 50.8mm H) |
| Weight: | 0.8 lb. (0.36 kg) |
Description:
Like Boss, Electro-Harmonix is an equally massive brand name in the guitar pedal world. The Silencer is an amazing product that will be an excellent addition to any guitarist's pedalboard, regardless of genre or style.
The pedal does a great job of gating the hum from your guitar pickups, as you would expect. But the special feature about this pedal is the effects loop. This means you can put The Silencer at the end of your signal chain and then gate the noise from all your other engaged pedals.
Purchase this useful pedal here for $76.90.
3. MXR M135 Smart Gate Pedal
Key Specs
| | |
| --- | --- |
| Inputs: | 1 x ¼" input |
| Outputs: | 1 x ¼" |
| Power Cable Included: | No |
| Battery Type: | 1 x 9V |
| Instrument(s): | Guitar and Bass |
| Warranty: | No |
| Special Features: | Intelligent gating, three operation modes |
| Dimensions: | 5.5 in. W x 4.5 in. D x 2.5 in. H (139.7mm W x 114.3mm D x 63.5mm H) |
| Weight: | 0.84 lb. (0.38 kg) |
Description:
Sticking with well established names in the pedal world, MXR's Smart Gate pedal is as awesome as it is smart. It comes with three different operating modes: Hiss for high-frequency noise, Mid for electric guitar, and Full for bass signals.
It also comes equipped with an intelligent gating system. This means that the gate reacts slower when you're playing longer notes, and speeds up when you're playing quicker phrases in a smooth and seamless fashion.
Purchase this pedal here for $129.99.
4. TC Electronic Iron Curtain Noise Gate Pedal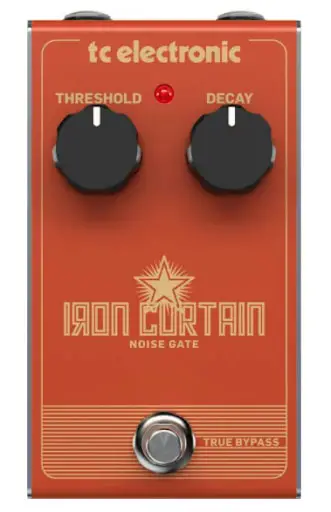 Key Specs
| | |
| --- | --- |
| Inputs: | 1 x ¼" input |
| Outputs: | 1 x ¼" |
| Power Cable Included: | No |
| Battery Type: | 1 x 9V |
| Instrument(s): | Guitar and Bass |
| Warranty: | No |
| Special Features: | Very simple, 2-knob design |
| Dimensions: | 5.2 in. W x 2.9 in. D x 2.3 in. H (132.08mm W x 73.66mm D x 58.42mm H) |
| Weight: | 1.1 lb. (0.49 kg) |
Description:
The Iron Curtain by TC Electronic is a simple, strong metal pedal that is quality made and at a highly competitive price point. If you're not looking for any of the more elaborate features in the previous options and simply want a straight-up noise gate, this is the pedal for you.
It has only two knobs: the threshold decides at what level the gate engages and the decay dictates how quickly the gate engages. This is a perfect pedal especially for someone that is just beginning to build their pedalboard.
Purchase it here for $45.00.
Which Noise Gate Is Best For You?
With the different kinds of pedals and plugins in mind, it is up to you to determine which option is best for you.
Whether you're a vocalist looking to reduce noise in your recordings or an electric guitarist attempting to cut the hum from your rig, noise gates are extremely useful and will improve your recordings and/or live sound that much more.