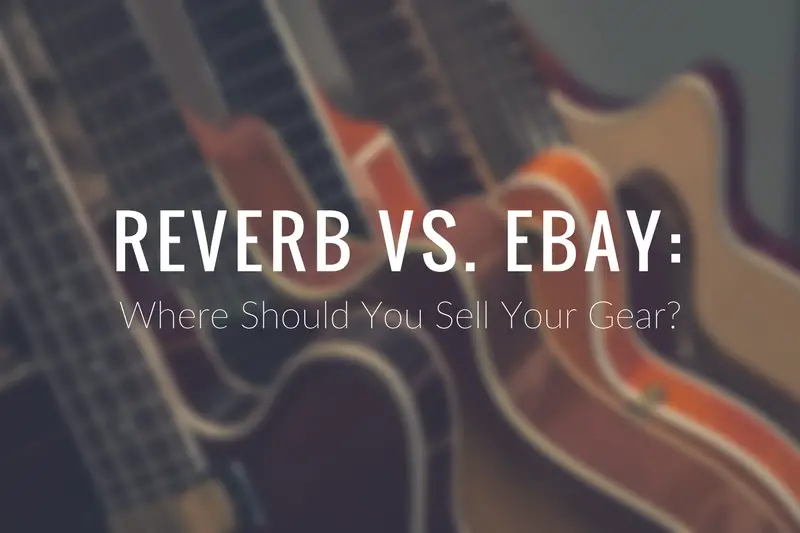 14 Jun

Reverb.com vs. eBay: Where Should You Sell Your Gear?

Where should you sell your music gear? Reverb or eBay?

That's the questions you're asking yourself as you try to get the most value back from your gear and look to avoid dealing with the hassles of selling gear online like shipping and low-ball offers.

In this article, I'm going to compare the two sites side-by-side to see which is the best for listing your gear and getting the most money for it.

Long story short, it's Reverb. But, read on to find out why if you need some convincing 🙂
| | Reverb | eBay |
| --- | --- | --- |
| Selling Fees | 3.5% | 10% |
| Payment Processing Fees: | | |
| via PayPal | 2.9% of total sale + $0.30 |  2.9% of total sale + $0.30 |
| via Direct Checkout | 2.5% of total sale + $0.25 | Not offered by eBay |
| Shipping Estimator? | Yes | Yes |
| Fee Cap? | Max fee is $350 | Max fee is $750 on items |
Who Has the Lowest Selling Fees?
This is really one of the top questions when selling your gear. Of course, you want to get the most back from your sale.
Simply, Reverb charges a 3.5 % of your total sale amount (this includes shipping). So if you sell something for $85 + $15 shipping (a total value of $100). The fee would be $3.50. However, Reverb does cap its fees off at $350. So if you sell something really expensive like a $15,000 guitar (anything over $10,000), the final fee would be $350 (instead of $525 which would have been 3.5% of the sale).
eBay, on the other hand, has a much more complicated fee structure. A look at their Sellers Fees page will give you a headache and they make it difficult to find an exact answer. Basically, eBay has a mix of insertion fees (listing fees) and final value fees depending on what type of product you're listing.
Most of the time, listing your items is free. But, if you list more than 50 items a month, then you will need to pay insertion fees. I doubt that is the case for most of you but it's something to be aware of.
Now, in most cases, eBay's final value fee is 10% of the total sale amount (again, that includes shipping). The exception here is when you list gear in the Musical Instruments & Gear>Guitars & Basses category. In this case, eBay's fee here is 3.5%.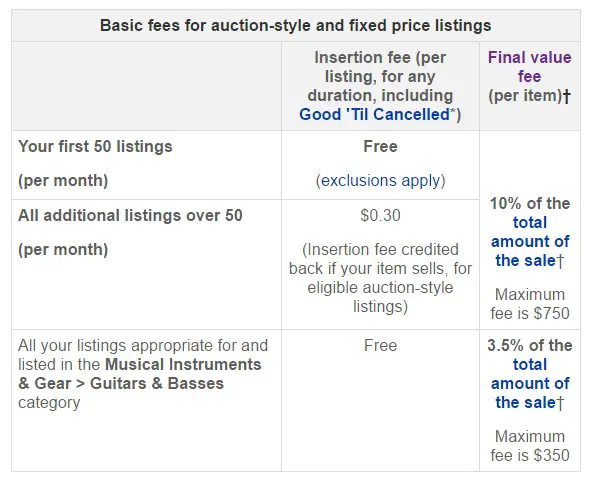 Having trouble selling your gear on Reverb? Then check out this FREE PDF, "5 Tips to Sell Your Gear on Reverb Fast".
They likely created this to compete with Reverb. However, this is still a bit of a fail since this only applies to guitars and basses and not the entire selection of music gear that one could list (like keyboards, recording gear, microphones, etc.)
Note, these are only the fees from the two sites themselves (Reverb and eBay). If you accept payment via PayPal (which is likely the case when selling on eBay), PayPal will also need to take its cut for processing the payment.
PayPal charges a fee of 2.9% of the total sale value + a charge of $0.30. Again, the final sale value includes shipping in this case. So if the final sale amount was $100 ($85 for the item + $15 shipping), PayPal's cut would $3.20 (2.9% of $100 = $2.90 + $0.30).
Reverb allows you to accept payments via PayPal too. So if you decide to accept payment using PayPal, you will be charged those same PayPal fees on the final value of your sale.
However, Reverb also gives you the option to accept payment via Direct Checkout. This is Reverb's integrated payment solution that allows buyers to pay directly on the site using their credit card. So there's no need to leave the site to process the payment through PayPal.
When you elect to use Direct Checkout, the payment from your sale is deposited directly to your bank account. The best thing about electing this payment method is that the payment processing fee is lower at 2.7% of the final sale value + $0.25 (vs. 2.9% + $0.30 with PayPal).
In my personal opinion, eBay's fees have become ridiculous with how much they charge. I try to avoid selling there at all costs because I know they're going to take such a large chunk of my earnings. 10% on eBay vs. 3.5% on Reverb is really a no brainer. Even if I had to sell my gear a bit lower on Reverb, I'd still likely make more since I keep more of the profit.
One thing about both sites that I can't stand is that since they charge their fees on the total value of your sale, that fee is applied to the shipping costs. As a seller, you make nothing off shipping so to have a fee charge on the shipping cost is a bit absurd to me. Reverb and eBay both do this. PayPal will charge on the total fee too (again, including that shipping cost). That's just the way it is I guess.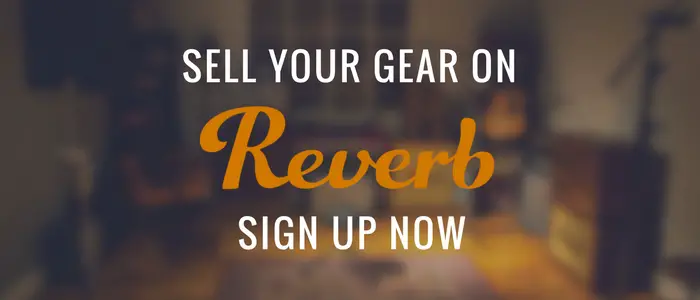 Avoiding the Hassle of Shipping
One of the next things to consider when listing your music gear online is dealing with shipping. This can be a hassle and is definitely a bit more annoying to have to deal with rather than just maybe meeting up with someone or having them come to your place to pick up some piece of gear (as would be the case when selling on Craigslist). It is a bit less unnerving and likely more safe, though.
Anyways, how easy does each site make it to ship items and calculate shipping costs?
When listing your gear on Reverb, you will find a section titled, "How will you ship it?", where you can decide on shipping options and use Reverb's Shipping Estimator to calculate the costs for shipping.
You can select a template option (like a cable or pedal) or enter in weight and dimensions. After configuring the estimator, you will be presented with a few shipping costs: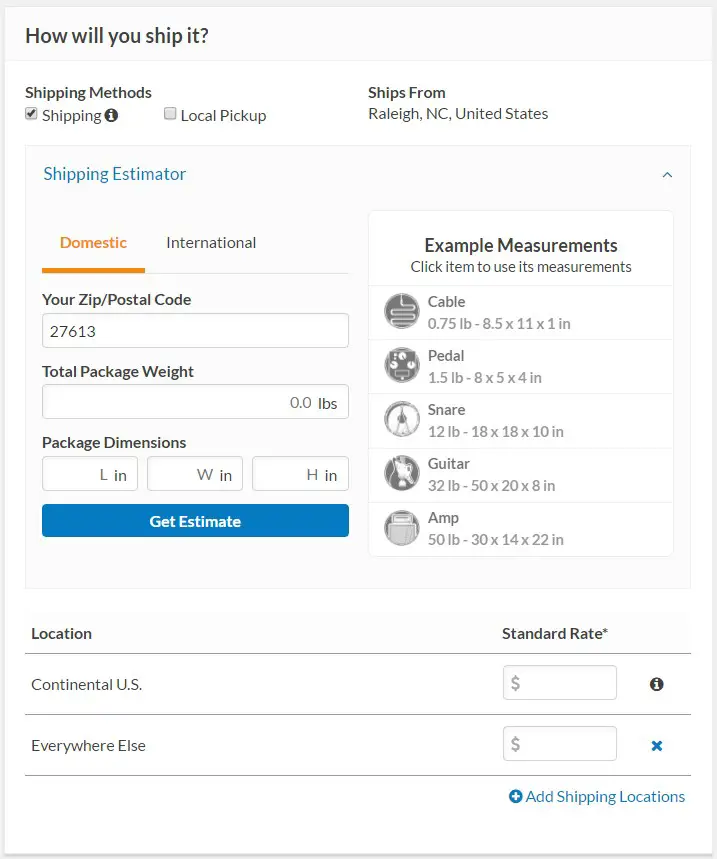 Of course, there are a few options including ground and express shipping. Reverb has accounts with UPS and USPS so you will get a slightly discounted price when purchasing a shipping label through them. This can easily be done from your dashboard once you have sold your item.
Reverb lets you select where you want to allow shipping to and whether you'd like to include local pickup as an option. Note that Reverb only allows you to offer flat rate shipping. It does not offer location-based shipping.
Reverb also has a Shipping Guide on their site with articles and videos on how to ship a guitar, how to ship a drum set, how to ship an amp, etc.
eBay uses a similar shipping calculator but allows you to choose from location-based shipping (the price is based on the buyer's location), flat rate, local pickup, and of course, free shipping.
When listing your item, eBay will sometimes guess and suggest what you should ship your item at based on similar items to the one you are listing:
If you don't like this shipping method, you'd simply click "make changes" to select shipping options: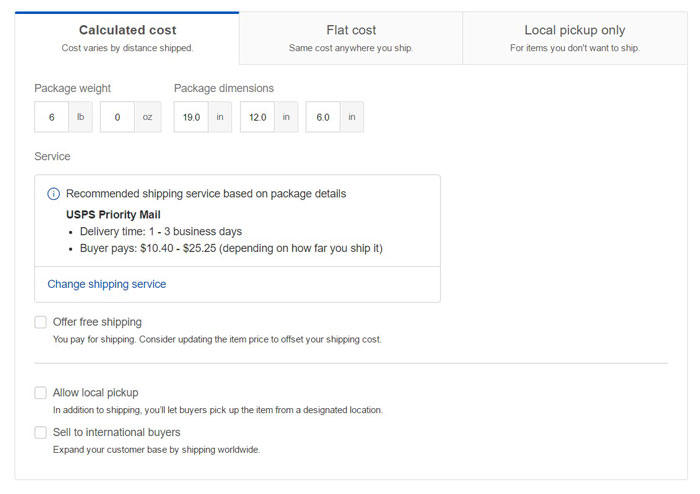 You can then select which options you'd like to use for shipping and input weight and dimensions as needed.
Shipping with eBay has more options and I like that it gives you the ability to use location-based shipping whereas Reverb only allows for flat rate shipping. Of course, shipping costs are going to vary based on the buyer's location, so eBay's method ensures the full shipping cost is paid (assuming you priced it correctly when you first listed your option).
Reverb's model, however, can cause problems if you didn't price your shipping correctly and the buyer is far from your location. Thus, costing more to ship than anticipated and eating into your profits. So you either need to price your shipping a bit higher to anticipate for this or just know that it might eat into your profits a bit.
Pro Tip: When it actually comes time to ship your item, I've found that if you purchase a shipping label directly through PayPal, rather than through Reverb or eBay, you can get a slightly lower price (even when factoring in Reverb's or eBay's discounted pricing). PayPal allows you to purchase USPS shipping labels if you have an account. When logged into you PayPal account, you can get to the shipping label page here.
Who Has the Bigger Audience?
Hands down, eBay has the bigger audience and gets the most site traffic. That's probably obvious to most of you. eBay has been around for 20+ years and sells more than just music-specific products. There are over 167 million eBay users.
While eBay does get more traffic, that includes users looking for all kinds of items from tools, to electronics, to home decor, etc. Pretty much everything under the sun.
Reverb's audience, however, is more targetted and it features an audience made up primarily of musicians. So as a someone trying to sell music gear, obviously it makes sense to list there.
Reverb currently has 500,000 buyers and 178,000 sellers that actively use the site.
How Safe is Each to Use?
Both sites offer safeguards to protect both buyers and sellers.
eBay has systems in place to monitor and track fraudulent activity. I'm not going to go in-depth here but eBay does work to protect against fake payments. One thing to always look out for is fake PayPal emails.
Since most eBay items are paid for via PayPal, and the site itself is so large, scammers will sometimes try to email you with fake PayPal emails stating the item has been purchased, paid for, and where to ship. I had this happen to me when I first started using email many years ago as a teen.
While it may not be as prevalent as it was then, it's something to stay aware of. Always make sure to check your PayPal account to confirm payment has been made before shipping out your gear.
If you do have a problem with a buyer on eBay, you can reach out to eBay support but it's a bit more difficult to do than on Reverb. On eBay, you usually have to go through some kind of dispute system to try to work with a buyer first on any disputes. If they are unresponsive after a certain amount of time (usually 7 days) then eBay can step in and take further action.
eBay support can also be contacted via their customer service page. You have to go through a few rounds of questions to declare your issue before you can select an option for contact. Then, you will be presented with ways you can contact support based on your selections. Sometimes only phone call options will be available while others will allow for email and chat support: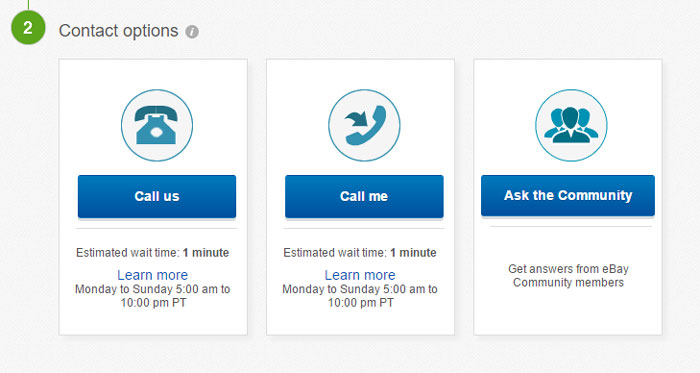 On Reverb, things are much less complicated. Contacting a seller is as easy as visiting the seller's page and clicking a link titled, "Contact Seller" in which case a contact box pops up: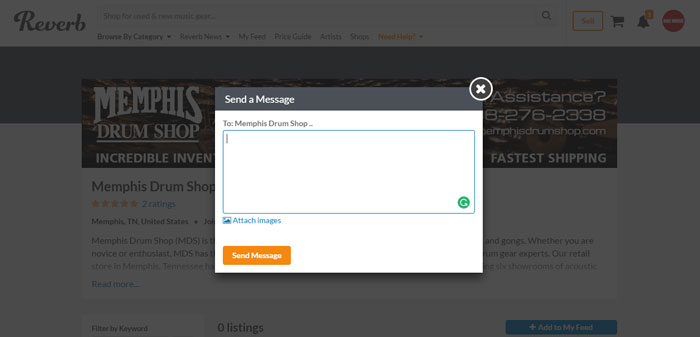 When logged into your account, Reverb's support can be reached via live chat. Chat can be initiated through the chat box at the bottom right corner of the screen:
This chat box is almost always available from what I can tell. If not, live chat can be initiated from Reverb's contact page. You can find their support email and phone number there as well.
Overall, Reverb's support is much easier to get in touch with.
As far as safeguards as a seller, Reverb has Reverb Protection which ensures safe, secure transactions and you can even elect for buyers to sign for their package. This can be helpful to make sure the buyer can't claim they never received the item you sold them.
Buy Now, Auctions, and Offers
If you're familiar with eBay, you know you can set up your listing as an auction or a "Buy Now" listing where viewers can purchase the item for a set price. eBay also allows you to set a reserve price when selling your item in an auction. This is a set price, that you define, that needs to be crossed before you will sell the item (even in an auction listing). There's usually an added fee for setting this up.
Reverb does not have auction-style listings. Instead, you list your item for a set price with the option to allow buyers to make an offer. Buyers can then make an offer on your item in which you can accept the offer or send back a counter-offer.
Because of this, some discussions on Gearslutz have mentioned that listings can be inflated since sellers know they will be offered 20% to 30% less than the listing price. I can't say this is entirely true but it's definitely feasible. In any case, as a seller, you have the ability to decide whether or not you'd like to include the "make an offer" option.
Who's the Winner?
In my opinion, Reverb is the clear winner. As much as I love eBay (I've used it since I was a teen to buy and sell all sorts of things), when it comes to listing music gear, Reverb is a better choice.
They have well-designed and simple to use site that is geared specifically for musicians, they have tons of great resources for musicians, and they boast a much lower final sale fee at 3.5% vs. eBay's 10% final value fee.
So if you're looking to sell your music gear, just list it on Reverb.