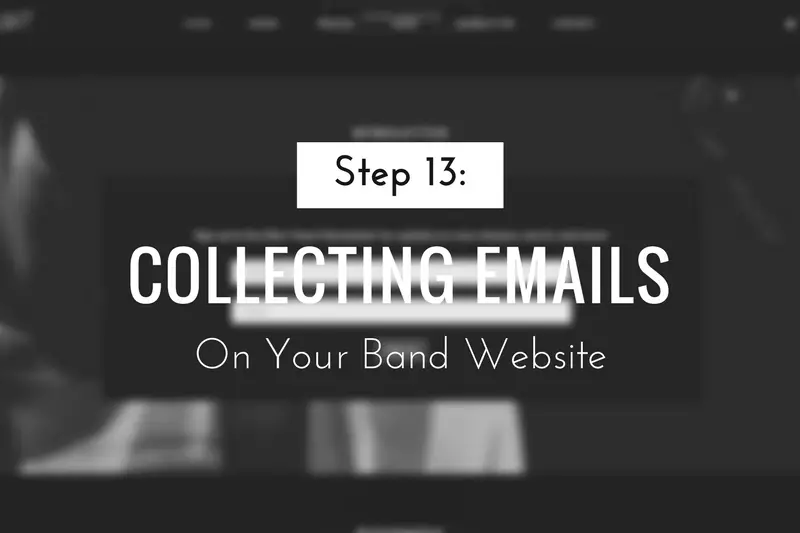 08 Feb

Step 13: Collecting Emails to Build Your List

In this post, I'll show you how to start collecting emails on your WordPress website so you can start building your email list.

To do this, we'll be using MailChimp. If you're unfamiliar, MailChimp is one of most popular and easy to use email marketing platforms out there. Best of all, they offer a free plan. On their free plan, you can have up to 2,000 subscribers and send up to 12,000 emails a month (once you exceed these, you'll need a paid plan). This makes it great for those of you just starting to collect emails and build your list.

First, I'll cover how to sign up for MailChimp and setup your account. Then, I'll show you how to add a sign up form to your website using a plugin called Mailchimp For WordPress.

First up, signing up for MailChimp:

This post is part of a 14-step series on creating a website for your band using WordPress. Click here to go back to the main page.
Creating Your MailChimp Account
If you don't have a MailChimp account, you'll need to create one for this tutorial (and to start collecting emails). First, head over to
First, head over to MailChimp.com:
Then sign up for an account. Remember, it's free. First, you'll be asked your name and email. From there, MailChimp will ask the name of your business and website: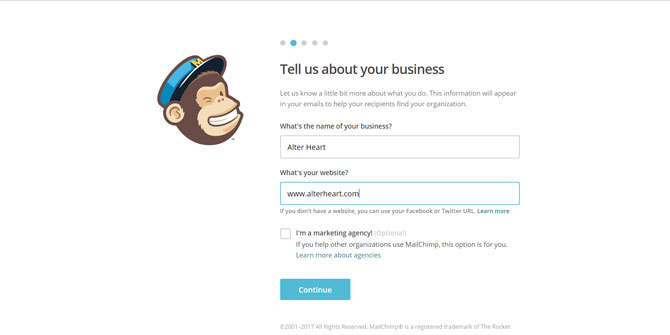 You can simply add your band name here and your website address. Next, add your physical address:
Note that this address will be visible at the bottom of emails when you send them out from MailChimp.
Next, MailChimp will ask if you sell anything online: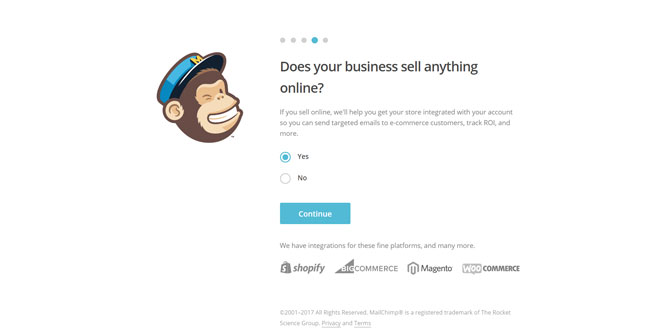 MailChimp offers extended functionality for tracking sales. Most of these are paid features. You can select yes at this point if you like. You won't be charged anything if you do.
Next, you can add your social media accounts:

Once you've gone through the setup process, you'll be directed to your dashboard:
From here, you'll want to create your first list. A list is where your emails are collected. You can create multiples lists if you want. For instance, you might create one specifically for online signups and another one for signups you get from shows. For now, we're just going to create one. Click the "Lists" tab in the top menu and then add a new list:
For now, we're just going to create one. Click the "Lists" tab in the top menu and then add a new list:
You'll then be directed to a new page to name your list and provide additional details: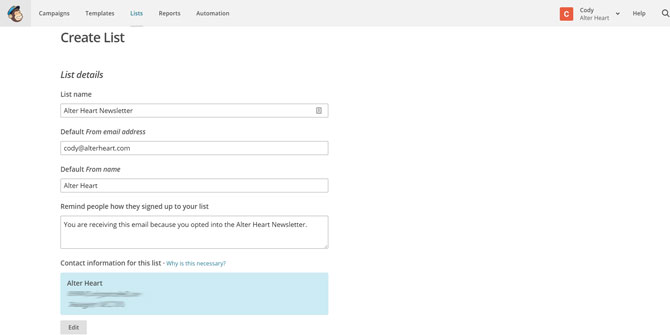 You can name this list whatever you like but make it something you can remember and helps to identify it. For mine, I name it "Alter Heart Newsletter". Here you can also add the default "from" email address and default "from" name. You can also add a message to let subscribers know what they've signed up for.
Now, with your MailChimp account set up and your first list created, let's move onto adding a signup form for your email list to your website.
Adding an Email List Signup Form
First, navigate to the backend of WordPress and head over to "Plugins" area then click "Add New". Then search for "MailChimp for WordPress" and install:
Once the plugin is installed, click "MailChimp for WP" in the left-hand navigation menu:
From there, you'll be directed to the General Settings page for the plugin:
To use the plugin, you'll first need to sync it with your email list in MailChimp. To do this, you'll need an API key. To get this key, first login to your MailChimp. account Then, the quickest way to get to API Keys area is to click the link below the API Key input box in the General Settings area of the MailChimp for WordPress plugin (pictured above).
You'll then be directed to the following page:
You won't have an API Key yet so you'll need to create one. Click "Create A Key". MailChimp will then create a key and display it:
Copy the entire key in the API Key box. Then, head back over to the General Settings area for the MailChimp for WordPress plugin and paste it in:
Then, click "Save Changes". The plugin will then show all of the lists you have created within MailChimp:
Now you're ready to set up the signup form. Click "Forms" to add a new form: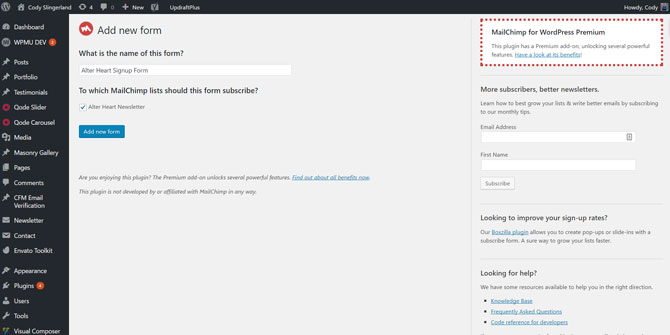 Here you can name your form and select the list you would like to associate the form with. Select the list you created earlier. Then, click "Add new form".  An edit form page will then be created:
You can further edit settings here but for now, the form is ready to go. Click the "Get Shortcode" button. A box will then pop up. Copy the entire code in this box:
Now to add the form to a page, head over to the page you'd like to add the form to and paste the code where you'd like the form to show up:
Or if you're using Visual Composer, you can paste the code into a text-block:
Then, save your settings. Your form should now appear on the frontend of the page you just added it to:
When someone signs up, they'll receive a confirmation email like the one below: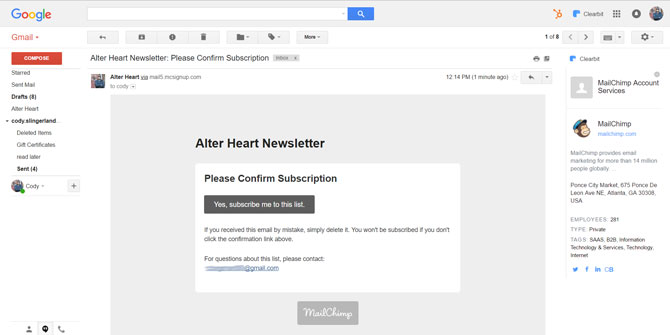 Once they confirm their email, they'll then be added to your list. You can see your subscribers by navigating to "Lists" in MailChimp and then the list you created:
All of the people that signed up will appear in this list.
That's it! If you have any questions, let me know in the comments below and I'll do my best to answer them. If not, let's move onto the next and final step, Step 14: How to Track Visits on Your Website (with Google Analytics)
Or, click here to head back to the main page.