The ukulele is one of the most common stringed instruments out there, beloved by casual players and gigging musicians alike. The beauty of the ukulele lies in its accessibility; it is as compact and playable as it is affordable.
With such low barriers to entry, picking up the ukulele isn't a terribly daunting investment. However, it is important that you don't waste your own time and money by purchasing a subpar instrument. This article will go over what exactly you should look for when buying a ukulele and several great examples to choose from.
What To Look For In A Ukulele
While you may be overwhelmed once you see how many ukulele options there are out there, you can quickly narrow down your choices when you know what to look for.
The factors that need to be considered when choosing your ukulele are material, size, amplification and price.
Material
The wood used in the ukulele's construction has a huge impact on its tone. Different woods can sound warm and rich or bright and sharp, and anywhere in between. A ukulele can be made with only one type of wood, or a combination of several different types to create a hybrid tone.
Mahogany
This is an extremely common wood for several different instruments, ukuleles included.
Mahogany is more often used on ukulele necks, but it is also commonly used for bodies. It has a soft and warm tone that is smooth and perfect for playing in mid-range frequencies, where most of ukulele music resides.
Rosewood
A wood that every guitarist is familiar with, rosewood is another popular and versatile wood. When used for ukulele, rosewood is bright and distinctly well-rounded. It is known for its ability to accentuate highs and lows.
Cedar
This is still a common wood, but less so than the other two. Cedar has a unique sound, and is comparable to mahogany. The difference is that cedar has an especially dark tone that sounds particularly great when using a finger-picking technique.
Spruce
Spruce is a strong wood that goes in the opposite direction as cedar. Rather than being known for a dark and rich tone, spruce has an exceptionally bright and crisp sound that has a very strong mid-range.
Maple
Here is another wood used for many types of string instruments, and in the ukuele's case, it is used primarily to balance out other types of wood. Maple is often used for the back and sides of a ukulele body, while paired with a richer wood such as spruce.
Koa
This is a wood that is more exotic than the others and, like the ukulele itself, is native to Hawaii. It is a decidedly unique wood, with a sound that isn't quite like any other. Koa's tone can be described as a "best of both worlds" mixture of rosewood and mahogany, with a mellow tone that has excellent sustain for strumming chords.
Mango
This kind of wood, originating from India, used to be far more common in ukulele construction than it is today. That said, it is a durable and affordable wood that is still used by manufacturers today. It is similar to maple in that it is often mixed with other woods in order to create a desired tone.
Here's a video that compares several different types of ukulele tonewoods:
Size
While most consider a ukulele to be just one small size, they are mistaken. In fact, there are five main sizes: soprano, concert, tenor, baritone and bass. These different body sizes offer different sound capabilities, as well as difficulties.
The chart below will cover these differences.
| | | | | | |
| --- | --- | --- | --- | --- | --- |
| Type: | Soprano | Concert | Tenor | Baritone | Bass |
| Image: | | | | | |
| Length: | 21 inches (533.4 mm) | 23 inches (584.2 mm) | 26 inches (660.4 mm) | 29 inches (736.6 mm) | 30 inches (762 mm) |
| Skill Level: | Beginner | Beginner | Intermediate to advanced | Intermediate | Intermediate |
The beauty of the ukulele is that it is easier to learn the basics than a guitar or piano, thus all sizes are perfectly fine for beginners, especially the soprano and concert sizes. However, a tenor ukulele is best suited for fingerpicking and more complex playing so it is better for more advanced players.
The larger sizes, straightforward as they may be, are better for intermediate players who already learned how to play on a soprano ukulele and have a grasp on basic ukulele techniques and are comfortable with the instrument before switching to a larger size with a different style of play.
Amplification
How your ukulele's sound is resonating is a matter of it being either acoustic with a hollowed body or an electric one with pickups that can be plugged into an amplifier. Both options offer advantages and disadvantages.

Acoustic
An acoustic soprano ukulele is the most common ukulele on there and probably the one you have seen played the most. An acoustic ukulele is simple, cost-effective and sounds great. Also, they are better for recording because it gives you the most natural authentic sound, there is always some gain when played electrically through pickups.

Electric
While there are solid body electric ukuleles on the market, the vast majority will be acoustic-electric models. This means it is an acoustic ukulele, with pickups and typically an EQ built into it.
These are great for gigging artists who need more amplification or anyone who is playing in a group with other instruments. The drawback is the price, as acoustic-electric ukuleles will cost, on average, several hundred dollars more than their acoustic counterparts.
Price
One of the best aspects about ukuleles is their relatively low cost compared to other instruments. Barring high-end models from brands like Martin, an acoustic ukulele will cost you somewhere from $50 to $500, with the vast majority costing under $300. The price will increase slightly as you go up sizes or have gig bags included, but they still are within the average price range.
Electric ukuleles are more expensive on average, given that there are more parts and features to them. The jump in price isn't too drastic, however, with the average range being $150 to $600, and most models being within $150-$400.
Despite the low prices, it is still important to do your research on the model you're looking at before buying. If the price is too low and seems too good to be true, it likely is.
The 5 Best Ukuleles To Buy Today
1. Best For Beginners: Kala KA-15S Soprano Ukulele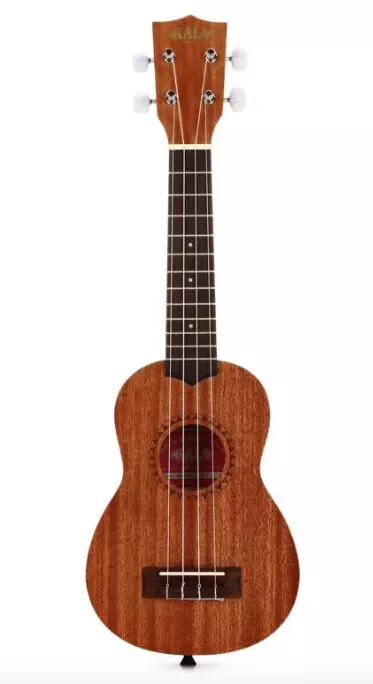 Kala is one of the most prominent names in the ukulele market and they never fail to deliver a product that both looks and sounds great.
The Ka-15S is one of their most common models and is the perfect option for beginners due to its low cost and easy, soprano-sized playability. The KA-15S costs under $100, making it a low-risk investment in case you decide ukulele isn't for you.
Key Specs
| | |
| --- | --- |
| Body: | Mahogany |
| Fretboard: | Walnut |
| Size: | Soprano (1st size) |
| Electric: | No |
| Color: | Natural satin |
| Warranty: | Sweetwater's 2-year total confidence |
| Accessories: | None |
| Package Dimensions: | 24 in x 10 in x 4 in (609.6 mm x 254 mm x 101.6 mm) |
| Weight: | 1 lb (0.45 kg) |
Best For Intermediate Players: Martin OXK Concert Ukulele
Martin is a massive name in the guitar world, but not one many associate with ukuleles. This is unfortunate, because that same top quality guitar manufacturing is applied to their ukuleles as well, and the OXK is an amazing option for intermediate players.
It is a concert ukulele, one size larger than the previous model, and is slightly harder to play. Additionally, it is more expensive with a price just under $300. Given its stellar tone, it is worth every penny.
Key Specs
| | |
| --- | --- |
| Body: | Koa, birch neck |
| Fretboard: | Mahogany |
| Size: | Concert (2nd size) |
| Electric: | No |
| Color: | Natural satin |
| Warranty: | Sweetwater's 2-year total confidence |
| Accessories: | Gig bag |
| Package Dimensions: | 23.25 in x 11 in x 2.75 in (590.55 mm x 279.4 mm x 69.85 mm) |
| Weight: | 1 lb (0.45 kg) |
3. Best For Advanced Players: Lanikai ACST-8CET Tenor 8-String Acoustic-Electric Ukulele
This 8-string ukulele by Lanikai is a wonderful option for advanced players. It is a tenor, the third size, and is the ukulele body size that you are able to play the most complex music and fingerpicking techniques.
Just like a 12-string guitar, the 8-string ukulele has each string doubled with the same note, providing a warmer and richer sound to accompany the exotic acacia and okoume wood construction.
It is at the higher end of our price range, just under $500, but with any musical instrument you get what you pay for.
Key Specs
| | |
| --- | --- |
| Body: | Acacia |
| Fretboard: | Okoume |
| Size: | Tenor (3rd size) |
| Electric: | Yes |
| Color: | Natural satin |
| Warranty: | Sweetwater's 2-year total confidence |
| Accessories: | Gig bag |
| Package Dimensions: | 27 in x 9.92 in x 5.12 in (685.8 mm x 251.97 mm x 130.1 mm) |
| Weight: | 3.3 lb (1.5 kg) |
4. Best For Recording: Martin T1K Tenor Ukulele
One of Martin's flagship ukuleles is the popular T1K. It has a beautiful koa body with an exotic sipo fingerboard that sounds delightfully warm and mellow. It is a high-end acoustic ukulele costing just under $500.
The quality is undeniable, and its acoustic design makes it perfect for recording as it is better to record ukuleles with a microphone rather than plugging it in. The fewer electronics, the less chance of undesired noise.
Key Specs
| | |
| --- | --- |
| Body: | Koa |
| Fretboard: | Sipo |
| Size: | Tenor (3rd size) |
| Electric: | No |
| Color: | Natural satin |
| Warranty: | Sweetwater's 2-year total confidence |
| Accessories: | Gig bag |
| Package Dimensions: | 28.1 in x 12.5 in x 6.6 in (713.7 mm x 317.5 mm x 167.6 mm) |
| Weight: | 4.15 lb (1.9 kg) |
5. Best For Gigging: Luna Vineyard Koa Bevel Acoustic-Electric Tenor Ukulele
The Luna Vineyard is an excellent tenor ukulele that has quite a bit to offer for any gigging ukulele player. Apart from the gig bag, it is acoustic-electric and can easily be plugged into an amplifier or PA system at a venue. It also features a beautiful inlay in the rosewood fingerboard that will only add to your performance. It is on the higher end of our price range, costing slightly over $500, but it is certainly worth it.
Key Specs
| | |
| --- | --- |
| Body: | Koa |
| Fretboard: | Rosewood |
| Size: | Tenor (3rd size) |
| Electric: | Yes |
| Color: | Natural gloss |
| Warranty: | Sweetwater's 2-year total confidence |
| Accessories: | Gig bag |
| Package Dimensions: | 23 in x 9 in x 3 in (584.2 mm x 228.6 mm x 76.2 mm) |
| Weight: | 1 lb (0.45 kg) |
Frequently Asked Questions
Should I get an acoustic ukulele or an acoustic-electric?
It really comes down to preference and application. If you are a beginner or plan on playing casually, or you are planning on using it for recording, then you should go with an acoustic.
If you are going to play gigs or jam with other musicians, then an acoustic-electric would be due to the volume control you have when playing through an amplifier.
How do I know which size is best for me?
Generally speaking, if you are a beginner or have small hands, then a soprano or concert ukulele would be best.
The tenor is the standard, professionally common ukulele that lends itself to the most complex styles of playing. Baritone and bass ukuleles are best for a player with particularly large hands or are looking for a deeper, more specialized ukulele tone.
What else do I need to buy with my ukulele?
In most cases not much, if anything. If you buy an acoustic ukulele, it will typically come with strings and is ready to play immediately.
They often come with a gig bag, but those are optional, as well as tuners and extra strings. For an acoustic-electric you will need an amplifier, if you don't own one already, as well as cables if you want to use an amp. It can, of course, also be played acoustically immediately.