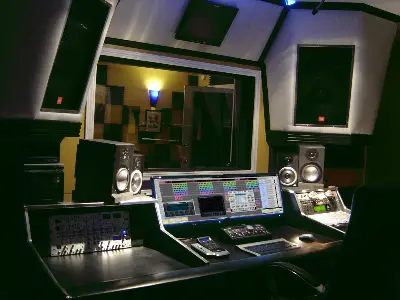 12 Sep

Mark's Home Tool Shed Studio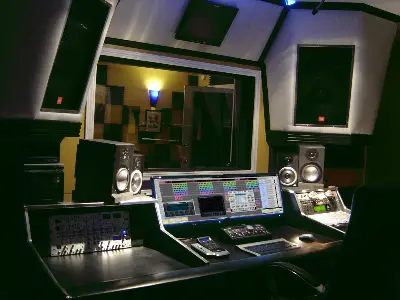 I build this in my 12 x 24 tool shed in my garden, took about 8 months, even made the furniture. The whole floor in both rooms are floating and the rooms are completely isolated with two walls and a 4 inch gap filled with soundproofing, I can feel the bass of a bass drum in my toes slightly when they are playing in the other room but do not hear it – I'm guessing transmission through foundation and ground. I only have 1 vocal booth, as i ended up putting a bathroom in the other – I got lazy running to the house all the time. I used the mitsubishi library ac units so I can keep those on when recording.
I try to record all my friends bands but mainly I do my own EDM, dubstep and anything that requires a lot of production.
I have focusrite pres, I have a wall of 19 inch rack gear but tend to use plugins more these days. My main DAW is Reaper and I have about alot of mic's the one i tend to use the most for vocals is my rode ntk,
all my keyboards are across the back wall with 19 inch rack midi connected synths too.
To make the furniture look good I made it from normal floor plywood and covered it in black leather and the top with outdoor flashing from lowes which looks good but is cheap.
I know its not high end but its really conducive to working long hours in there. – hope you like my space