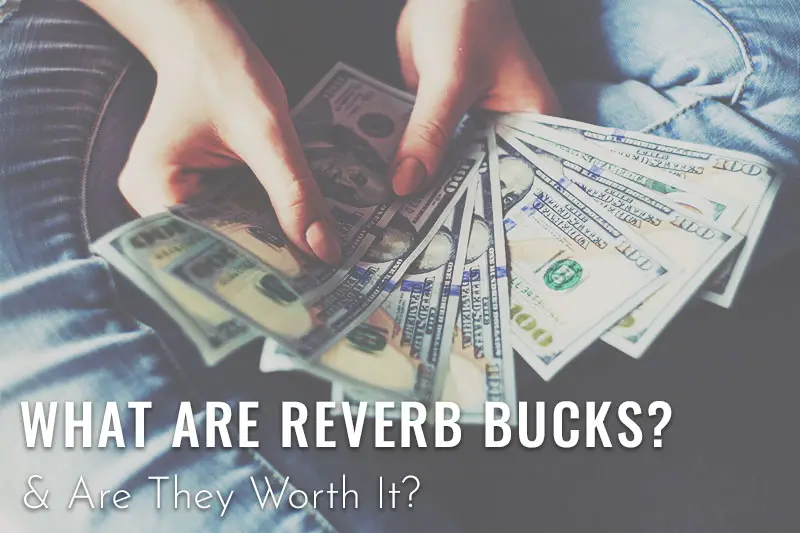 05 May

What Are Reverb Bucks & Are They Worth It?

Reverb.com is known for its safe and reliable music equipment transactions for both buyers and sellers. The site has launched its "Reverb Bucks" program to make those transactions even easier, especially for sellers.

In the article, we'll cover what exactly Reverb Bucks are, how you can receive them, and whether or not you should use Reverb Bucks. Let's get to it!
What are Reverb Bucks?
While the "Bucks" name may lead to comparisons to currencies such as "eBay Bucks," they are significantly different. eBay Bucks, for example, are a rewards program that gives you cashback depending on your purchases over a year, whereas Reverb Bucks are a digital currency exclusively for Reverb.com.
Reverb Bucks are essentially credit to make purchases on the website, as you would with return credit or gift cards on Amazon.com.
How Do You Get Reverb Bucks?
There are two main ways to acquire Reverb Bucks:
Redeeming gift cards on the website or;
By cashing out your payments from selling items on Reverb.com into Reverb Bucks.
Redeeming gift cards work exactly the same as any online store, credit on your account for purchases on the website.

Reverb Bucks get interesting when it comes to payouts for successfully completed sales. If you choose to receive your payment in Reverb Bucks, you will have immediate access to the funds.
Reverb Bucks are paid out instantly, while dollar transfers to bank accounts will typically have a 1-3 day processing delay. 
That feature is very useful for sellers who are looking to quickly make a purchase on the site after receiving their payment. Even more beneficial, you will receive a 1% discount on your next purchase if you pay with Reverb Bucks cashed out from a sale.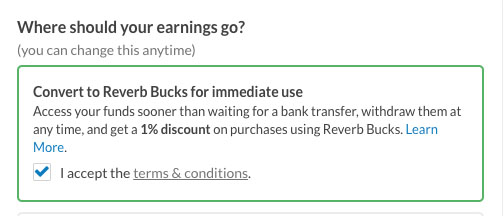 What are the Caveats of Using Reverb Bucks?
While the 1% discount is a compelling reason to use Reverb Bucks, keep in mind that the discount only applies if your Reverb Bucks are cashed out via a payment on the site, not from redeeming a gift card.
For Reverb.com users that are solely buyers, Reverb Bucks don't offer a significant benefit. The possible benefits are those of any gift card: secure purchases without using a credit card for a transaction and the ability to send credit to the site as a gift.
Another stipulation for the use of Reverb Bucks is that not every item for sale is available for a Reverb Bucks payment. When searching for a specific item, you need to click the "Accepts Reverb Bucks" in the "Buying Options" tab on the left side of the screen.

Once the search is filtered, you can expect to lose at least several hundred options for whatever item you're searching for. While most searches on Reverb yield thousands of results, this could be frustrating for a buyer if you find the perfect buying option and it disappears once you click the "Accepts Reverb Bucks" filter.
There are other minor caveats to Reverb Bucks as well. For international sellers, Reverb Bucks can only be transferred to a bank account from American dollar value Reverb Bucks. Additionally, if you are using Reverb Bucks to supplement a payment, you can only add Reverb Bucks onto a credit card transaction, not a PayPal or Affirm payment.
Should You Use Reverb Bucks?
The introduction of Reverb Bucks adds another element to Reverb.com for both buyers and sellers of musical equipment. Overall, Reverb Bucks are most useful for a seller who is based in the United States.
The instant payout and 1% discount for future Reverb Bucks payments are extremely useful for sellers who buy as well. The downsides to Reverb Bucks remain relatively minor and can still be useful for casual buyers who wish to pay for their item with a gift card.
The marketplace now has a currency of its own and is one step closer to becoming the Amazon.com for musical instruments and equipment.