Preamplifiers are simultaneously one of the most important pieces of equipment in a recording setup, and also the piece of equipment beginner and intermediate recording artists understand the least. The main purpose of a preamp is to boost the signal from a microphone or instrument to achieve the proper sound level when recording.
They are a somewhat subtle, but integral piece in any recording setup. Many are already built into mixers and even USB mics (avoid these mics, spend a little more on a studio microphone).
What a preamp does is boost a signal cleanly. What that means is that you could simply raise the volume on your vocal track, but that would also make the noise and unpleasant distortion louder as well. Preamps will increase the dynamic range of your recording while also keeping the noise at bay.
This article will go over the benefits and different types of preamps, as well as why you should buy one and a few options that you should consider purchasing.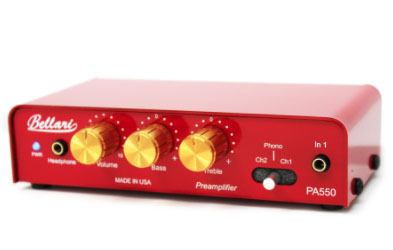 What Does a Preamp Do? What Doesn't It Do?
When it comes to recording, being able to control the dynamic range of your instruments and vocals is so important. It takes a little bit of adjustment, mainly the level of gain so the audio doesn't clip. Once adjusted, your preamp's low distortion boost will massively elevate your track.
It's important to note that a preamp isn't a quick fix that will turn a mediocre recording into an excellent one, but rather it enhances an already good recording.
When Should You Invest In A Preamp?
The majority of a preamp's applications will take place in a studio recording setting. If you're building a home studio, you may start off with a lower priced audio interface. These interfaces are useful, especially for beginners, and many contain a built-in preamp. These preamps are fine, but eventually you will want to take the next step and get an outboard, or standalone, preamp.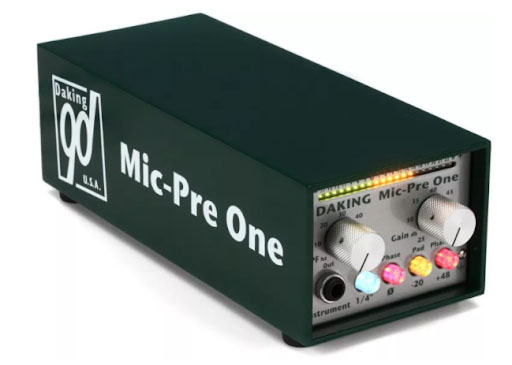 A great option for solo artists (singers, rappers, singer-songwriters), is a one-channel microphone preamp that sits right on your desktop. This will save you money due to the fact that the more channels an outboard preamp has, the more expensive it will typically be.
The Two Main Types Of Preamps
As is the case with guitar amplifiers, preamps use either tubes or a solid state transistor. Both types have their own advantages and disadvantages. Since no two preamps are the same, your choice will hinge on your own preferences.
A preamp that is made with tubes is typically more expensive and adds color to the audio. Color is essentially a mild, pleasant sounding distortion that adds subtle warmth and character to your recording. This effect is wonderful for vocals and acoustic guitars, but for higher gain signals or something with a quick attack, like drums, the coloration may be too intense.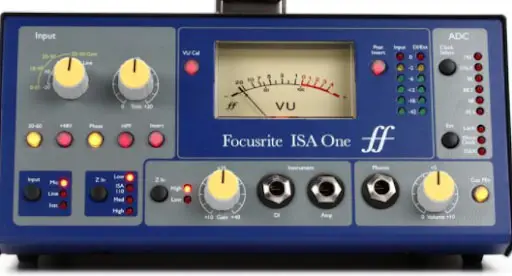 The solid state preamp is typically cheaper and provides a clean signal. This doesn't give the audio much warmth or character, but rather a sharp and clear signal boost. Since there is no distortion, it can handle higher gain inputs much more smoothly than a tube preamp. However, depending on what you're running through the preamp, the signal can sometimes sound too harshly clean.
How To Use A Preamp With An Audio Interface
An audio interface is the medium between your instrument or microphone and your computer's DAW. These are very common in home studios and brands such as Focusrite make interfaces that are great if you're just getting started with home recordings.
Many of these interfaces have preamps built into them already. As stated earlier, these built-in preamps will do the job for beginners, but eventually you're going to want to invest in a quality outboard preamp. This way, your instrument is connected to the preamp and then the preamp plugs into the audio interface.
Getting the preamp as close to the source (your mic or instrument) as possible, as subtle as the difference may be, will make your recordings sound better.
What To Look For When Buying a Preamp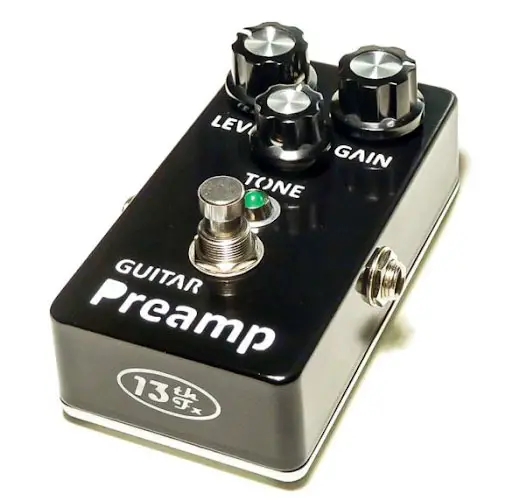 When buying a preamp, the place to start would be figuring out what you need a preamp for, a microphone or an instrument. If it's an instrument then you need to purchase an instrument preamp. Bass and guitar preamps are very common and will massively improve your recordings.
More likely you will be in the market for a microphone preamp. From there, you need to decide if you want a preamp that adds color or keeps it clean, as well as how many channels you need. In most cases, a single-channel preamp will be the best option, as additional channels greatly increase the price.
5 Great Microphone Preamp Purchase Options
In this next section, we will cover five microphone preamp options that would be great for any studio.
1. Daking Mic Pre One Desktop Microphone Preamp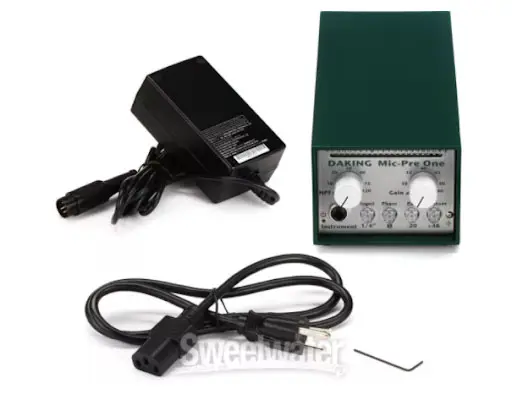 The Daking Mic Pre One is a stellar microphone preamp. It is a compact, single-channel preamp that is perfect for desktop use. It is a solid state preamp, so it gives you a very strong and clean signal. It features two inputs and two outputs, with each being an XLR and a ¼".
This is a reliable, professional quality preamp with a highly respected brand name. The face of the preamp houses two knobs, one adjusts the high pass filter and the other adjusts the gain. This is a no-frills, sleek preamp that is extremely reliable and will be a mainstay in your setup.
Key Specs
| | |
| --- | --- |
| Type: | Solid State |
| Channels: | 1 |
| Inputs: | 1 XLR, 1 ¼" |
| Outputs: | 1 XLR, 1 ¼" |
| Warranty: | No |
| Power Cable Included: | Yes |
| Customer Reviews: | 5 out of 5 stars (20 ratings) |
| Package Dimensions: | 9.75 in. x 4 in. x 3.25 in. (247.65mm x 101.6mm x 82.55mm) |
| Package Weight: | N/a |
2. Focusrite ISA One Desktop Microphone Preamp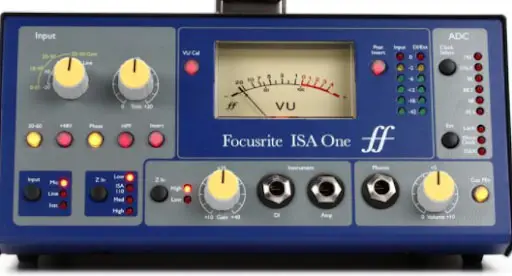 The Focusrite ISA Microphone preamp is a versatile and stylish preamplifier that sits right on your desktop. It is a very solid value for the quality of product you are getting. It was designed to have the sound and look of a vintage preamp, it even has a VU meter on the face.
Despite its retro aesthetic it still is a solid state preamp with several different input options. You are able to record at all signal levels with their corresponding inputs: mic, direct instrument (DI) and line. Like Daking, Focusrite is a great brand with quality products and it even has a three year warranty!
Key Specs
| | |
| --- | --- |
| Type: | Solid State |
| Channels: | 1 |
| Inputs: | 1 XLR (mic), 1 XLR (line), 1 ¼" (line), ¼" (DI), ¼" (amp) |
| Outputs: | 1 XLR (mic), 1 XLR (line), 1 ¼" (line), ¼" (DI), ¼" (amp) |
| Warranty: | Three Years |
| Power Cable Included: | Yes |
| Customer Reviews: | 4.5 out of 5 stars (54 ratings) |
| Package Dimensions: | 11.4 in. x 8.66 in. x 4.1 in. (289.56mm x 219.96mm x 104.14mm) |
| Package Weight: | 8.6lb. (3.9kg) |
3. ART Tube MP Studio V3 Tube Microphone Preamp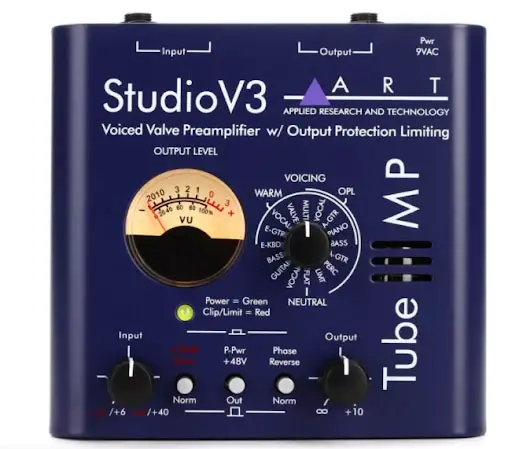 The Studio V3 is a compact tube preamp from ART that is an amazing bang for your buck. This microphone preamp has the warm color of a tube amp while delivering it in a small package and for such a reasonable price.
This preamp is a perfect way for a beginning recording artist to move away from using built-in preamps in their audio interfaces. This is a great, low cost way to get your feet wet with an outboard preamp. Or, if you need to record on the road, this is a highly portable option with the sound quality to be a useful travel preamp.
Key Specs
| | |
| --- | --- |
| Type: | Tube |
| Channels: | 1 |
| Inputs: | 1 XLR, ¼" |
| Outputs: | 1 XLR, ¼" |
| Warranty: | No |
| Power Cable Included: | Yes |
| Customer Reviews: | 4.5 out of 5 stars (33 ratings) |
| Package Dimensions: | 5.5 in. x 5 in. x 2 in. (139.7mm x 127mm x 50.8mm) |
| Package Weight: | 1.5lb.. (0.68kg) |
4. Behringer Tube Ultragain MIC100 Microphone Preamp
If the ART tube preamp was a crazy good deal, then the Behringer MIC100 is an insane one. Despite being half the price of the ART model, this is still a quality preamp. It offers the warmth and color of a tube preamp, and boasts the strong Behringer name.
Now, obviously the quality of this product doesn't come close to that of the Neve below, but this is a low-priced, well-made product that would serve any beginner well, especially if they are on a budget.
Key Specs
| | |
| --- | --- |
| Type: | Tube |
| Channels: | 1 |
| Inputs: | 1 XLR, ¼" |
| Outputs: | 1 XLR, ¼" |
| Warranty: | No |
| Power Cable Included: | Yes |
| Customer Reviews: | 4.5 out of 5 stars (25 ratings) |
| Package Dimensions: | 5.25 in. x 5.25 in. x 2.5 in. (133.35mm x 133.35mm x 63.5mm) |
| Package Weight: | 1.1lb.. (0.49kg) |
5. Rupert Neve Designs Portico 5017 1-Channel Microphone Preamp And Compressor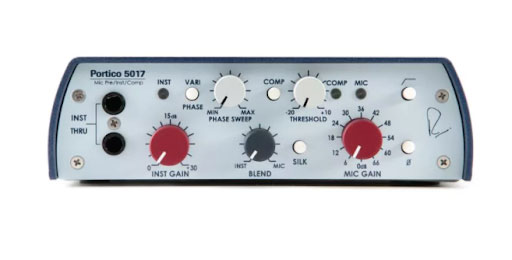 Speaking of brand recognition, there are few, if any names stronger in the studio recording community than Rupert Neve. The single-channel Portico 5017 is an unbelievable product that would improve any kind of studio, professional or at home.
This preamp has a built-in compressor, as well as a mic XLR input and a ¼" DI that can be used simultaneously. There are many uses for this, including recording both vocals and guitar at the same time.
This is a top quality preamp and as you may expect it is not cheap, but you absolutely get what you pay for.
Key Specs
| | |
| --- | --- |
| Type: | Solid State |
| Channels: | 1 |
| Inputs: | 1 XLR (mic), ¼" (DI) |
| Outputs: | 1 XLR, ¼" (mic out) |
| Warranty: | No |
| Power Cable Included: | Yes |
| Customer Reviews: | 5 out of 5 stars (27 ratings) |
| Package Dimensions: | 15 in. x 12 in. x 8 in. (381mm x 304.8mm x 203.2mm) |
| Package Weight: | 7lb.. (3.18kg) |