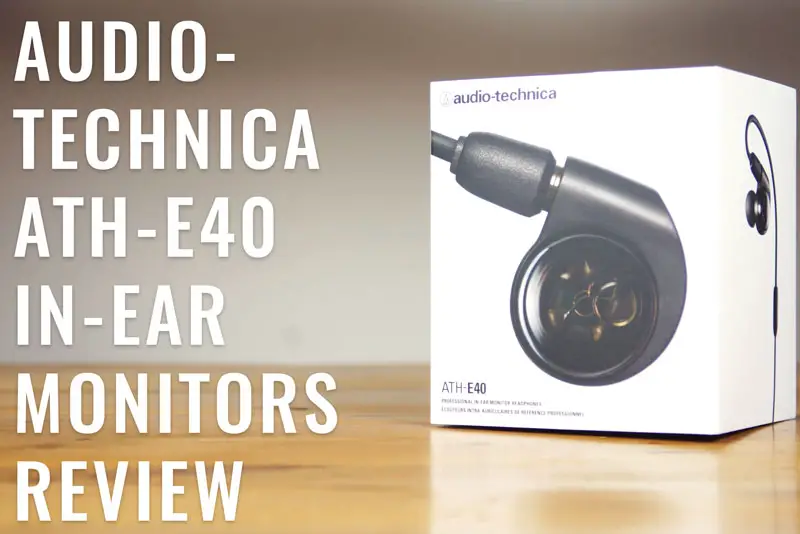 30 Jul

Audio-Technica ATH-E40 In-Ear Monitors Review

The Audio-Technica ATH-E40s are Audio-Technica's lowest cost in-ear monitors, at about $100, and they give musicians a chance to monitor themselves while performing on stage and at practice. The in-ear monitors are in the same price range as the popular Shure SE215s and other in-ears that I've reviewed in the past like the Audiofly AF100s and the MEE audio M6 Pros.

Having reviewed others in this price range already, I wanted to see how the ATH-E40s perform and stack up against the competition. Audio-Technica was kind enough to send out a pair to test and in this review, I'll cover the build quality and features of the monitors, how they fit, and how they sound.

All the opinions expressed in this article are my own and I always try my best to take an unbiased approach to cite both the pros and cons of each piece of gear that I review.

Now, with all of that out of the way, let's take a look at the ATH-E40s:
Build Quality & Features of the ATH-E40 In-Ear Monitors
Overall, the ATH-E40s are constructed very well and they seem like they'll stand up to a bit of abuse. The cable feels tough, and unlike cables on other in-ear monitors, it has thicker, "double" wire cable leading up to the earpieces: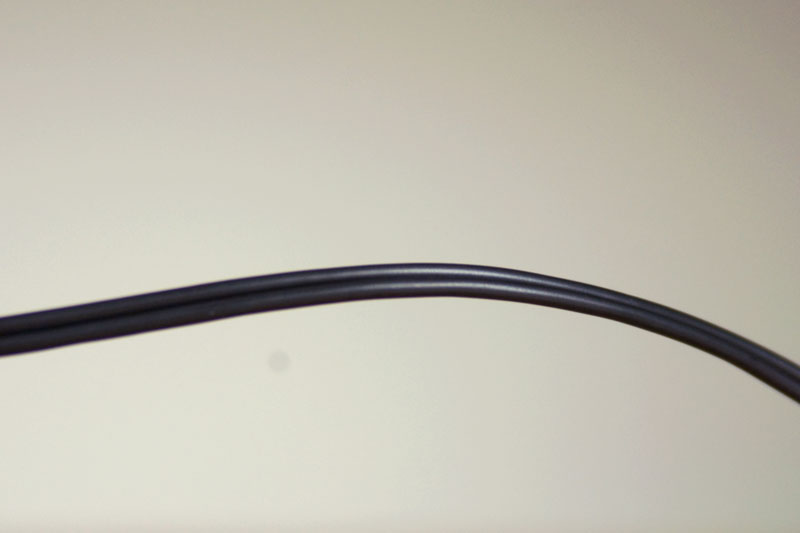 Once the cable splits to the left and right sides, there is a small piece that you can use to tighten and secure this section to your neck: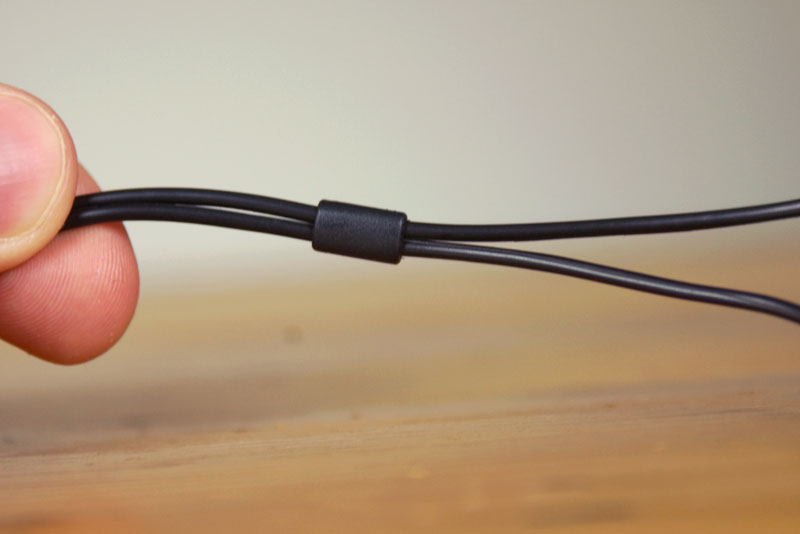 At the top of the earpiece is a bendable section that can be used to wrap the cable around the back of your ear: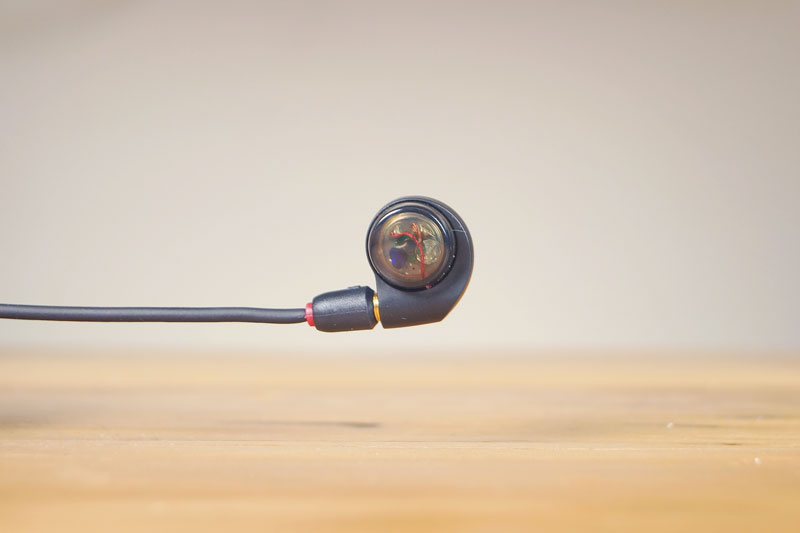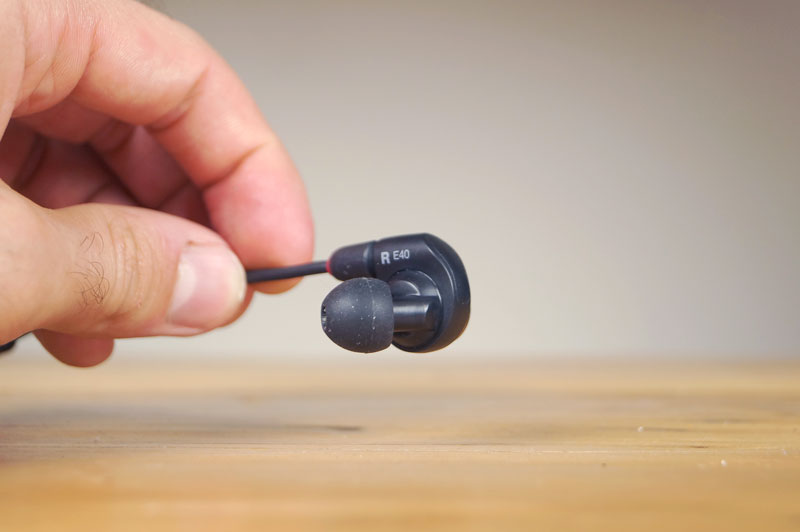 The earpieces also disconnect from the cable itself. This might seem standard for most in-ear monitors but still, some, like the Audiofly AF100s, don't have this feature.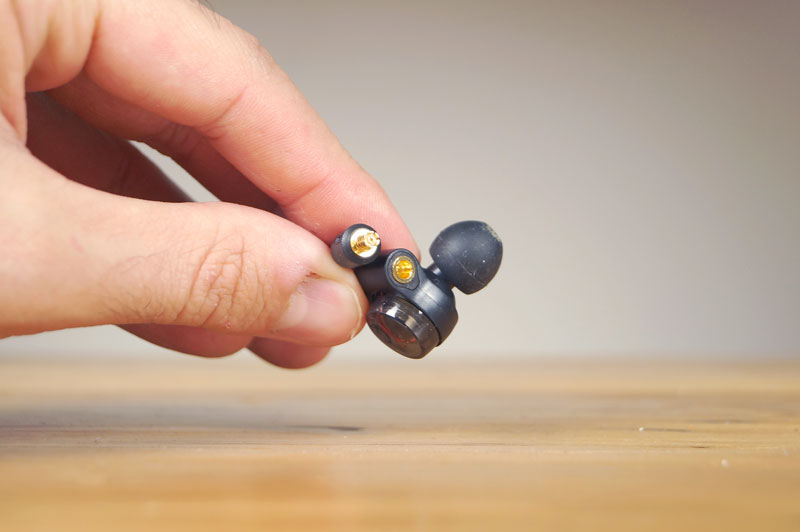 This is definitely a nice bonus because if the earpiece or cable itself does ever break, they can be replaced independently instead of buying a whole new set.
One thing that sticks out to me about these in-ear monitors is that the cable is a bit longer than other brands. From the very end of the cable (at the 1/8″ plug) to where the cable connects to the earpiece, this distance is about 65″ (just over 5 ft.).
While some of you might appreciate that the cable is a bit longer (especially if you intend to use these in-ears wired vs. with a wireless monitor system) when using the monitors with a wireless system and receiver pack, I found the cable to be a bit long.
There was too much excess so I either needed to tuck part of the cable into my pocket or loop it around a belt loop to hide some of the cable length and keep it from getting snagged (which would happen if I bent down to adjust my pedalboard).
Again, that's all a matter of preference but it's something to keep in mind.
The ATH-E40s come with 4 sets of rubber eartips of different sizes, a 1/4″ to 1/8″ adapter, and a small carrying case: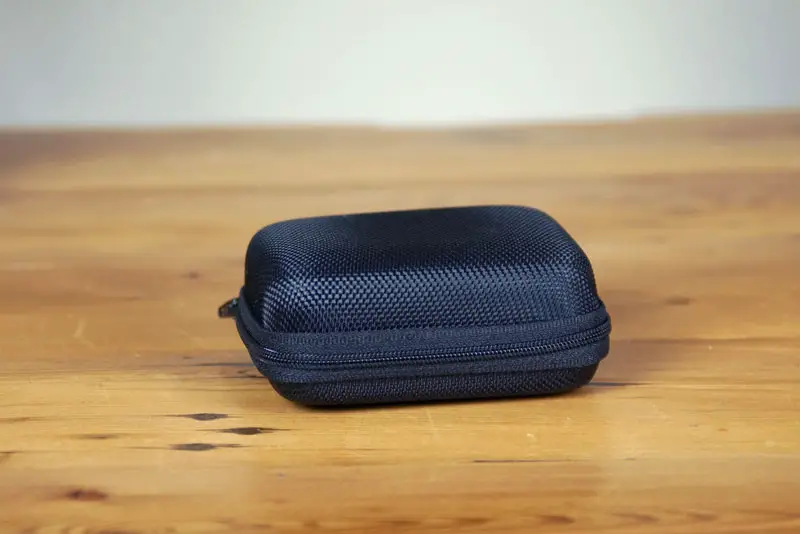 How do the ATH-E40s Fit?
Personally, I found the fit of the ATH-E40s to be a bit odd. The actual in-ear monitor earpiece is quite large compared to other in-ear monitors. Therefore, it sticks out a bit from your ear: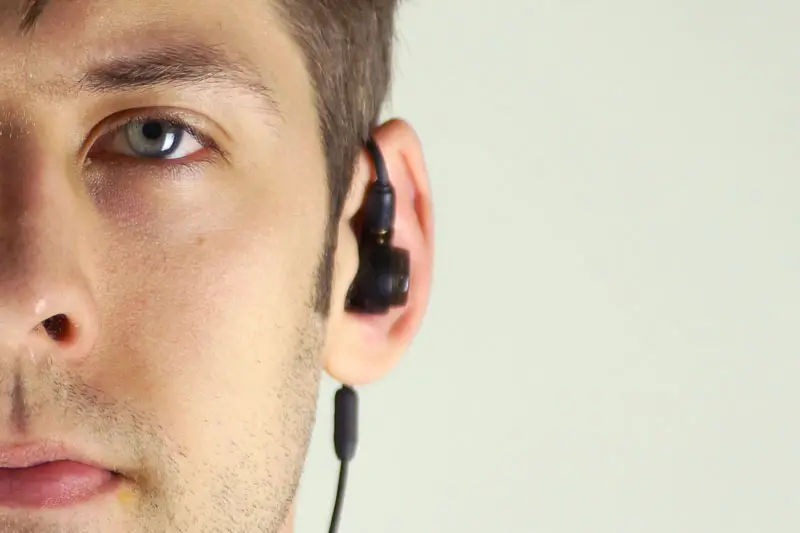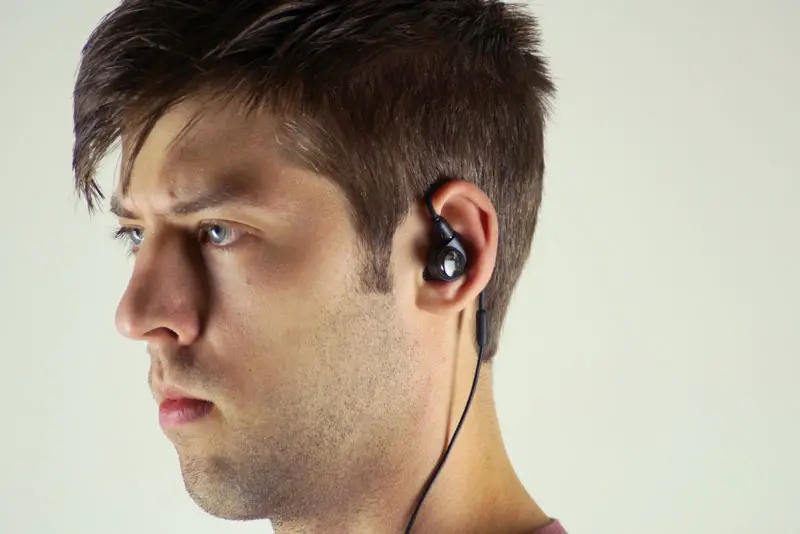 This also makes it hard to keep the in-ears from sliding out of the ear canal as they are a bit large and heavier.
Part of that could, of course, be that I just couldn't find a good fit with the provided ear-tips.
The ATH-E40s come with 4 sets of rubber eartips for you to try. But, none of these provided a perfect fit. The largest eartips fit me the best but the earpieces would still sometimes slide out of my ear a bit during practice.
I was a bit disappointed to find that no foam eartips were included. I personally like foam tips better because, in my opinion, they stay in the ear and isolate sound better.
As with any pair of in-ear monitors, it's important to fit them in your ear properly. Like I mentioned earlier, the ATH-E40s has a flexible/bendable wire just where the cable meets the earpiece.
To fit the earpiece, you'd place it into your ear with this wire straightened out: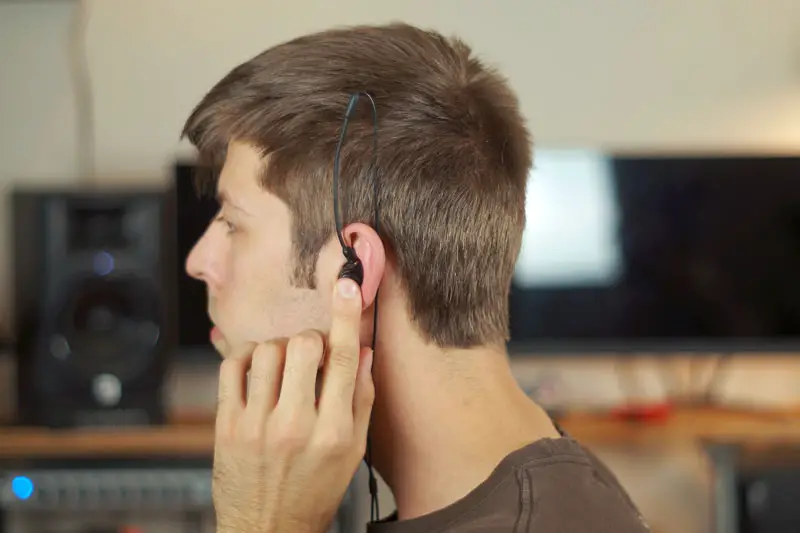 Then, bend the wire back behind your ear until it's comfortable and secure:
And that's all there is to it: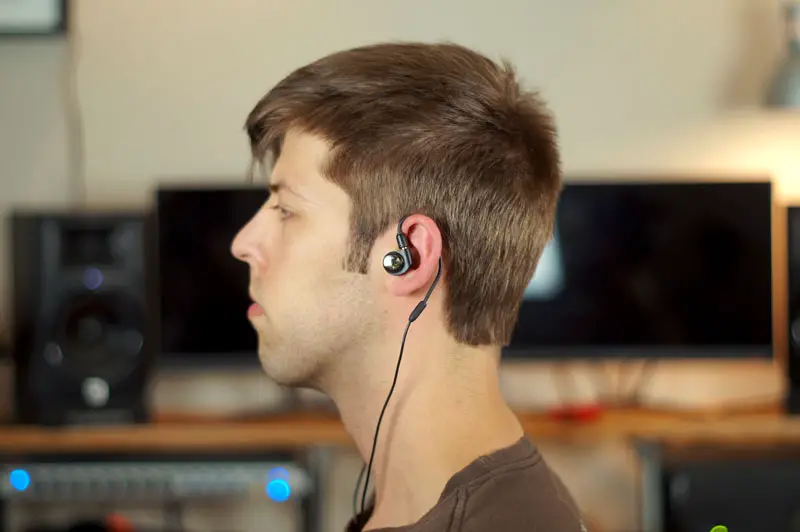 How Do The ATH-E40s Sound?
I think the ATH-E40s have the best sound quality of all the other in-ear monitors that I have reviewed and mentioned so far.
They sounded clearer than the Audiofly AF100s and are more dynamic and less compressed sounding than the MEE audio M6 Pros.
The ATH-E40s have a clear and full sound, particularly in the mid and upper frequencies. However, this can be a tad harsh at times. They also don't have a very pronounced bass range.
They do sound fairly similar to the MEE audio M6 Pros, but like said, much less compressed. While the difference isn't huge, they do sound better and they have a greater dynamic range (meaning everything is more natural sounding). The ATH-E40s are also a bit touch clearer, as the M6 Pros sound "muffled" in comparison.
Lastly, ATH-E40s are considerably louder than the M6 Pros (I'd say about 25% louder at the same volume setting) but about the same as the Audiofly AF100s volume wise.
Conclusion: How Do The ATH-E40s Stack Up?
Overall, I liked the sound of the ATH-E40s and felt they had the best sound quality out of similarly priced in-ear monitors. They have a pronounced mid and upper range which I believe would make them a good fit for guitarists and vocalists.
The one downfall to these monitors was that the earpieces are a bit large and can slide out of the ear. This will likely vary from person to person, but it's something to keep in mind if do go with these monitors. You'll definitely want to spend time experimenting with different eartips to find a perfect fit. You may even want to invest in some foam tips.
Well, that's all I have for you in this review, make sure to let me know what you thought in the comments below or leave any questions you might have. I'll do my best to answer them promptly.
As always, thanks for reading!