If you are serious about being a professional musician or band, you need a website. A professional website allows you to showcase your music, connect with fans, capture emails, sell merch, and more.
The first step to building your website, though, is picking a web host. For many people, not just musicians, hosting can be a confusing topic, and choosing the right web hosting provider can be a difficult choice. What will it cost? How fast will our website load? What features do I need?
You may have many of these same questions, and luckily for you :), I answer all of them and more in this guide. I cover what hosting is in a simple, direct way, how it works, why you need it for your website, and cover three very solid web hosting options for musicians, so you can get started creating your website as fast and as simply as possible.
Let's get to it:
This post is part of a 14-step series on creating a website for your band using WordPress. Click here to go back to the main page.
What is Web Hosting
Simply put, web hosting is storage space on a server. It's where your actual website and website files will be located.
Your website is just a collection of files (text, images, videos, code, etc.) that needs somewhere to be stored and your hosting space is where these files will live. Think of it as a folder on your computer, yet instead of this folder being located somewhere on your Windows or Mac computer, it's located on a server.
Technically speaking, you could store and run your website from your own computer or server space. For most people, this is too complicated, time-consuming, or expensive to set up. Additionally, your computer or server would have to run all day and night so people could access your website at any time during the day.
That's why web hosting providers, also known as web hosts, exist to solve this issue. Web hosts provide a paid service to store your website files for you, so your site will always be available, no matter what time of day is.
Nearly all web hosts charge for this service using the same pricing model. A "trick" they use is to advertise a hosting plan at some given amount per month (ex. $10/month) but charge the full cost for the year upfront (at $10/month, you would pay $120 upfront for the year).
Another sly trick they use is to advertise and sign you to a lower amount per month than what that plan may normally cost, but then raise the monthly cost for your plan after your initial contract or plan expires.
For example, if you purchase a web hosting plan for one year at $10/month, after your first year, the monthly cost may increase to whatever the normal price for that plan is (ex. $20/month). For this reason, I often recommend purchasing the longest plan you can initially so you can lock in that lower rate.
Every web host that I know does this, it's just the normal pricing model used by the industry. But it's something to be aware of when looking at hosting.
Ultimately, by using a web host, you are paying for storage space for your website, for the web host to monitor the servers your website is stored on, and for them to ensure they are connected to the internet 24/7 so that your website is always up and running.
What Type of Hosting Should You Choose?
There are a ton of different hosting providers out there, and each of them offers different types of hosting such as Shared, VPS, and Dedicated Hosting. So it can be confusing deciding on which option is right for you. So I'll quickly cover the options here.
Shared hosting is the option I recommend for any bands or musicians just starting out and/or creating their first website. In shared hosting, you share server space with a set amount of other customers (this is determined by each individual hosting provider). VPS hosting is similar in that there are still other customers on the same server space, yet it'll be a fewer number, whereas dedicated hosting is server space dedicated only to your account (ex. Hard drive space for your website alone).
As you can imagine, VPS and dedicated hosting are quite a bit more expensive than shared hosting.
This is partly the reason I recommend shared hosting for musicians. It will be MUCH more cost-effective for you to choose this type of hosting, which can be important for musicians who may not be making a lot (or any) money from their music just yet. You can always upgrade in the future should your needs ever change.
Additionally, the performance offered from shared hosting will be more than enough for what you need starting out. VPS is geared towards websites receiving tens of thousands of visits per month, and dedicated hosting, hundreds of thousands.
For reference, at the time of writing this post, this website (Infamous Musician) is hosted on shared hosting and receives about 10,000 visits per month. I've had no trouble with loading or speed performance.
So unless you're a big name act that expects to receive tens to hundreds of thousands of visits to your website, shared hosting will be your best option until you get to that point :).
Lastly, if you've been following along to my "How to Build a Band Website Guide", I mention hosting before picking your domain name (your physical web address which I discuss in Step 2) because some hosting plans will include your first domain name in your hosting plan (but not always).
However, don't let this influence your decision too much because it's not very expensive to buy a domain name (typically $15/yr with the first year being as low as $0.99) and it's not difficult to set up your hosting with a domain name purchased from another company (actually, I recommend doing this. I discuss this more in Step 2).
My Top Three Choices for Musician Web Hosting
Now, a lot of guides like this will just list out a bunch of different web hosts with a few details on each, mostly just comparing features you may not even fully understand at this point. Instead, in this guide, I've narrowed it down to three solid choices to make the decision easy.
Additionally, I've personally used all of these hosts. Not only do I have experience using them for my own websites, but I've been a web designer for nearly eight years now, and I've also used these hosts for client websites. So I know the ins and outs of each.
With that said, here are my top three recommendations for hosting (the first being the hosting company I am currently using for all of my websites):
* Important Note: As I mentioned earlier, all of these plans jump up in price after your initial contract (for instance, if you buy a two-year plan, it will jump up in price after two years). That's just the way web hosting is priced, unfortunately.
A2 Hosting is the web hosting provider that I currently use and so far (I've been using them for about 5 years now), I have been very happy with their service. I use A2 for this website, I've used them for my web design agency, I use them currently for my personal portfolio website, and I've used them for a number of web design clients including bands, musicians, small businesses, and more.
I can definitely recommend the company. One of my favorite aspects is the quality of customer service. From what I can tell, the customer service team is based in the U.S. (which is not the case for some other hosting companies) and they have always gotten back to my questions relatively quickly (typically, within a few hours max).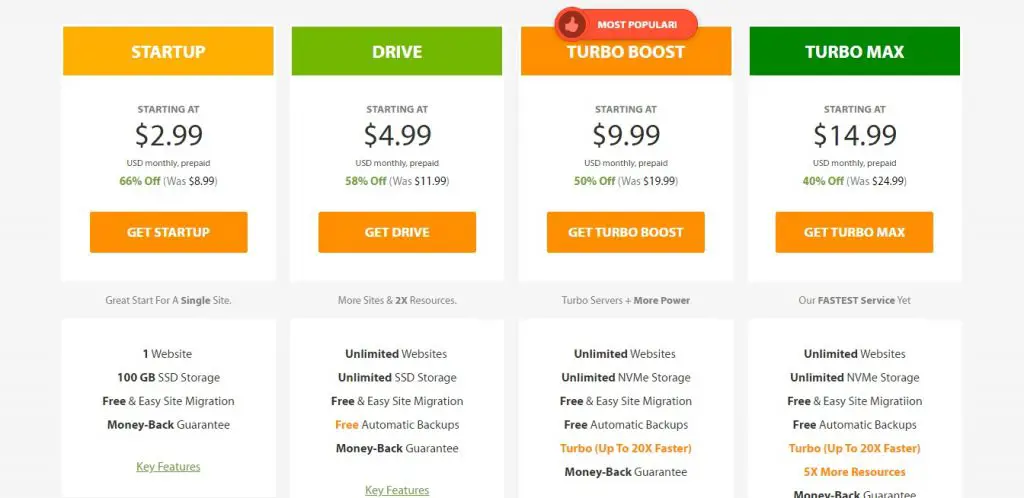 They offer four different shared hosting plans; Startup, Drive, Turbo Boost, and Turbo Max.
Personally, I use the Turbo Boost but that because I have multiples websites on the same plan, so I require more resources and I wanted the fastest plan possible within my budget.
For most of you reading this guide, the Startup plan (the lowest-priced plan they have) will be more than sufficient. This plan will allow you to have one website and offers all the features you need. This plan does not, however, include a domain name (web address) in the plan price. Lastly, if you want/need more websites on one plan, you will need either the Drive, Turbo Boost, or Turbo Max plans.
If you're in multiple bands and need multiple websites, you will need one of these plans. Or, as a way to keep costs down, you may consider going with one of these higher tiered plans and hosting other band websites on your plan, then you can split the costs. For instance, maybe a friend's band or another local project.
To get started with A2 Hosting, check out their pricing plans here.
Next up is Bluehost…and Hostgator. I'm lumping these two into one since they are owned by the same parent company and are set up very similar. However, they do have somewhat different pricing and options, so I'll touch on both briefly.
Bluehost was actually my first hosting provider until I decided to switch to A2 Hosting at the end of my plan. Overall, I was fairly happy with Bluehost. They have a great and easy to use backend layout and in the majority of the four years I had my websites hosted with them, they ran and loaded fairly quickly. They are a solid choice and many other hosting reviews rate them as their #1 choice.
However, I decided to switch for two reasons. The first being quality of customer service and the other, slow/inconsistent loading times.
Although most of my requests via customer service were answered, my most recent exchange with support was quite frustrating. First off, their support team is based in India (as far as I can tell, at least definitely not U.S.-based) which can make conversation difficult at times.
Two, in my last request as to why my site had been experiencing discrepancies in page loading time (sometimes taking just a few seconds and other times taking nearly 15 to 20 seconds), the only explanation I was given was that it was the number and/or size of my files. Which was probably true to some extent but support gave me very little info on the issue. The real reason, I believe, was overselling their shared server space which would cause such slowdowns. Overall, these two factors caused me to switch to A2 Hosting.
These issues may not be huge deals to you and you may not even experience the same problems I did. Especially, if you're a small band and don't expect a lot of traffic to your site.
Again, I would recommend shared hosting.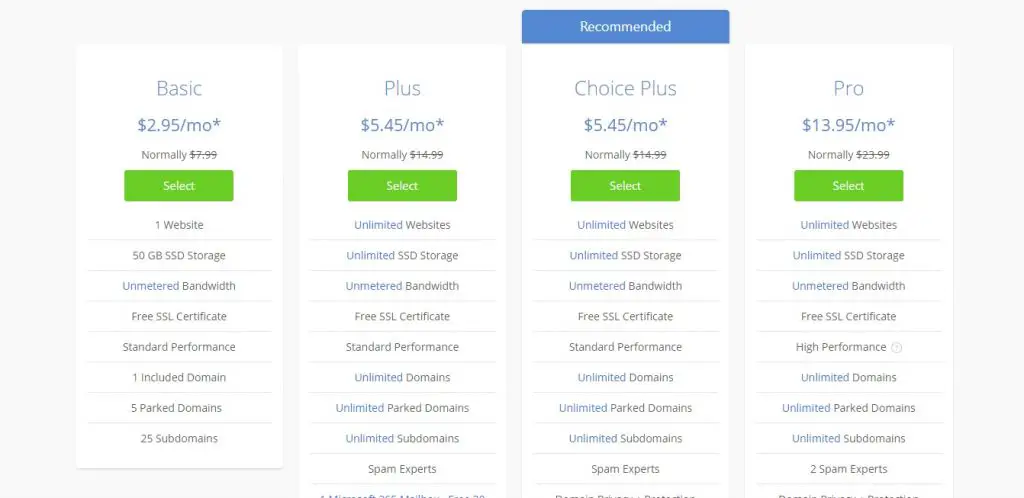 Bluehost offers four shared hosting plans. As a small to even medium-sized band or solo act, you'll only need the Basic plan which includes one domain name (web address) in the plan price.
Hostgator is near identical in layout, pricing, and features compared to BlueHost. They do have more of an upbeat personality as a company (ex. The cartoon gator you'll find across their website) whereas Bluehost's brand is more professional. The Hostgator Hatchling plan would be your best bet here.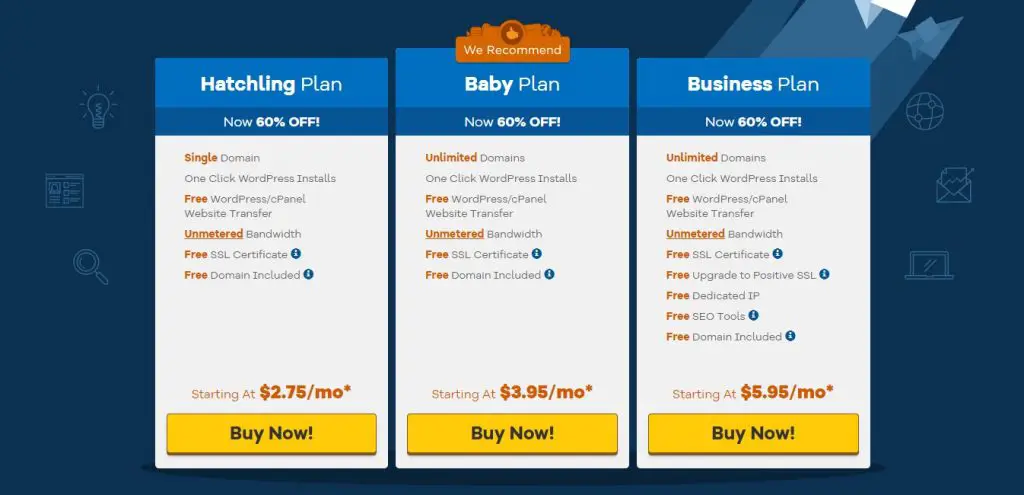 Finally, the last option I'm going to list is Siteground.
Siteground has a number of very good reviews and it was one of my top candidates when looking at hosting plans before switching to A2 Hosting. The web hosting provider is often ranked as one of the best solutions out there and would be a solid choice for any musician looking to create a new website.
The only caveat here is that SiteGround is a bit more expensive than the other options I've listed thus far: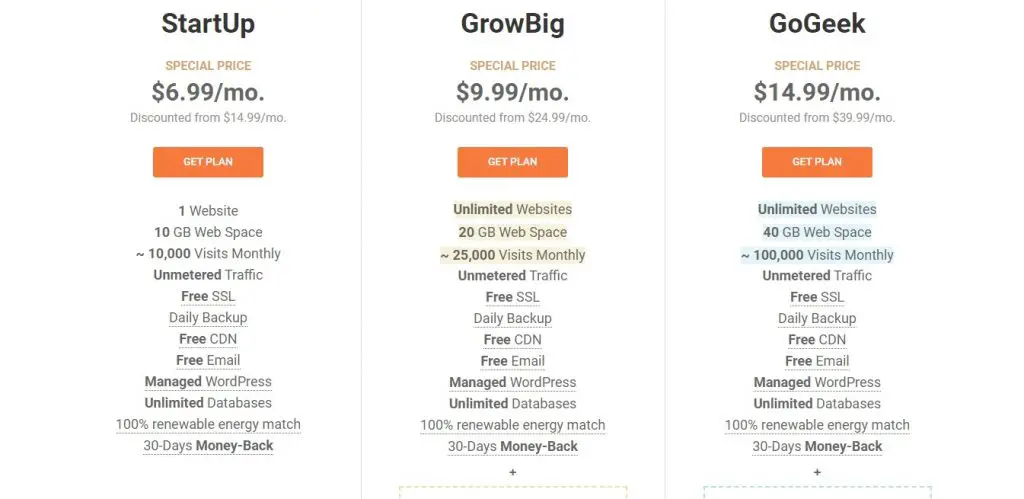 As I've reiterated to this point, the lowest plan should be fine for any budding musician or band creating their first website. In this case, the StartUp plan.
Which host should you choose? (Final things to consider)
If cost is your biggest concern (which I can totally understand as a band or musician), iPage has the cheapest hosting plan that I know of at $1.99 per month (again, that's in your initial contract, it will shoot up after that).
But, iPage uses an uncommon backend (called vDeck) whereas most other hosting companies use a backend called cPanel. I have never used vDeck but the common consensus is that it isn't as user-friendly and up-to-date as cPanel. iPage is also not the fastest or most reliable hosts. All of which add to why I do not recommend it.
Also, you may consider purchasing your hosting plan around a holiday as many hosting companies will often offer signup discounts. Now, I can't say this will be the case for every holiday but take Black Friday for example. Many hosting companies offer some serious discounts.
A2 Hosting had their Turbo plan at more than a 30% discount during the Black Friday prior to me switching to them. I signed up a week after Black Friday but since I was within 30 days of signing up, they were able to refund the difference that I paid for the full price plan (how many other companies would do that?).
Finally, one last thing to consider is whether or not the plan includes a domain name. A domain name is the actual web address of your site (ex. www.mysitename.com). As I mentioned in my recommendations above, some of these plans include the domain in the price of the hosting plan and some do not. If they don't, you can either purchase the domain name at an additional cost (roughly $15/year) from the hosting company or purchase it from another company (I discuss the advantages of doing this in Step 2).
Ultimately, my top recommendation is still A2 Hosting. In my opinion, they offer the best mix of solid customer service, reliable and quick loading times, and reasonably cheap hosting prices. I have used them for over five years and have been nothing but completely satisfied with the service I have received.
Well, that wraps things up on this guide to choosing web hosting for musicians, which is just step 1 of my guide on how to build a band website. So let's move on to Step 2: Picking a Domain (Even if the hosting plan you want to go with includes the domain, you should read Step 2 to gain a better understanding of domain names and how to pick one).
Or, click here to head back to the main page of this guide on building a band/musician website from start to finish.