Thanks!
Your FREE PDF, "10 Things to Consider When Creating Your Home Studio (That You Probably Haven't Thought About Yet)" is on its way to your inbox. You will receive it shortly. Or, if you're impatient, you can hit the download button below to get it right away:
[button size="large" icon="fa-arrow-down" target="_blank" hover_type="default" font_style="normal" font_weight="400″ text_align="center" text="Download" color="#ffffff" hover_color="#ffffff" background_color="#4fab4f" hover_background_color="#73bc73″ margin="0″ border_color="#4fab4f" hover_border_color="#73bc73″ link="https://www.infamousmusician.com/wp-content/uploads/2017/01/10-studio-considerations.pdf"]
In this PDF, I'll discuss factors that you may have not considered yet. Rather than touch on the obvious (like budget, soundproofing, room acoustics, etc), I'll hit a few points like using room color and lighting to create the perfect vibe for your studio, speaker placement, organizing cables, desk & chair considerations, and more.
Be sure to come back here after you've read through it and let me know what you thought (in the comments below) or list any considerations you have to add.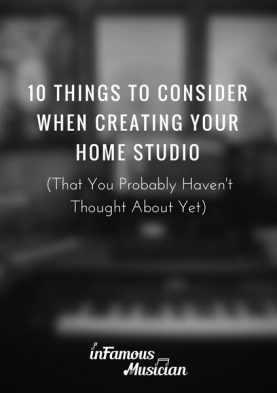 Check out more from the Infamous Musician blog:
[latest_post type="boxes" number_of_colums="3″ number_of_rows="1″ order_by="date" order="DESC" display_time="0″ display_comments="0″ display_like="0″ display_share="0″ text_length="0″]
Let Me Know What You Thought Of The PDF or Add Your Own Consideration: