Thanks!
Your FREE PDF, "5 Tips to Sell Your Gear on Reverb Fast" is on it's way to your inbox. You will receive it shortly (it may take a few minutes). Or, if you're impatient, you can hit the download button below to get it right away:
[button size="large" icon="fa-arrow-down" target="_blank" hover_type="default" font_style="normal" font_weight="400″ text_align="center" text="Download" color="#ffffff" hover_color="#ffffff" background_color="#4fab4f" hover_background_color="#73bc73″ margin="0″ border_color="#4fab4f" hover_border_color="#73bc73″ link="https://www.infamousmusician.com/wp-content/uploads/2017/02/5-tips-to-sell-your-gear-on-reverb-fast.pdf"]
In this PDF, I'll discuss 5 tips to sell your gear (used or new) on Reverb fast. I'll cover ways to make your listing great like how to take good photos and write a detailed description. I'll touch on how to price your gear, using Reverb's "Bump" feature, and listing your gear on other sites to increase your chances of selling it fast. Whether you're selling used or new, you should find useful, actionable tips in this guide.
Be sure to come back here after you've read through it and let me know what you thought (in the comments below) or list any considerations you have to add.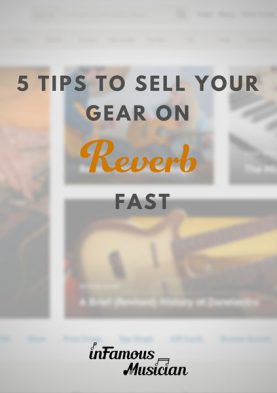 Check out more from the Infamous Musician blog:
[latest_post type="boxes" number_of_colums="3″ number_of_rows="1″ order_by="date" order="DESC" display_time="0″ display_comments="0″ display_like="0″ display_share="0″ text_length="0″]
Let Me Know What You Thought Of The PDF or Add Your Own Consideration: