28 Feb

Rundown of My Home Studio

I thought I would take today to do a rundown of my home studio, what it looks like, and some of the gear I use. I'm a major gear head so I enjoy seeing other peoples' studios, setup, and what gear they use but hopefully you will get something out of this too.

Okay first up is my workstation/desk setup.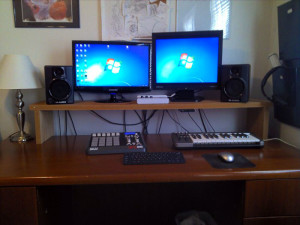 Here's a list of gear featured in the picture.
Dell Inspirion 530 Desktop
2 Samsung Computer Monitors
M Audio AV 40 Reference Monitors
Akai MPD 26
Acorn Masterkey 25 Midi Controller
Steinberg Ci1 Audio Interface
Senheisser HD 201 Headphones
As far as DAWs, I use Mixcraft, Pro Tools HD 10, and Ableton 9
PlugIns- way too many to list but some of my favorites include Amplitube Metal, Studio Drummer, Massive, and Kontakt 5
Next up is my keyboard/amp/cab setup. Equipment goes as follows:
M Audio Keystation 61es
Peavey 1×12 Cabinet
Peavey XXL Amp Head (Which won't be around for much longer)
Livewire Direct Box
I also have a couple guitar pedals there that I'm fixing and modifying. A line 6 MM4 and DL4. Plus a wah pedal that I'm adding an LED to.
And lastly is my vocal mic setup…
What's not shown in the pictures
Well I also have a bunch of gear not shown in these pictures but I'll give a quick list of some of my other equipment.
Shure SM57 (Which I use to mic my guitar cab and also in combination with a Sennheiser e609 when recording guitar parts for my band's next upcoming EP)
As far as guitar pedals, currently I use a Dunlop Crybaby Wah, Modtone Clean Boost, Boss CH-1 Super Chorus, Boss OC-2 Octave, Boss PH-3 Phase Shifter, Boss DD-3 Delay, Boss NS-2 Noise Suppressor, and a GoGo Tuner Pedal. You can see I have a little obsession with Boss pedals.
I also have a Randall Rh150 and Fender FM412 that I use for playing out live.
So there it is, a quick look at my home studio and some of the gear I use. Hopefully you enjoyed seeing what gear I use and as always leave some comments below and if you have any suggestions or anything you want me to cover don't hesitate to contact me.