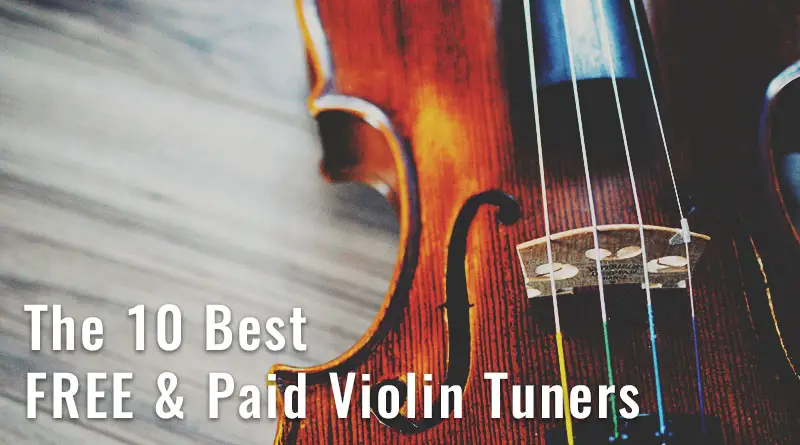 01 Feb

The 10 Best Free & Paid Violin Tuners

The violin is an elegant instrument that requires a certain amount of maintenance as an owner. One of these tasks is to properly tune the instrument. Like other string instruments, such as guitar or bass, the violin requires precise tuning to be played correctly.

This article will explore different types of tuners, from clip-on tuners you might see on a guitar or free tuning apps you can download on your phone. We will also cover how exactly to properly tune the instrument as well and why it is important.
How and Why Do You Tune a Violin?
All string instruments have a standard tuning, which are the notes that the strings of the instrument should be tuned to at most times. There are different, exotic tunings you could use in certain situations, but typically the violin is played in standard tuning.
The standard tuning for a violin is G3, D4, A4 and E5. To match this tuning, you should either have your tuner clipped on the headstock or your phone tuner app opened and positioned near the strings and slowly twist the peg for each string while plucking with your other hand until the correct pitch is reached.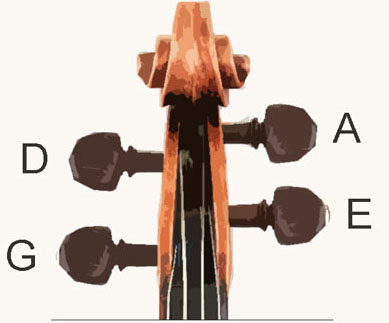 o tighten the string (raise the pitch), you will twist the knob away from you. To loosen the string (lower the pitch), you will twist the peg towards you. With enough practice tuning the violin, eventually the process will only take a minute or so!
Violin Tuner Apps
1. Tuner Lite by Piascore
The Tuner Lite by Piascore tuner is an excellent free option that you can download on both your phone and your computer! It is an incredibly accurate app that has very strong reviews on the Apple store, making it one of the best free tuning apps on the market.
It features a precise, easy to read needle meter display that will show you the exact frequency of the note you're playing through your phone's microphone. It also comes with a built-in pitch pipe that will play the note (in perfect pitch) that you are trying to tune to.
This app is a high-quality, useful tuner that is a great option for any player. The only drawback is the app reserves some features, such as transposition and adjustable calibration for the paid version.
2. Free Chromatic Tuner: Pano Tuner

The Pano Tuner is another great and free mobile app tuning option. It has a different display than Tuner Lite, the notes scroll from side to side like a slide rule rather than the needle meter display.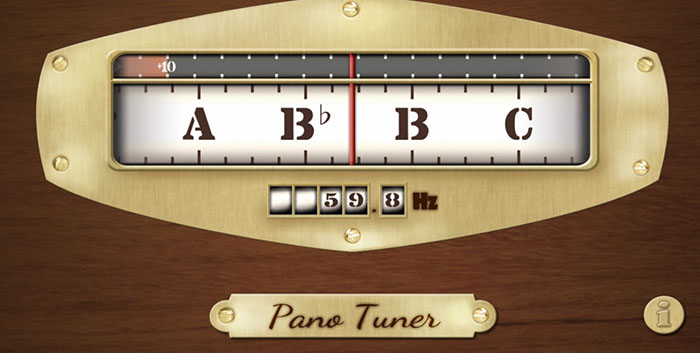 It has fewer features, mainly lacking the pitch pipe, but it makes up for it by being incredibly precise with its tuning calibration.
It is also very simple and easy to use. There isn't a menu of several screens you have to click through, you simply download the app, and then it is ready to tune your violin immediately.
3. Tune This! – Violin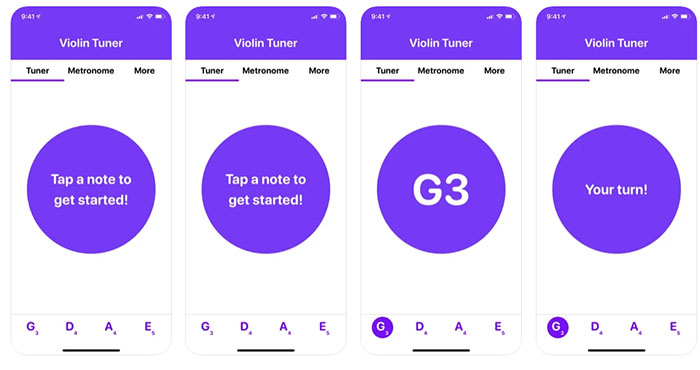 Tune This! is another free tuner app that is specifically designed for violins. The format of the app is bright purple and looks significantly different than most tuning apps. It offers a stylistic uniqueness that many people prefer compared to normal-looking tuners.
The bottom toolbar features the four notes in standard tuning for violin and offers an extremely simple and easy way to tune the instrument. You click the note you want to tune to, the app will play that note and then you pluck away on the string until you are in tune.
Most tuning apps more or less offer the same thing, quick and convenient tuning on your mobile phone, but this app offers a display that is contrary to other apps, setting it apart.
4. Trala: Learn Violin
The Trala: Learn Violin app is a free and excellent violin app that would be especially beneficial to beginner players. The app boasts several features geared towards learning and improving one's skills on the violin.
Importantly, the app boasts a highly sensitive tuner that will absolutely do the job for tuning the instrument. It also features a program that will teach the user how to tune the violin by ear. Additionally, there is an option to play into your phone's microphone and the app will provide feedback on your pitch and rhythm.
The Trala: Learn Violin app is a great teaching tool, as well as a tuner, that will certainly prove useful for beginning/intermediate players. More experienced players will probably be better off using a simple tuner app, but there is definitely an audience out there for this app.
5. insTuner Free – Chromatic Tuner
The insTuner Free Chromatic Tuner is a very solid all-purpose tuner that uses Digital Signal Processing (DSP) algorithm to produce an extremely accurate measurement while tuning your violin.
Another feature of the app is a pitch pipe that plays back the notes you're trying to tune to, a useful function for players learning to tune by ear. There are other minor features, such as a historical graph that shows your tuning results over time and a real-time audio analysis feature.
This app is a great, simple tuner that has some neat features as well that players from beginner to experienced will use and enjoy.
Violin Clip-On Tuners
1. Snark ST-2 Multi-Instrument Chromatic Tuner
Snark is undoubtedly the most popular brand for clip-on tuners and ST-2 is the highest rated one the company offers. It is a durable, all-purpose tuner that will work for practically any instrument, including violin.
The easy-to-read colorful display makes tuning a simple and extremely quick process. All you have to do is clip the tuner on the headstock, press the little silver button and then tune away. It has a long-lasting battery and will absolutely serve you well.
It only costs $12.99 on Amazon, making it a very affordable chromatic tuner that players of all skill levels would use.
2. Korg TM60BK Tuner and Metronome Combo with Clip-on Microphone
Korg is one of the premium electronic music brands out there and their TM60 Black tuner is no exception. The TM60 is a professional quality tuner that is incredibly responsive and accurate.
The display is laden with information about your pitch and even includes a helpful metronome, making it a great practice tool. The clip-on microphone records the vibration of the violin and gives you a perfectly accurate pitch reading.
This tuner/metronome is a very well-made piece of equipment that would be useful to any violin player. It costs a little more than some of the other clip-on tuners but the features and overall quality make the product worth the $31.52 on Amazon. It will not disappoint.
3. D'Addario NS Micro Violin Tuner
D'Addario is a brand typically known for its guitar, bass, and violin strings. However, they also offer the NS Micro Violin Tuner, a clip-on tuner designed specifically for the violin.
It has a specially-made clip to perfectly grip a violin, without any risk of stress or damage to the instrument. It also is an extremely accurate tuner that will display your pitch with an ultra-fast response time, making it a great practice tool as well. You are able to play a song and in real-time make sure your pitch is accurate.
The tuner costs $16.99 on Amazon and is a great value for the price. This tuner will suit any violinist and will surely get the job done reliably.
4. BOSS TU-10 Clip-On Chromatic Tuner
Like Korg, BOSS is another well-established electronic music equipment company that has a great tuner for sale. The TU-10 is a super-accurate clip-on tuner that will provide a precise reading without fail.
The minimal, sleek design looks great and is much less noticeable than a Snark clip-on tuner if you wish to leave it clipped on while performing. It is a reliable and well-made product that will consistently do the job.
It is on the pricier side at $39.99 on Amazon, but with that higher price you also get the BOSS pedigree and knowledge that this tuner can always be relied on.
5. Eno Professional Violin Tuner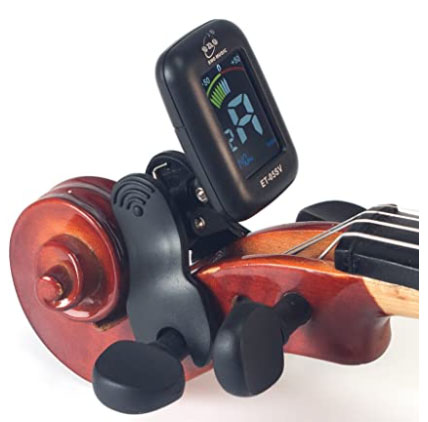 The Eno ET-05SV Violin tuner is an affordable clip-on tuner that features an interesting design that clips directly on to the tuning knobs, wrapping sturdily around the instrument's headstock.
It has a large, very visible display that uses easy-to-see colors as you tune your violin. It is a simple tuner that doesn't have some of the features of the bigger brand products, but it will still tune your instrument accurately.
At a $9.99 price point on Amazon, this tuner is perfect for beginners who aren't quite ready to splurge on more expensive equipment. The Eno tuner will not let you down.
Choosing the Right Tuner for You
While the ultimate goal as a player should be to tune by ear, having a tuner that tells you the exact pitch of your strings is invaluable in the learning process.
Furthermore, a tuner is even useful to the most seasoned players in the event that you are playing in a room with other players who are warming up or tuning their own instruments, making it easy to tune to the note displayed on your tuner rather than trying to hear your instrument through the noise.
Regardless of your current level of violin playing, having a reliable tuner, whether on your phone or as a clip-on, will enable you to consistently and accurately measure your violin's intonation.