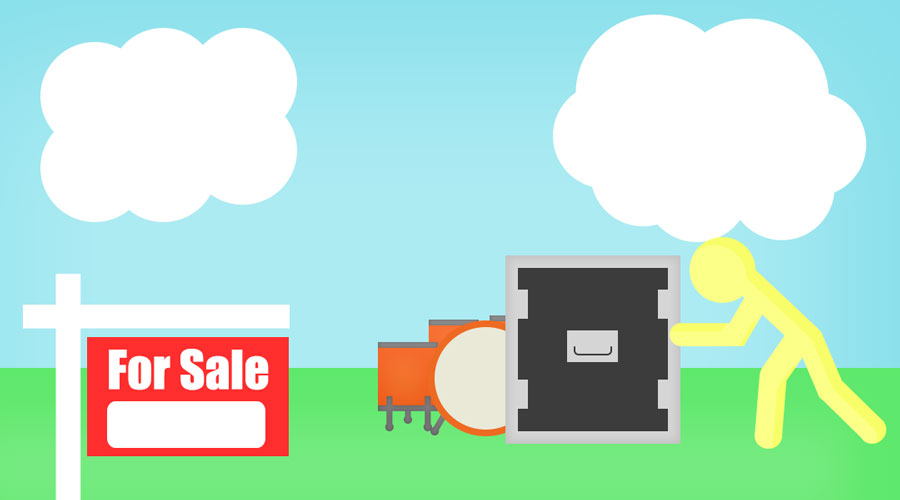 31 Jan

The Best and Worst Places to Sell your Music Equipment

Want to sell your music gear fast and get the most money for it?

Then, you're in the right place.

Throughout the years I've sold a bunch of my gear (guitars, microphones, drum equipment, etc.) either because I no longer had a need for it or I was just looking to upgrade. So I've clued in on the best places to sell gear (and some of the worst).

In this post, I'll cover the best places to sell your musical instruments (and other music gear) to get the most money you can for them. I'll also cover which places to avoid (unless you need the cash ASAP).

So without further ado, let's get to it:
Sell Your Gear at These Places and Get the Most Money:
Make the Most Money on Craiglist
One of the best places for buying used gear is also, not surprisingly, the best place to sell gear.
Besides the ease of use of Craigslist, the number one reason it is the best outlet for selling gear is that there are no seller fees. So whatever money you sell your gear for is all yours.
Even if someone offers you a bit less than what you original listed it as you'll keep all of it (rather than having a fee taken out on sites like Ebay and Reverb).
Another bonus is not having to deal with the hassle of shipping out your equipment. You can easily just have the person you're selling your music gear to meet you at your house or meet at some mutual place. It takes only a few minutes out of your busy day.
When you sell gear online you have to deal with the hassle of buying packaging products, properly packaging your gear, and then finding some time in the day to get to the post office or the UPS Store. Plus, if you didn't price your shipping correctly in your listing, you may have to dip into your profit to cover anything extra.
Selling on Craigslist is simple, easy, and best of all you get the most value from your gear.
Reverb Has The Lowest Seller Fees
If you do decide to sell online, or just aren't having any luck with Craigslist, then Reverb is a great resource.
I started using Reverb a few years or so ago and I love it. In case you're unfamiliar, Reverb is an online auction site similar to Ebay yet specifically purposed for selling and buying music gear. Users are able to sell their used gear through Reverb. They have a great designed site and it's very easy to navigate and use.
The best thing about Reverb, though, are the very low seller fees. Reverb charges the seller 3% on every item they sell as compared to Ebay where it's a staggering 10%.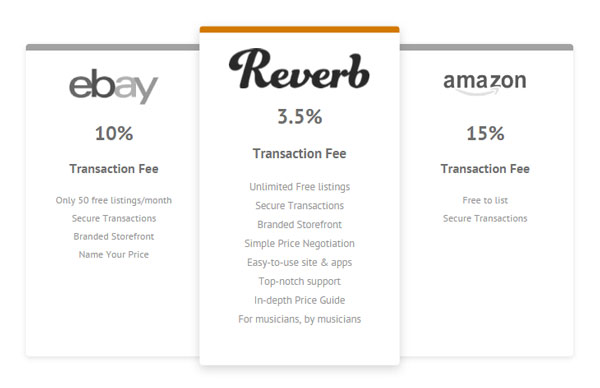 However, don't forget about Paypal's processing fee, which is another 2.9% plus $0.30 per transaction. Of all the other options out there for selling your gear online, Reverb has definitely been the best in my experience.
Having trouble selling your gear on Reverb? Then check out this FREE PDF, "5 Tips to Sell Your Gear on Reverb Fast".
Avoid Selling Your Gear at These Places (Unless You Need the Money Fast)
Avoid Guitar Center (and any other used instrument store like Sam Ash, Music Go Round, etc.)
While Guitar Center is a great resource to buy used gear for cheap, it is the exact opposite when it comes to selling gear.
If you're really trying to get the most value out of your used music gear, then avoid selling your gear at Guitar Center and other similar retailers.
Their whole model, when it comes to buying used gear from people, is to buy extremely low in order to sell it back in their stores for a decent profit. The same goes for any other used music store (or pawn shop), they need to be able to ensure they can make a profit.
The model is very similar to GameStop buying back used games. It makes sense that these businesses want to offer you as little as possible for your equipment in order to make some money but it is not in your best interest.
You're likely to get about 50% (if you're lucky, it could be less) of what your gear is actually worth by bringing it to Guitar Center. Music Go Round, a used instrument store, will pay 40% to 60% of the value of your gear. That's taken directly from their website. Don't believe me? Chek it out here.
Guitar Center, Sam Ash, and Music Go Round will all have similar offers for buying your used gear. So unless you really need the cash (they will give you a cash payment), then I would avoid selling your gear to them.
It's much better to list on Craigslist or Reverb. Even if you sell your gear a bit below value, you'll still make more than you would by selling it to Guitar Center or similar shops.
Avoid Ebay (and their super high seller fees)
While again, another great resource for buying used gear for cheap, Ebay is anything but that for selling gear. Ebay's seller fees are rather outrageous. When you sell something on Ebay you are charged 10% of your total sale value at the point of payment from the buyer.
This 10% fee is not just charged to the total value of the product but the shipping as well. This is pretty ridiculous since buyers don't make anything from the shipping cost but they are charged a fee on it anyways.
To illustrate this point further let me present you with an experience of mine.
Not too long ago, I sold a Native Instruments Maschine MIDI Controller (I had the previous model)
 which sold for a total of $135.05 ($125 for the actual product and $10.05 for shipping). I was charged a fee of $13.51 ($12.50 on the product and $1.01 on the shipping).
Then don't forget Paypal's cut for processing the payment. Paypal charges 2.9% of the total value plus $0.30 per transaction. So for this sale, I "made" $135.05, but in my Paypal account, I got $130.83 (2.9% of $135.05 plus $0.30 take away from $135.05).
Oh, by the way, guess what? Who do you think owns Paypal? Ebay does. So, in case they were making enough from their seller fees, they also make even more from you from Paypal's processing fee.
All in all, from that sale of $135.05, I had $17.73 taken away from me. While maybe that doesn't seem like much, that's over 13% off the final sale. That can really start to add up when you sell more expensive gear.
So again, try Reverb and Craiglist first before resorting to Ebay. Reverb is really much better for selling music gear online and they'll only take 3% of your final sale.
In conclusion, sell your gear on Craiglist and Reverb if you want to get the most money for your musical instruments and other music equipment. Only resort to Ebay or shops like Guitar Center if you need the cash ASAP.
I hope this post was helpful to you and rather eye-opening. Let me know in the comments below what you thought and/or share any experiences you've had selling your gear at any of the places I covered.