Want to sell your music gear fast and get the most money possible for your sale?
Well, then you're in the right place!
Throughout the years I've sold a BUNCH of my own music equipment (including guitars, microphones, recording gear, drums, etc.) either because I no longer had a need for the gear or I was just looking to upgrade. Over time and throughout this process, I've discovered the best places to sell music gear…and some of the worst.
In this post, I'll cover the best places to sell your musical instruments (and other music gear) quickly and get the most money you can for your sale. I'll also cover which places you should avoid (unless you need the cash ASAP).
So without further ado, let's get to it:
I recently updated this post to reflect the best and worst places to sell your gear in 2021. You will find over 15 different places to sell your gear, but I've listed and structured this article to quickly showcase the top and worst places.
Sell Your Gear at These Places and Get the Most Money:
Make the Most Money on Craiglist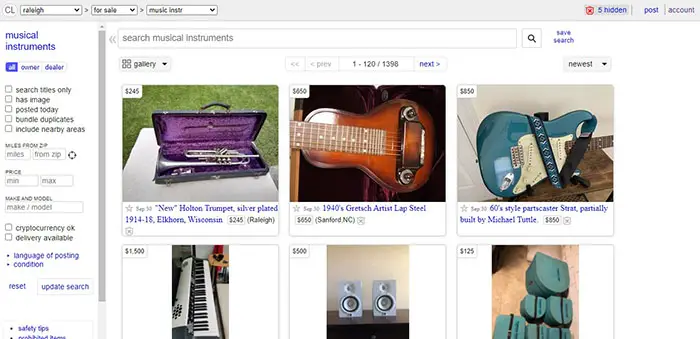 One of the best places for buying used gear is also, not surprisingly, one of the best places to sell gear.
Besides the ease of use of Craigslist, the number one reason it's the best outlet for selling gear is that there are no seller fees. So whatever money you sell your gear for is all yours.
Even if someone offers you slightly less than what you originally listed your item at, you'll keep all of the money from your sale (rather than having a sale fee taken out as is the case on sites like eBay and Reverb).
Another bonus is not having to deal with the hassle of shipping out your equipment. You can easily just have the buyer meet you at your house or meet at some mutual, agreed-upon location. It takes only a few minutes out of your busy day.
When you sell gear online, you have to deal with the hassle of buying packaging products, properly packaging your item, and then finding some time in the day to get to the post office or UPS Store. Plus, if you didn't price the shipping fee correctly in your listing, you may have to dip into your profit to cover extra shipping costs.
Selling on Craigslist is simple, easy, and best of all, you get the most value from your gear.
That being said, it's not all sunshine and roses when selling on Craigslist. You will occasionally have to deal with time-wasters (people who are interested in your item but never follow-through) and low-ballers (people who offer significantly lower than the value of your item).
Additionally, for some there can be a concern for safety when meeting up with a stranger. In this case, it's best to meet at a safe, public location or you may even turn to my next best option, which is Reverb.com.
Reverb Has The Lowest Seller Fees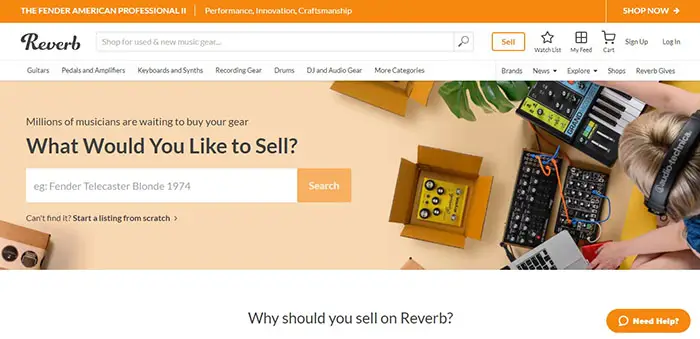 If you do decide to sell online, or just aren't having any luck with Craigslist, then Reverb is a great resource.
I started using Reverb in the early days of its launch and have been a big fan since. In case you're unfamiliar, Reverb is an online auction site similar to eBay yet is specifically designed for selling and buying music gear. Users are able to sell their used gear through Reverb's marketplace and the website is very easy to navigate and use.
The best thing about Reverb, though, is the low seller fees. Reverb charges the seller 5% on every item they sell as compared to eBay where it's a staggering 10% (eBay has recently updated this to 3.5% for guitars and basses specifically, but it doesn't cover other music gear that falls outside this category)
Reverb updated their selling fee from 3.5% to 5% in August 2020. There are still no listing fees and the maximum fee you can be charged by Reverb is $500 (ex. If you sell a $10,000 item). Reverb still has the lowest sales fees of any other marketplace of its kind for music gear of any type.
However, don't forget about PayPal's processing fee, which is another 2.9% plus $0.30 per transaction (eBay, Mercari, and other marketplaces have this fee as well). Of all the other options out there for selling your gear online, Reverb has definitely been the best in my experience.
The last thing I'll point out about Reverb is their support is easy to get a hold off (there's a chat widget at the bottom of the page), especially compared to other options like eBay (very hard to get in touch with support), or Craigslist and Facebook Marketplace (you're pretty much on your own when selling through these sites).
Having trouble selling your gear on Reverb? Then check out this FREE PDF, "5 Tips to Sell Your Gear on Reverb Fast".
Other Top Places to Consider Selling You Gear
In addition to the two top options I listed above, you may also consider selling your music equipment here:
OfferUp & Letgo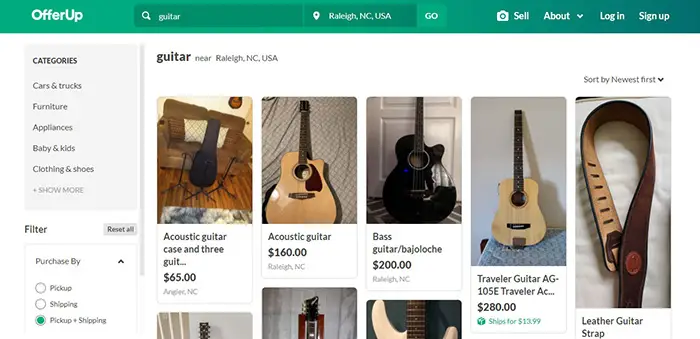 LetGo is now part of OfferUp, with the latter replacing the app version of Letgo. Much like Craigslist, the site (and mobile app) is primarily used for local sales. When selling locally, there are no fees to sell through OfferUp. However, there are fees if you sell the item where shipping is required. In this case, there is a 12.9% fee on the total sale value, not including shipping. The buyer pays shipping.
Therefore, OfferUp (and Letgo) are good options if selling locally. But if you want to sell nationally/online and increase your chances of selling, Reverb is a much better option as you'll pay about half the amount in fees.
Facebook Marketplace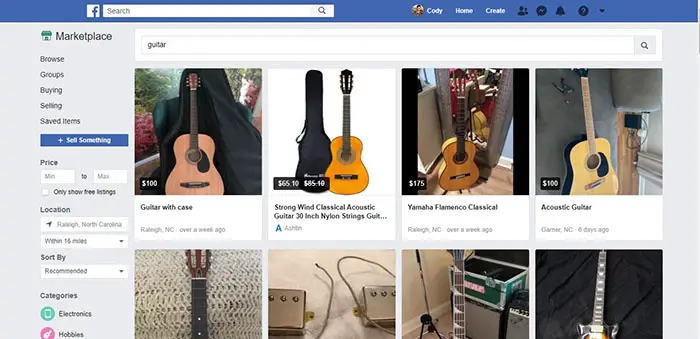 Again, similar to OfferUp and even Craigslist, Facebook Marketplace is another local marketplace/classifieds site where you can sell gear locally. It's free to list and sell gear through Facebook Marketplace, which means you'll keep all of the money from your sale. The same caveats that exist for Craigslist, though, exist for Facebook Marketplace (ex. Concern for safety when dealing locally, low-ballers, etc.).
Avoid Selling Your Gear at These Places (Unless You Need the Money Fast)
Avoid Guitar Center (and any other used instrument store like Sam Ash, Music Go Round, etc.)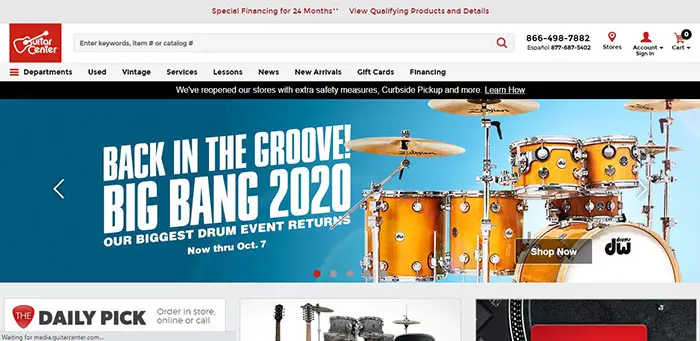 While Guitar Center is a great resource to buy used gear for cheap, it is the exact opposite when it comes to selling gear.
If you're really trying to get the most value out of your used music gear, then avoid selling your gear at Guitar Center and other similar retailers.
Their whole model, when it comes to buying used gear, is to buy extremely low in order to sell it back in their stores for a decent profit. The same goes for any other used music store (or pawn shop), they need to be able to ensure they can make a profit.
The model is very similar to GameStop buying back used games. It makes sense that these businesses want to offer you as little as possible for your equipment in order to make some money but it is not in your best interest.
You're likely to get about 50% (if you're lucky, it could be less) of what your gear is actually worth by bringing it to Guitar Center. Music Go Round, a used instrument store, will generally pay 40% to 60% of the value of your gear.
This same philosophy goes for other music stores that buy used gear as well, such as:
Sam Ash
Music Go Round
Rogue Music Store (local to NYC)
Rivington Guitars (local to NYC)
The Music Zoo
Cream City Music (local to Milwaukee)
Any other local music store
Pawnshops
Unless you really need the cash (they will give you a cash payment), then I would avoid selling your gear to them.
It's much better to list on Craigslist or Reverb. Even if you sell your gear a bit below value, you'll still make more than you would by selling it to Guitar Center or similar shops.
Avoid eBay (and their super high seller fees)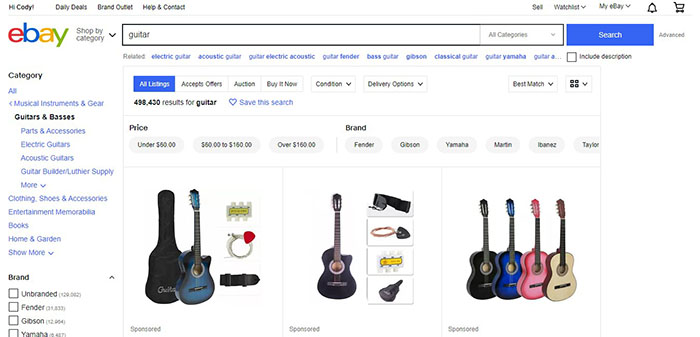 While again, another great resource for buying used gear for cheap, eBay is anything but that for selling gear. eBay's seller fees are rather outrageous. When you sell something on eBay, you are charged 10% of your total sale value at the point of payment (eBay has made an exception to this only for items categorized in the guitars and basses category, where the fee is actually 3.5%).
This 10% fee is not just charged to the total value of the product but the shipping as well. This is pretty ridiculous since buyers don't make anything from the shipping cost but they are charged a fee on it anyways.
To illustrate this point further, let me present you with an experience of mine.
Not too long ago, I sold a Native Instruments Maschine MIDI Controller (I had the previous model) which sold for a total of $135.05 ($125 for the actual product and $10.05 for shipping). I was charged a fee of $13.51 ($12.50 on the product and $1.01 on the shipping).
Then, don't forget PayPal's cut for processing the payment. PayPal charges 2.9% of the total value plus $0.30 per transaction. So for this sale, I "made" $135.05, but in my PayPal account, I got $130.83 (2.9% of $135.05 plus $0.30 take away from $135.05).
All in all, from that sale of $135.05, I had $17.73 taken away from me. While maybe that doesn't seem like much, that's over 13% off the final sale. That can really start to add up when you sell more expensive gear.
So again, unless you're selling a guitar or bass specifically (where the fee is a bit lower), try Reverb and Craiglist first before resorting to eBay. Reverb is really much better for selling music gear online and they'll only take 5% of your final sale.
Other Places to Avoid
Mercari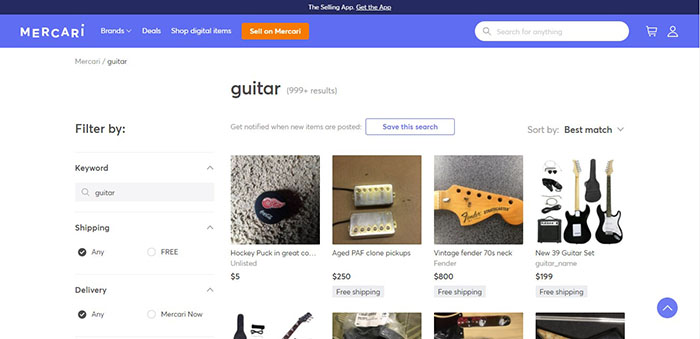 Mercari is a marketplace website similar to eBay, where users can list and buy items online. It's free to create a listing, however, there is a 10% total sales fee once the item sells. Similar to other marketplaces that sell items online, there is also a payment transaction fee 2.9% plus $0.30 on each payment.
The fees are just too high to make this a good option for selling music gear when there are other sites with lower fees.
5miles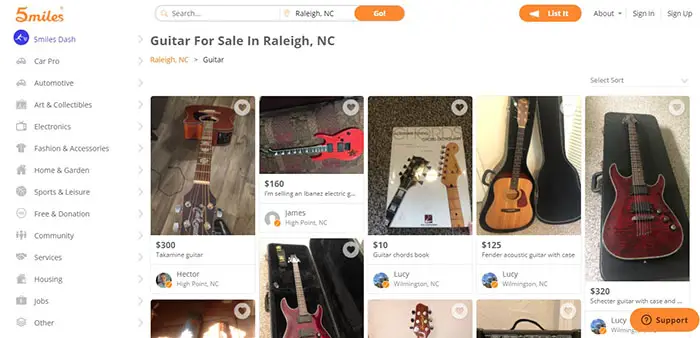 5miles is similar to Facebook Marketplace and OfferUp in that it is geared towards local sales and it is free to sell through their marketplace. However, the caveat here is that 5miles is not as popular as the above options, and not that many people use it to buy or sell items. For example, I did a search for "guitar" and the closest result near me was over 1.5 hours from my location.
Selling on 5miles could take a very long time, that's if you're able to sell there at all.
VarageSale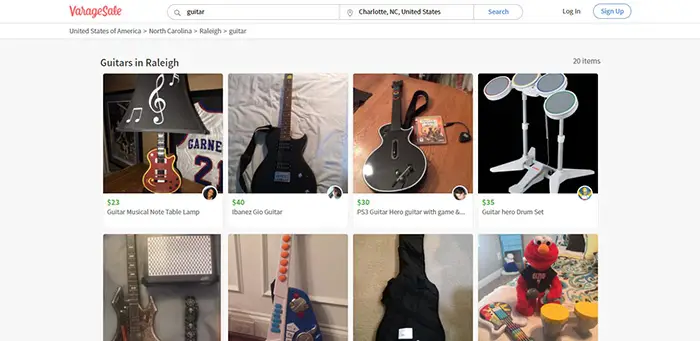 VarageSale is similar to 5miles in functionality, and unfortunately, engagement as well. There doesn't seem to be much happening on this site, as there are very few listings. There doesn't appear to be any fees to sell on this platform but selling here could take a long time (if anything sells at all). This might change in the future but for now, I wouldn't recommend listing on this site.
5 Quick Tips for Sell Your Gear Fast
Now that you know which places to sell your music gear and which ones to avoid, I want to quickly cover some tips for selling your equipment in the fastest manner possible:
Take high-quality photos. It's not that hard or complicated. You also don't need an expensive DSLR camera to capture great photos. If you have a smartphone, that's all you need. Just make sure to clean up the background (so it's not distracting), use good lighting (shoot in a well-lit room or near a window), and cover as many angles as possible in your photos (to illustrate the condition of the item).
Include clear, descriptive details. Include specific details like the condition, what's included, any scratches or scuffs, why you're selling, etc. You want to make this as clear as possible. Don't skimp on this as it can be helpful to the buyer to determine whether or not they want to purchase your item and what they can expect when they receive your item.
Include a video. If possible (and depending on the item) try to include a video of the item you are selling. This can let the buyer know what the item sounds like and confirm that it works correctly.
Price your gear accordingly. I don't mean pricing you gear way under what it's worth. I'm talking about listing your gear appropriately and competitively. Make sure you understand what your item is actually worth in the condition it's in. Reverb has a solid price guide that can help you understand the value of your gear.
Gradually price drop. If you're having trouble selling, try considering reducing the price gradually until the items sells. This is especially helpful on a platform like Reverb, as the listing will shop when the price has been reduced and it may even show in Reverb's Price Drop category.
Where Should You Sell Your Gear?
In conclusion, I would highly recommend selling your gear on Craiglist and/or Reverb if you want to get the most money for your musical instruments and other music equipment. Only resort to eBay or shops like Guitar Center if you need the cash ASAP.
I hope this post was helpful to you and rather eye-opening. Let me know in the comments below what you thought and/or share any experiences you've had selling your gear at any of the places I covered.